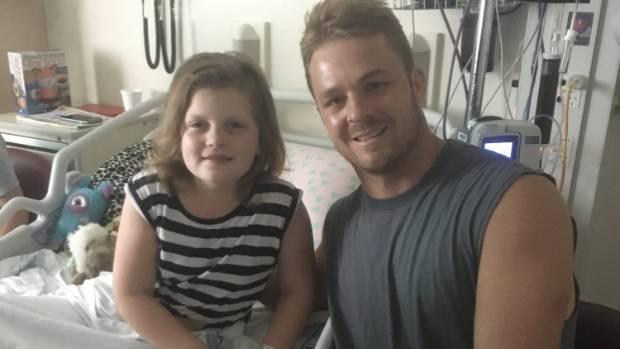 New Zealand celebrities and sports stars are backing a fundraiser in the Waikato for Kate Diprose.
The nine-year-old from Matamata has been battling acute lymphoblastic leukaemia since she was three years old.
In November 2017 she went into remission, but relapsed in January.
She requires a bone marrow transplant.
Kate's older brother Fletcher has been matched as a donor.
They are now preparing for Fletcher to undergo surgery at Auckland's Starship Hospital to retrieve the marrow.
This month Kate will receive conditioning chemotherapy and radiation treatment to prepare her for the transplant.
Shanekea Butler is a member of the The Kate Diprose Fundraising Team in Matamata.
They are on a mission to raise funds to support Kate and her family through the next six-to-nine months.
She and many others on the committee are close friends of the Diprose family.
They have organised an evening of entertainment and auction on April 15 in Matamata.
"This is about helping Kate's wishes to come true" she said.
"And that's for her family to be together during this process."
Money raised will cover transport and treatment costs, as well as day-to-day living costs for the family and helping pay a relief milker for their farm.
"It's nice we can help them be together."
But the evening has grown well beyond what they ever expected and attracted the attention of well known New Zealanders.
Waikato Chiefs rugby team captain and All Black Sam Cane got to know Kate through her time at Starship.
Butler said he has a "soft spot" for Kate.
He has signed on to be a guest speaker at the auction.
He, along with other All Black players, are donating rugby memorabilia for auction.
Art Green and fiance Matilda Rice from the New Zealand reality tv show The Bachelor will also be guest speakers.
Not only have well known Kiwis signed up, but it has pulled the heart strings of many.
Bridgette and Lance O'Sullivan have donated the Red Barn venue at their cost and J Swap Contractors Limited are also supporting the event.
Other businesses have donated various items so over-heads can be greatly reduced.
"Our community is great at getting behind things like this.
"It's so humbling how generous people are," said Butler.
"Kate is a cheeky, bubbly girl.
"For those close to her, it was heartbreaking to hear that she had been in remission and it (the cancer) had come back."
Butler said they are still looking for items for their silent auction.
Any items not sold will be donated to Gabby's Starlit HOPE, to gift to other children who are in a similar situation to Kate.
Contact Shanekea on 027 544 4335. Donations: BNZ 02 0360 0110035 01
Auction: April 15, 2018, 5.30pm onwards. The Red Barn, SH29 Piarere.
Tickets: available FRiday onwards: $130 each, tables (10pax) $1300, available at Redoubt and Kodak and Black (cash only). Cash only bar.