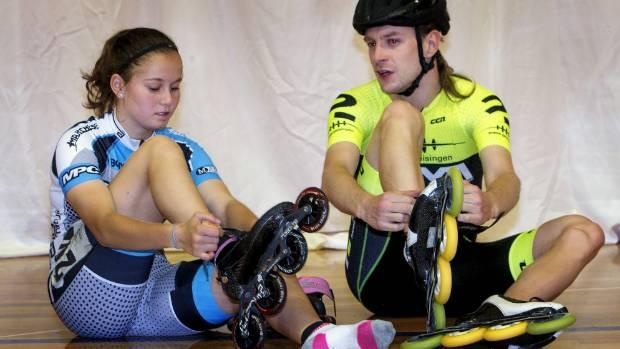 Serenity Griffiths is hoping to be the next in Palmerston North's long line of skating stars.
The teenager is about to head off to Geisingen, Germany, where she will link up with Palmerston North ex-pat Kalon Dobbin who coaches New Zealand's top inline and ice skaters.
Griffiths, 14, will spend six weeks training with the senior New Zealand inline team before taking part in the Geisingen International, which Dobbin described as "the biggest skating race in the world".
The chance to work with some of New Zealand's best skaters was a dream come true for the Manawatū Skating Club member.
READ MORE:
* Peter Michael chasing Olympic medal
She said she started skating when she was three years old when her kindergarten teacher got her involved.
From there, it became her passion and she already has a swag of national age-grade titles to her name.
Now she is determined to skate at the top level.
That is part of the reason Dobbin invited her to Germany.
The top Kiwi skaters are based there as there are better facilities and better competition.
"To get to international level, you can't do it here in New Zealand," Dobbin said.
"At that age, you have to see what level of competition you will be racing instead of waiting until you go to a junior worlds in another year and you get blown away completely.
In Germany her races will introduce her to pack racing with up to 50 skaters on the rink at any one time battling for position.
It is an experience clubmate, multiple world inline skating champion and winter Olympian ice skater Peter Michael said he wished he had at her age.
"I am really happy that she has had this opportunity and she has taken it. It will be good for her to be in the group with Kalon, who I believe is the top coach in the world."
And if things go well for Griffiths in Germany, there is a chance that she could start on the same dual ice and inline skating career that Michaels is now travelling.