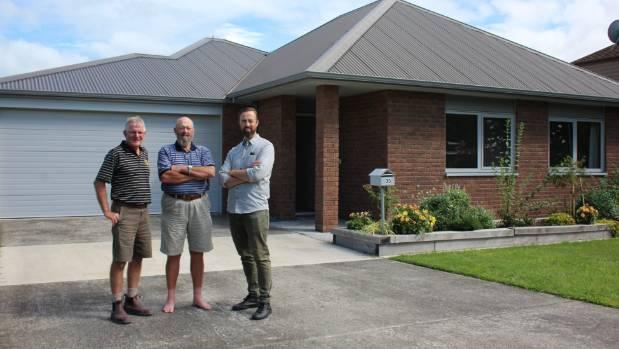 The season may be changing and temperatures unpredictable, but Allan Bates is enjoying a comfortable 20 degrees Celsius all year around.
Bates owns the first certified PassivHaus (Passive House) built in Matamata, the second in the Waikato.
A Passive House is a German technique that uses triple-glazed windows, extra thick walls, abundant insulation and other technologies to create an airtight and energy-efficient building.
Architects use climate data collected from Niwa and NASA, appropriate to the building site and design the home to that exact climate.
READ MORE:
Then it's a balancing act of controling the heat lost and gained through windows and doors from the sun and insulation, until it reaches the optimum all year around temperature of about 20 deg.
It will regulate its own temperature with little or no active heating or cooling, regardless of exterior temperatures.
It means that inside the home, Bates shares with wife Anne, it's always comfortable, healthy and dry.
Bates stumbled across the the concept while researching for ways to create a healthier home and reduce electricity costs.
He has lived in the home for a year and said the results speak for themselves.
"We had -2 degrees in Matamata during winter and without any heaters we were consistently sitting on 17-18 degrees.
"My power bill was between $66-97 per month.
"In our old 1920s refurbished home it was close to $300."
The Bates home was designed by certified Passive House architect Brooke Cholmondeley-Smith, director of Tawa Architecture.
Cholmondeley-Smith said while still relatively unknown, passive homes were growing in popularity around the world.
"More people are moving towards building healthier, comfortable homes, with lower running costs.
"Passive ticks all those boxes."
He said although it cost more to build, as there are more elements to the design phase and costs for materials, people were realising the value in the long term.
"Building costs in New Zealand are already expensive, it's a challenge for people and we know that.
"To take the approach of spending more capital, for lower running bills and a more comfortable home, you have got to be in the mind set already."
He said there were very few certified passive homes in New Zealand.
"They [customers] will pay a little bit more for a home that performs three or four times better than newly built homes.
"We would love to do more passive homes, but we are thrilled people are raising the bar."
He said the building industry was also benefiting from being involved in a passive build.
"For the younger guys, there are lot of things that are good practice.
"Sealing the windows and preventing moisture improves the quality of the build," he said.
Builder Richard Coleman agreed.
The director of Richard Coleman Builders and his team built the Bates home and it was their first passive build.
He said there are a lot of different elements to a passive house, in comparison to the average house build.
"It was a challenge and a learning curve. But the end result was really good for us.
"It's great for our young guys as well to get involved in something different."