Latest on Ronda Rousey's first match in the WWE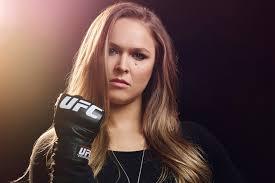 The segment witnessed both of them laying assault to Triple H and Stephanie McMahon. Back then, the power couple of the WWE was ruling the entire roster acting as the super-villains. They were known as The Authority who made the superstars' life hell, every night. So, seeing them getting beatdown was a treat for the fans.
It also marked the beginning of the WWE Universe wanting Ronda Rousey performing in the WWE in one match. Since then, there have been many instances that hinted that a potential match is in store for the former UFC fighter.
The much-anticipated moment will be happening at this year's Wrestlemania, perhaps. This is why we have witnessed her appearing at the .
Being a true sportswoman, Ronda has never dared to admit her love for the pro-wrestling industry.
Ronda Rousey has been a life-long fan of the WWE programming and always wanted perform here. This is the only hope that remained with the fans as they can expect her to see in a match in a WWE ring especially after her appearance at the Royal Rumble.
Recent updates from Wrestling Observer Newsletter suggested that the former bantamweight Champion will definitely participate in the upcoming edition of Wrestlemania. But, it is not going to be a singles match for her. Rather, the four horsewomen from WWE going against the four horsewomen from UFC is scheduled to happen at the event.
Ronda has been training at the WWE performance center to get ready. The earlier planning was to make the mentioned match to happen at Survivor Series. But, the postponed schedule will allow the ladies to get ready for the much-anticipated match.
"The feeling is that Survivor Series wasn't the right event for Ronda Rousey's first match because her first match is going to get a lot of publicity, so WrestleMania is the best place for it to happen. If the Wrestlemania match goes well it's possible that Rousey could continue to work with WWE and wrestle singles match somewhere down the line."