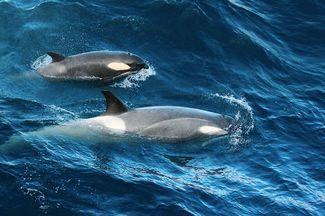 Federal scientists released an opinion that concludes a family of widely used pesticides poses a threat to dozens of endangered and threatened species, including Pacific salmon, Atlantic sturgeon and Puget Sound orcas.
iStock
Scientists at the National Marine Fisheries Service (NFMS) say that three widely used pesticides are jeopardizing the survival of many species of salmon, as well as Southern resident killer whales, or orcas, that feed on those salmon.
The three pesticides are chlorpyrifos, malathion, and diazinon. These organophosphate pesticides are commonly used by farmers. Chlorpyrifos is used by citrus, nuts and orchard growers and is blamed for neurodevelopmental issues in children. The Environmental Protection Agency (EPA) refused to ban chlorpyrifos in 2017. Malathion is used in over 100 food crops, including alfalfa, cotton, rice and wheat. A number of growth anomalies have been observed when fish were exposed to malathion, according to studies. Diazinon is used on rice, fruit trees, sugarcane, corn, potatoes and horticultural plants.
The National Marine Fisheries Service issued its 3,700-page biological opinion in the final days of 2017, following years of court battles with environmental groups. Pesticide manufacturers had urged the Trump administration to impose a two-year delay in publishing the findings, but they were unsuccessful.
This new report examined the risk that chlorpyrifos, diazinon and malathion pose as they are washed into streams and rivers. It concludes that chlorpyrifos and malathion jeopardize 38 out of the 77 species under the jurisdiction of the NFMS and that diazinon was found to jeopardize 25 of the listed species.
The report makes detailed recommendations to the Environmental Protection Agency for new restrictions on how and where the pesticides can be sprayed to help limit the harm.
Read the Seattle Times story here.
Read National Public Radio's account here.
Earthjustice is handling the case on behalf of Northwest Center for Alternatives to Pesticides, Pacific Coast Federation of Fishermen's Associations, and Institute for Fisheries Resources.