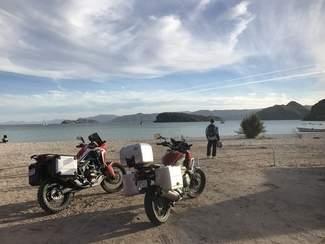 The east side of the Baja California Peninsula offers countless beaches like this gem, Playa Los Cocos.
Jeff Allen
It's my favorite hypothetical question: "If you could have the perfect body or eat tacos every day for the rest of your life, would you choose corn or flour tortillas?" With that thought in mind, total disregard for our beach bodies, and visions of savory tacos al pastor dancing in our heads, my eldest son Evan and I couldn't resist the draw of roads less traveled and an abundance of handmade street food.
At a time when much of the US was suffering through bitter winter weather, we liberated a couple of test bikes from the Cycle World garage—a Honda Africa Twin and its larger sibling, the VFR1200X—and set our sights on the winter wonders of the Baja California Peninsula. With a map in hand, we released the clutch levers and say goodbye to the good ol' US of A for the next nine days.
For the first leg of the ride, we crossed the peninsula to the east side, which delivered us just after dark to Bahía San Luis Gonzaga, considered by many to be one of the most picturesque spots in Baja Norte. For the next three days, we rode on- and off-road, winding our way south and taking in views of the Pacific Ocean and Sea of Cortez. After overnight stops in San Ignacio and Loreto, we arrived in Todos Santos, where we unpacked our bags.
We were just close enough to Cabo San Lucas to make a day trip to the tip of the peninsula, which allowed us to sightsee in that absurd tourist trap known simply as "Cabo." Better yet, we caught a few waves at nearby Playa Cerritos. After a couple of rest days in this quaint pueblo, our taco plate runneth over and it was time to make a beeline for the border in San Diego. Back to my original question: Corn or flour? Evan chooses flour, I prefer corn.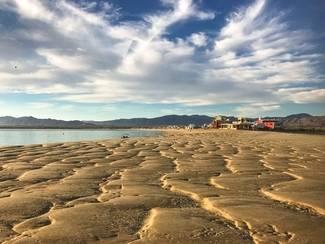 This is the Alfonsinas hotel in Bahia San Luis Gonzaga.
Jeff Allen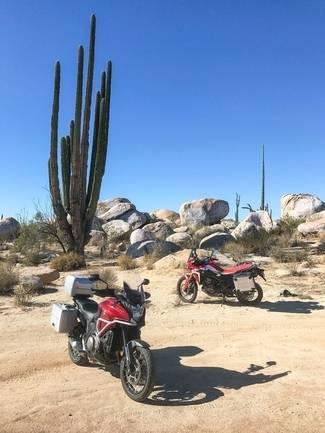 We're not in Kansas anymore, Evan.
Jeff Allen
Left and right: We were thoroughly entertained on our way to visit Mission San Javier, about 20 miles outside Loreto.
Jeff Allen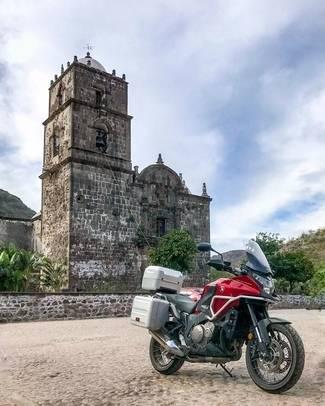 This is Mission San Javier.
Jeff Allen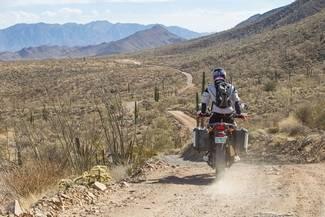 Dusty trails.
Jeff Allen
Left: Because it's possible to ride on the beach in Mexico, we did. Right: This big girl can dance.
Jeff Allen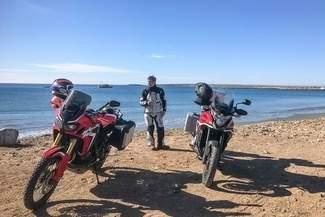 Taking in the sights in Santa Rosaliita.
Jeff Allen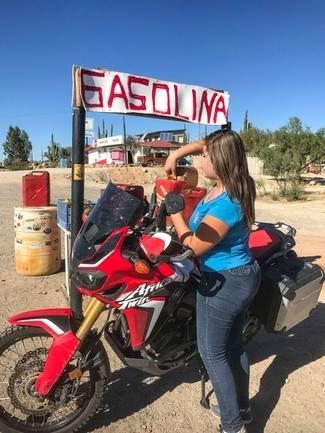 There are places in Baja where "jug gas" is the only gas. Be prepared to pay handsomely too, in our case between $6 and $9 per gallon.
Jeff Allen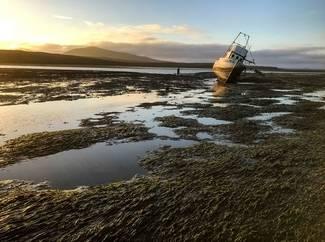 Sunset view from The Old Mill, Bahia San Quintin.
Jeff Allen
Discussion raged over who led and who rode in the dust. Father knows best; I won this debate.
Jeff Allen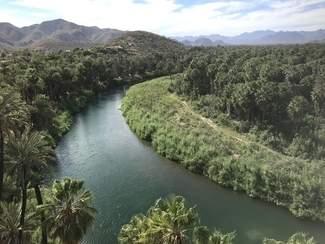 The Date Palm Oasis of Mulege.
Jeff Allen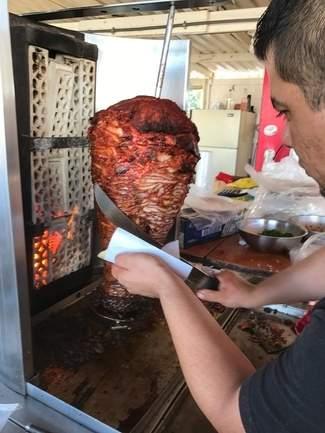 Our mouths were watering for hand-shaved al pastor street tacos.
Jeff Allen
Left: Evan soaks up the sun. In the distance is Lands End, Cabo San Lucas. Right: Surf check at Playa Cerritos.
Jeff Allen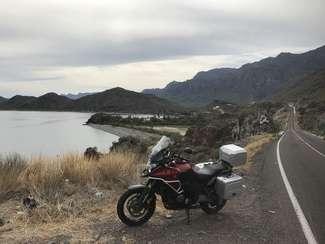 There were plenty of photo opportunities on Hwy #5.
Jeff Allen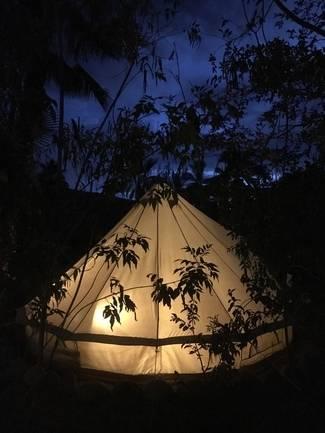 Sometimes it's the view from the room, other times it's the view of the room.
Jeff Allen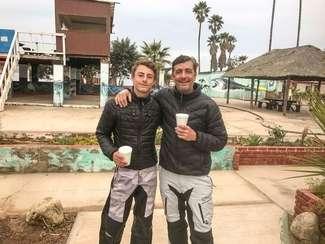 Father and son: Somehow we managed not to kill each other.
Jeff Allen