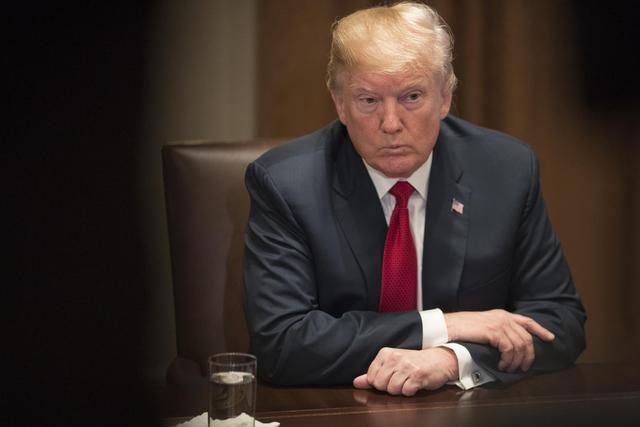 WASHINGTON — President Donald Trump on Saturday accused the Democrats of forcing his hand in blocking the release of a classified memo that rebuts Republican charges that law enforcement agencies abused their power in spying on a former Trump campaign aide.
Trump, in a morning tweet, said the memo drafted by Democrats on the House Intelligence Committee was "very political and long" and would have to be heavily redacted to protect "sources and methods (and more)."
He said that the Democrats knew that such a necessity would prompt him to block the memo and would open the White House to charges of a lack of transparency.
The president said he had instructed the Democrats to "re-do and send back in proper form!"
Democrats rejected Trump's rationale, first laid out Friday evening in a letter by the White House counsel, as hypocritical, given that he had declassified the Republican memo and that Democrats and Republicans on the committee had voted unanimously to release the rebuttal memo. The Democratic memo was drawn from the same underlying documents as the Republican one.
The ranking Democrat on the committee, Rep. Adam B. Schiff of California, said that Trump, in releasing the first memo, had overruled objections by the FBI and the CIA, which said the document omitted "material facts."
Now, Schiff said in a tweet, the president "expresses concerns over sharing precisely those facts with public and seeks to send it back to the same Majority that produced the flawed Nunes memo to begin with."
The Republican memo, drafted by staff members at the direction of the committee's chairman, Rep. Devin Nunes of California, made the case that the FBI showed bias against Trump in investigating ties between his presidential campaign and the Russians.
The Intelligence Committee could either try to meet the White House's demand for changes, or seek a vote in the full House to try to override Trump's decision.