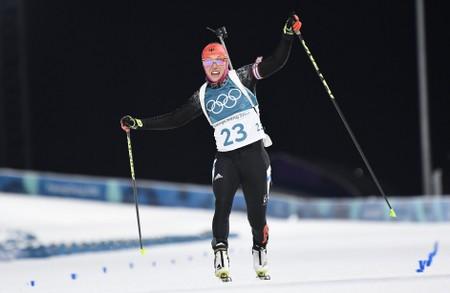 By Philip O'Connor
PYEONGCHANG, South Korea (Reuters) - Germany's Laura Dahlmeier put on a superb skiing performance and shot a perfect 10 from 10 to win Olympic gold in the women's 7.5km biathlon sprint on Saturday, with Norway's Marte Olsbu taking silver and Veronika Vitkova of the Czech Republic the bronze.
The 24-year-old Dahlmeier thumped her chest as she glided joyously across the line, winning by 24.2 seconds to add an Olympic victory to her stunning haul of five gold medals from the 2017 World Championships.
Both the shooting and the skiing conditions were difficult, with a strong wind whipping up snow on some parts of the course and the wind chill making the freezing temperatures even more uncomfortable.
However, Dahlmeier appeared not to notice as she rattled off 10 perfect shots at the targets, five each from the prone and standing positions -- the only one of the 60 athletes to do so.
Norway's Olsbu gave it all she had but an early miss in the prone position proved costly and instead of challenging for the gold she was left in a battle with Vitkova for silver that she won by only 1.6 seconds.
World Cup leader Kaisa Makarainen of Finland had a disappointing showing, missing three of her 10 shots and finishing well down the field.
(Editing by Clare Fallon)