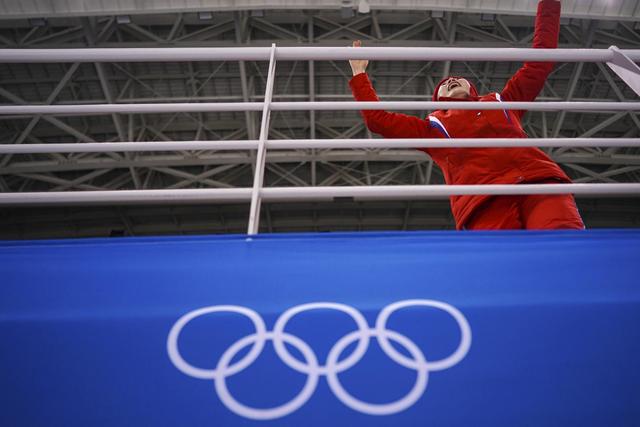 GANGNEUNG, South Korea — It was their first outing as a team together, and it was a rout.
The unified Korean women's hockey team, which skated onto the ice bearing the heaviest symbolic weight of the Pyeongchang Games, lost, 8-0, to Switzerland on Saturday night.
As the only sports team competing here with athletes from both North and South Korea, the women's ice hockey players had come to represent hopes of a breakthrough in a geopolitical standoff that has stirred fears of nuclear conflict on the divided peninsula.
With President Moon Jae-in of South Korea watching from the stands with Kim Yong Nam, the North's ceremonial head of state, and Kim Yo Jong, the only sister of Kim Jong Un, the leader of North Korea, the diplomatic agenda driving the unified team was never in doubt.
Jong Su Hyon, a North Korean player, said at a news conference after the game that playing in front of top leadership was "the greatest honor for me."
She added that playing in the Olympics "felt like competing in heaven" — or so the translator said, before correcting her interpretation to: "It felt like I was competing in my own country."
Inside Kwandong Hockey Center, the cheering was intense for the Korean team, with fans waving both South Korean and unity flags any time one of the players got close to goal. But the team never had much of a chance.
Switzerland scored three goals in the first period, another three in the second period and its final two in the third, outmatching the unified Korean team throughout.
"Because this game was the game anticipated by everybody in Korea, I was very nervous before the game," said Park Jong-ah, a South Korean player who was a penultimate torchbearer with Jong of the North a night earlier at the opening ceremony in Pyeongchang.
A dozen North Korean players appeared on the unified team's roster, and three of them skated during the game Saturday. Some spectators said they believed the team could help ease tensions.
"Having this united team in the international games will help heal the relationship between North and South Korea," said Park Chae-yeon, 22, a student at Yongnam University. "I think it is so meaningful to see this historical event."
At the final buzzer, a 30-foot white banner was unfurled in the stands that read, "We are one."