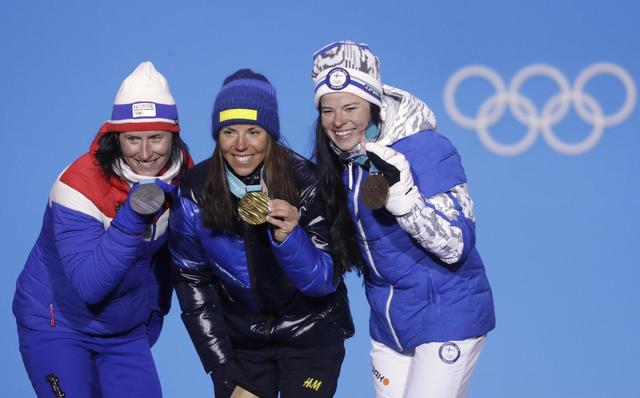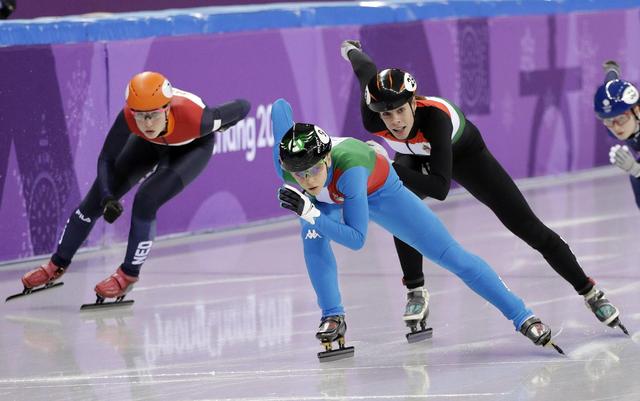 PYEONGCHANG, South Korea (AP) — Charlotte Kalla won the gold and Marit Bjoergen made Olympic history.
In the first medal event of the Pyeongchang Games, Kalla won the women's 15-kilometer skiathlon by more than seven seconds on Saturday.
"It feels very good to be ahead of Marit," the Swede said. "She's a fantastic skier."
Despite her silver-medal finish in the cross-country skiing event, Bjoergen made the headlines by becoming the most decorated female Winter Olympian ever. The Norwegian won her 11th career medal to break a tie with Raisa Smetanina of Russia and Stefania Belmondo of Italy.
Other medals due to be awarded on Saturday include events in women's biathlon, men's ski jumping, women's 3,000-meter speedskating and men's 1,500-meter short-track speedskating.
The 37-year-old Bjoergen raised her arms as she crossed the finish, knowing she reached the milestone. Norway also tied Russia for the most medals of all time in women's cross-country skiing with 37.
"I have been very good for many years," Bjoergen said, "but I'm also getting older and the younger girls are getting better."
Bjoergen, who will participate in the women's sprint on Tuesday, said this will be her final Olympics but isn't sure how many other races she'll participate in in Pyeongchang.
"For sure, it's my last Olympics," Bjoergen said, "but for me, I have to focus on doing good races."
It was the sixth career Olympic medal — third gold — for Kalla, who broke from the pack in the last 2 kilometers.
Krista Parmakoski of Finland was third.
Jessica Diggins placed fifth, missing a chance to become the first American woman to earn a medal in cross-country skiing. Diggins was third in the World Cup standings coming into the race.
WOMEN'S HOCKEY
Sara Hjalmarsson scored 1:53 into the third period and Sweden held off Japan 2-1 to open the preliminary round for women's hockey.
It was only Japan's third appearance in the Olympics for women's hockey, and they had to start off pool play against a country that took home silver in 2006 and bronze in 2002.
Switzerland and South Korea were also scheduled to play Saturday.
MEN'S DOWNHILL
Race organizers expect "challenging" conditions to stage the men's Olympic downhill on Sunday.
Team leaders have been told the weather forecast is "partly cloudy, but the wind will be strong." Race-time temperatures will be below freezing on the Jeongseon hill.
Gusts and tailwinds affected a shortened practice run on Friday but eased for the final training session Saturday.
"It was good enough to have a race today," race director Markus Waldner said. "Tomorrow we will see."
FIGURE SKATING
American siblings Maia and Alex Shibutani will compete in the ice dance and Bradie Tennell in the women's short program when the team competition resumes Sunday at Gangneung Ice Arena.
The American team, second behind Canada after the pairs and men's short programs, waited until the last possible moment to announce its lineup in a bit of gamesmanship with its rival nations.
The top five nations after their short programs advance to the free skate later Sunday.