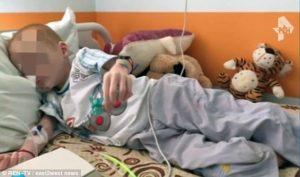 Lyubov Korokova a foster mother from Magadan a city that is located 5 900 km from Moscow is being accused of starving her son to death in order to claim state benefits. She was fooling doctors to believe that her foster son Valery Kondourov had s rare disease.
Her foster son at the age of 11 weighted less than two stone and was only 3ft 5ins tall the same as a five years old. Koprotova has been accused from Russian state investigators and is being in custody waiting for the day of her trial. She intentionally come up with a plan to claim benefits by starving the kid so that he appeared to be critically ill.
A law enforcement source said that 'She made him take medical drugs to build up a clinical manifestation of a stomach disease'. She started getting compensation and other benefits when she manages to register her son as handicapped. Korokova received £ 20,000 state benefits , and charity money that she dribble away on luxuries.
She has been charged for fraud and causing to the child intentionally health damage. If she will be convicted she will face 10 years in prison.
Korotkova cheated local officials who saw her act as heroic for helping the sick child, while mayor Yury Grishan in June gave the order the child to return to her. Anna Kuznetsova ombudsman of Kremlin children disagreed with the decision of the mayor, the child to be returned to his foster mother. .