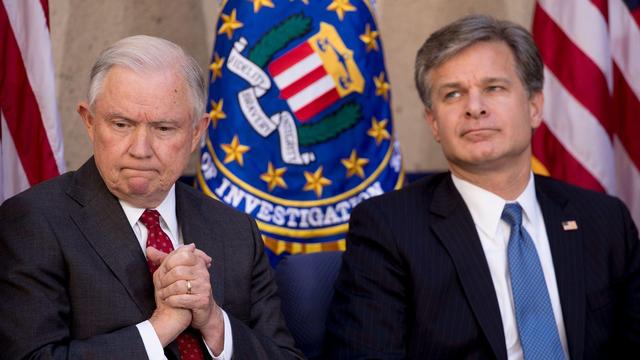 Four days after President Trump tweeted that the FBI's reputation was "in tatters," the bureau's new director, Christopher A. Wray, will testify before Congress for the first time Thursday.
The House Judiciary Committee hearing is scheduled to start at 10 a.m. ET.
Wray will face questions from lawmakers at a time of severe turbulence within federal law enforcement and the Trump administration.
He took over the FBI in the wake of Trump's abrupt decision in May to fire the previous director, James B. Comey. The president tweeted on Sunday that Comey's leadership left the bureau's reputation "in tatters — worst in history!"
At the time of Comey's dismissal, however, Trump said he fired him because the FBI was investigating several of Trump's aides as part of an inquiry into Russian interference in last year's campaign.
The episode led to the appointment of special counsel Robert S. Mueller III to oversee the wide-ranging investigation.
Mueller last week secured a plea deal with Michael Flynn, Trump's former national security advisor. Flynn admitted to lying to the FBI about his contacts with the Russian ambassador during the presidential transition, and agreed to cooperate with prosecutors.
Wray probably will face questions about the conduct of FBI agents assigned to the Mueller inquiry. One agent was removed from the case after he sent text messages that could be considered anti-Trump. The agent previously had worked on the investigation into Hillary Clinton's private email server.
Wray, who was easily confirmed as FBI director by the Senate, previously worked as a federal prosecutor in Georgia and was a high-ranking Department of Justice official in President George W. Bush's administration. He was in private practice when Trump tapped him for the post.
Wray promised during his confirmation hearing that he would be independent from political pressure. He also expressed support for Mueller's investigation.