Home People What People Loved The Most On The Internet In 2017? Did you also love all of these?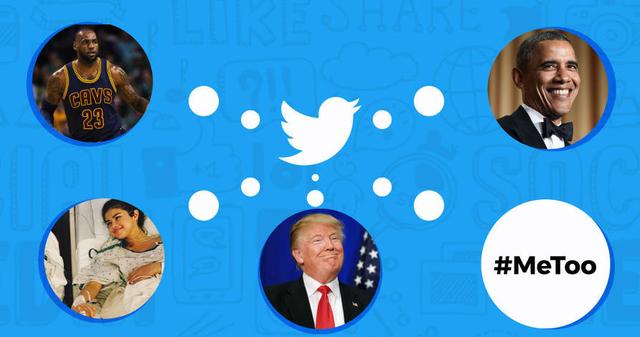 So, it's that time of the year when almost all of us are waiting for the Christmas and enjoying our holidays at home. The mighty year 2017 will also end after a few days, and all of us will step into a new year with a euphoric mood and feeling.

While there's still some time left, micro-blogging website Twitter has released an informative data to give us some valuable and beautiful insights into the most crucial and famous moments of the entire year.

From the most-talked about celebrities, TV shows and fan groups to the most loved tweets and films; Twitter has revealed it all.

Have a look!

Twitter champion of the year 2017.

Carter Wilkerson, the Nevada teen, posted a tweet on Twitter requesting Wendy's fast-food chain for a year's supply of chicken nuggets. This tweet spread like wildfire on Twitter and has got more than 3.6 million retweets, making it the most retweeted post on Twitter ever.

Most-loved tweet in the year 2017 was from Barack Obama.

TwitterBringing communities together one at a time. Check out the most liked Tweet of 2017. #ThisHappened

More than 3 million tweets were posted using the hashtag #MeToo.
Twitter Data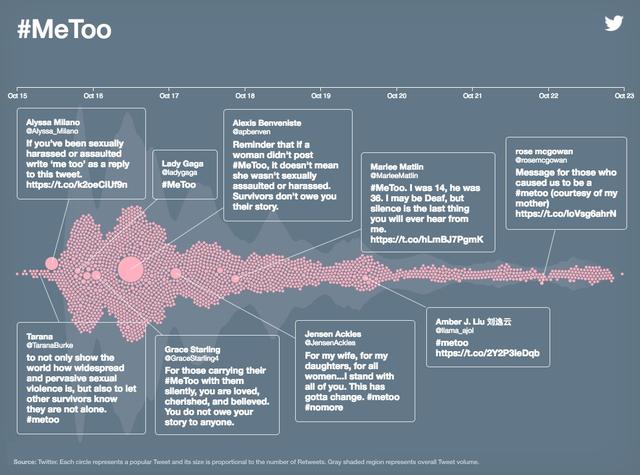 More than 3 million Tweets about the #MeToo movement. Explore how it spread on Twitter in its first week with this visualization of the volume & top Tweets.

Most tweeted celebrities on Twitter 2017.
UK BTS ARMY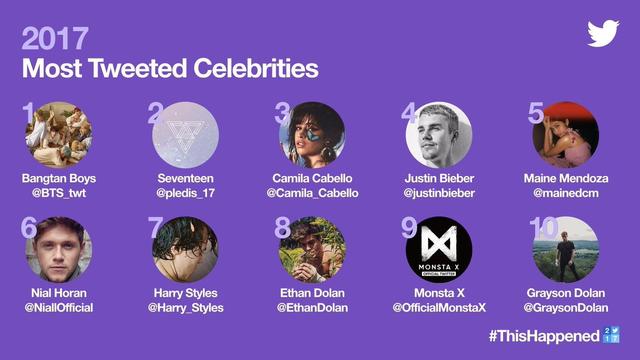 BTS (@BTS_twt ) is the most tweeted celebrity in 2017 #ThisHappened

Most tweeted songs globally in 2017.
Koreaboo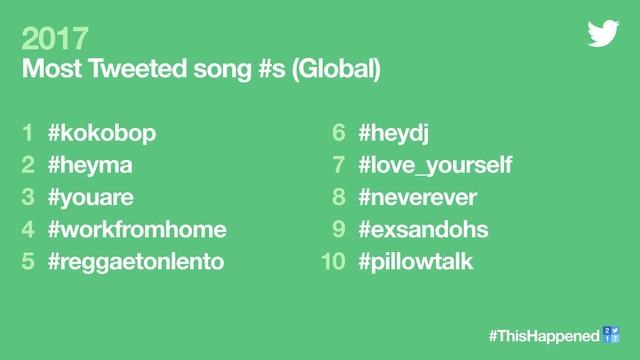 Congratulations EXO on having the #1most tweeted song in 2017, #KoKoBop #ThisHappened #EXO @weareoneEXO GOT7 makes the list with two songs at #3 and #8 @GOT7Official #7 unfortunately has nothing to do with BTS but is still an amazing song from Justin Bieber

Most tweeted television shows in the USA, 2017.
JustinChambersOnline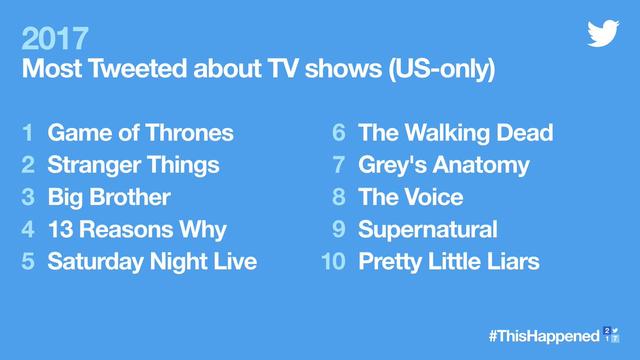 .@GreysABC was the 7th most tweeted about TV show (US) in 2017! #GreysAnatomy #ThisHappened

Most tweeted about films, 2017.
Twitter Data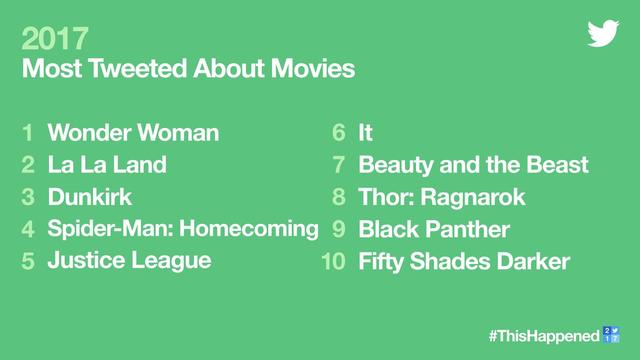 Tweets. Camera. Action. Here are the most Tweeted about movies of 2017. #ThisHappened

Most tweeted about fans groups on Twitter 2017.
5 Seconds of Summer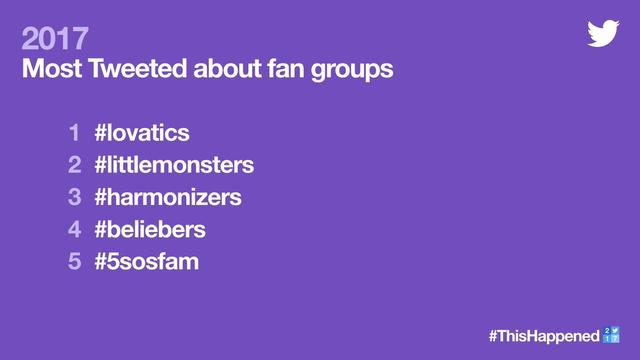 #5SOSFAM finish 2017 at #5 spot on the "Most tweeted about fan groups"! Congratulations #ThisHappened

Most tweeted about elected world leaders on Twitter in 2017.
Twitter Government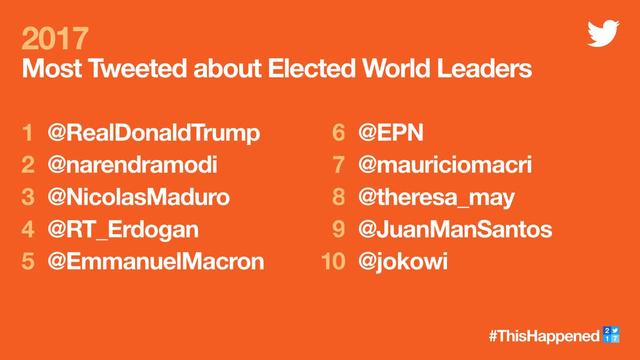 Here are the most Tweeted about elected world leaders. #ThisHappened

These are the most tweeted sporting organisations.
Twitter Sports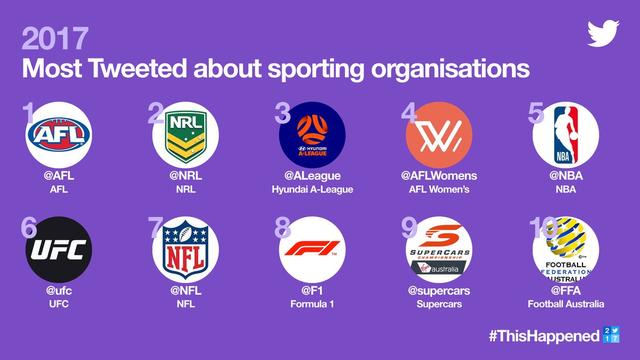 Which sporting organisations did the business in 2017? Here are the most tweeted about in Australia #ThisHappened

And the most tweeted sports hashtags.
Twitter Data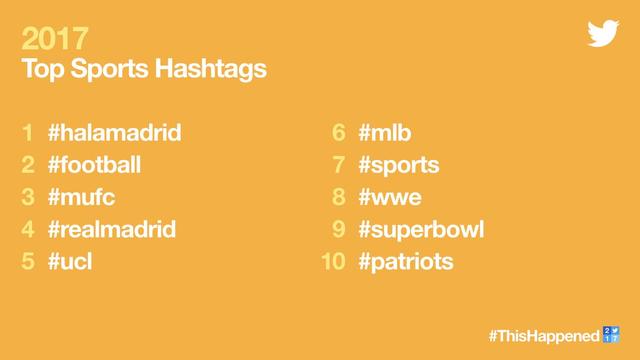 From fútbol to football. Here are the top sports hashtags of 2017. #ThisHappened

The most tweeted media outlets in 2017 are these.
Mediaweek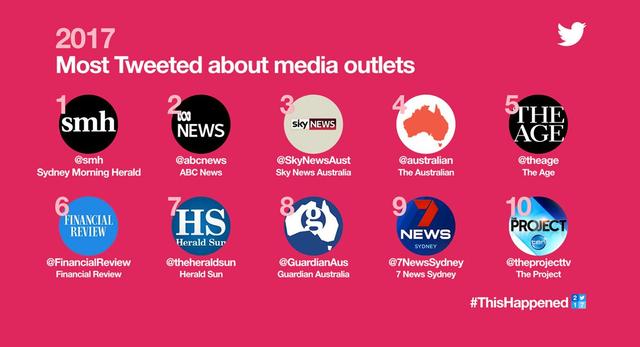 What was hot on @TwitterAU in 2017: #auspol, @smh, @MikeCarlton01 & more #ThisHappened http://ow.ly/X2PY30h0VLp

The most tweeted news outlets.
Twitter News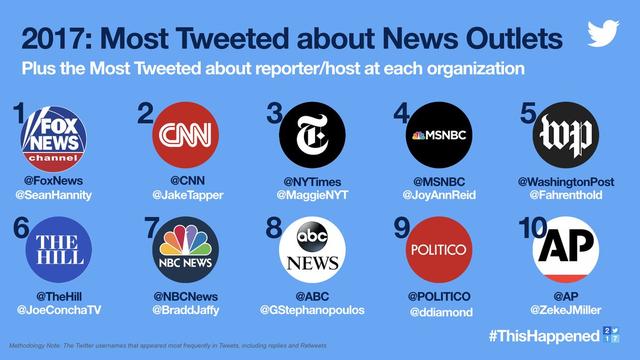 #ThisHappened in 2017: The most Tweeted about news outlets and the most Tweeted about reporter/host at each organization.

The most tweeted brands on Twitter in 2017.
Twitter Marketing AU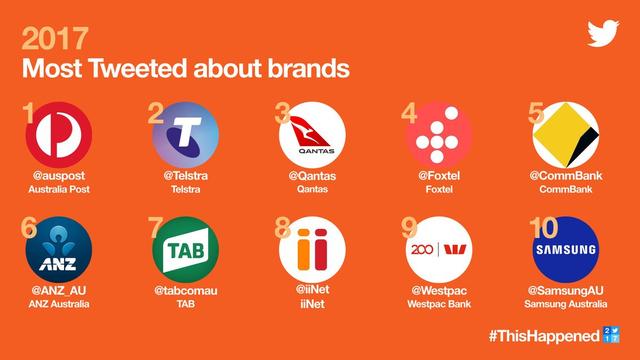 Today, we're taking a look back at the hashtags, people and brands that got Aussies talking on Twitter in 2017. Here's the most Tweeted about brands in Australia this year #ThisHappened