Pasta and cheese seem to go together like bread and butter. They are a classic combination. Making the perfect cheesy pasta not quite as simple as throwing a handful of cheese into a bowl of pasta, however. There are a few extra steps you have to take, and a few extra ingredients you have to add in to make it just right.

Ingredients[1]Pasta 1 pound (450 grams) pasta4 quarts (3.8 liters) water1 tablespoon salt1 – 2 teaspoons oil (recommended)Sauce 1½ cups (350 milliliters) milk (2% or whole)2 tablespoons all-purpose flour2 – 3 cups (200 – 300 grams) shredded cheese½ teaspoon salt¼ teaspoon powdered mustardDash of pepper, garlic, or dried herbs (optional)Extras, such as bacon, broccoli, ham, or peas (optional)Cooking the Pasta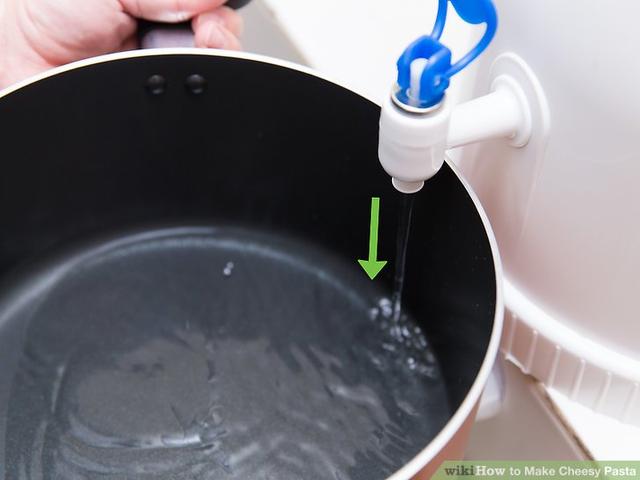 Fill a large pot with 4 quarts (3.8 liters) of water. You will make enough pasta to feed 4 to 6 people. If this is too much for you, you can cut the recipe in half. You can also store any leftovers in the fridge. Cheesy pasta will last about a week.

If you want to add extras to your cheesy pasta, like ham or peas, you might want to start heating those up now. Any extras should already be cooked by the time you add them in at the end.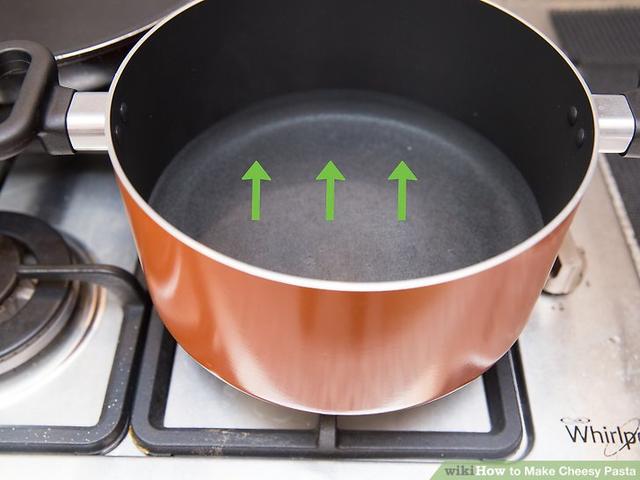 Place the pot on the stove and bring it to a boil over high heat. You can save some time by starting to prepare your cheesy sauce. If you cook the sauce and the pasta together at the same time, your meal will be ready sooner.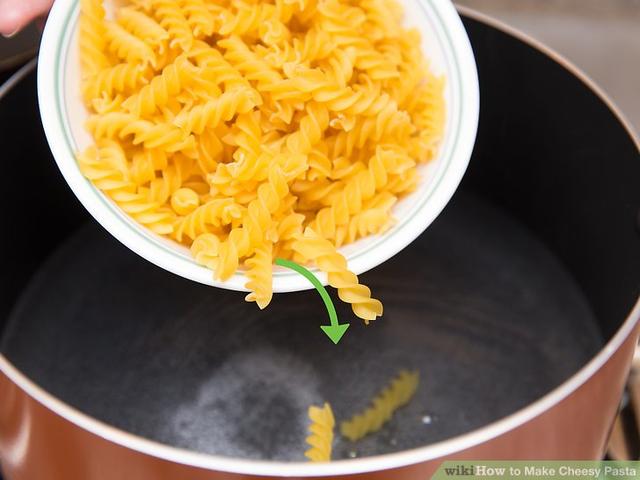 Add 1 pound (450 grams) of pasta and 1 tablespoon of salt. You can use any type you want, but textured shaped (such as corkscrews) will hold the sauce better. You might want to add in 1 to 2 teaspoons of some sort of cooking oil. This will help keep the pasta from sticking.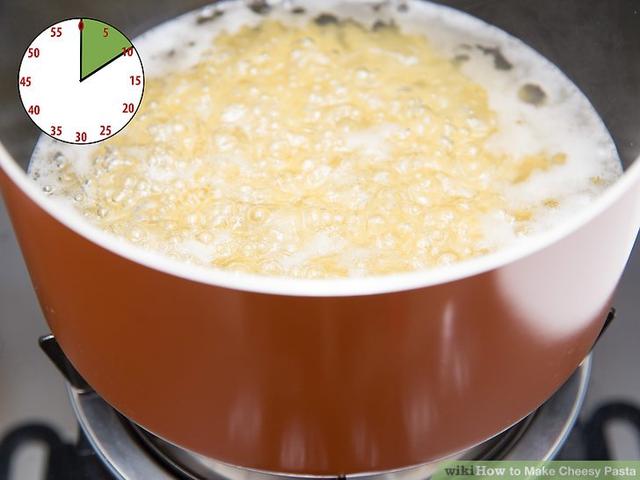 Cook the pasta until it is al dente. Most packages will tell you how long this will take. It can be as little as 8 minutes, to as long as 12.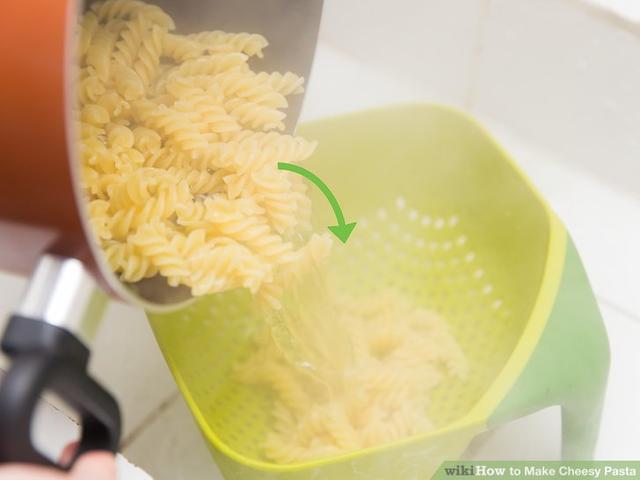 Drain the pasta when it is done cooking. Take the pot off the stove, and carry it over the sink. Pour the water and pasta through a colander or strainer.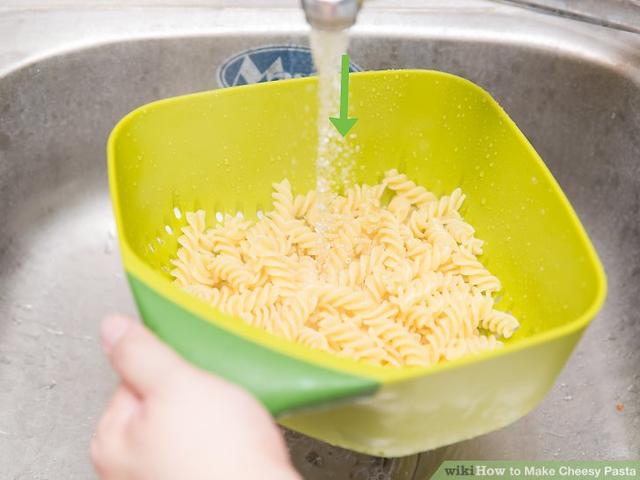 Run the pasta under cold water, then set it aside. Once you have drained the pasta, keep it in the strainer, and run it under cold water for a few seconds. This will stop the pasta from cooking and turning mushy. Give the strainer a jiggle to get rid of any excess water, then set the pasta aside.

Preparing the Sauce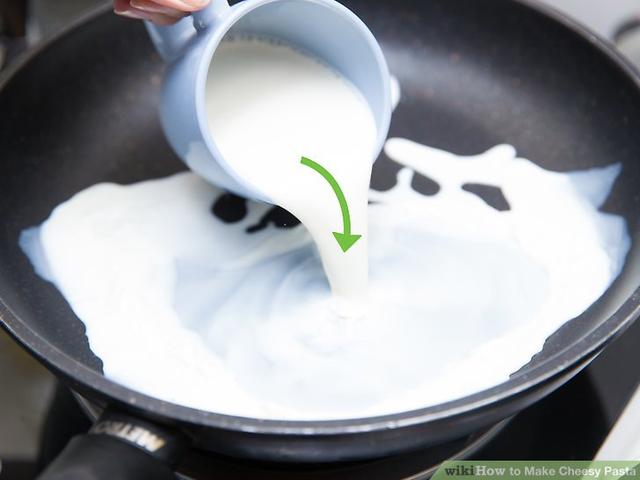 Heat 1 cup (240 milliliters) of milk in a saucepan over medium heat. You will be adding the rest of the milk later.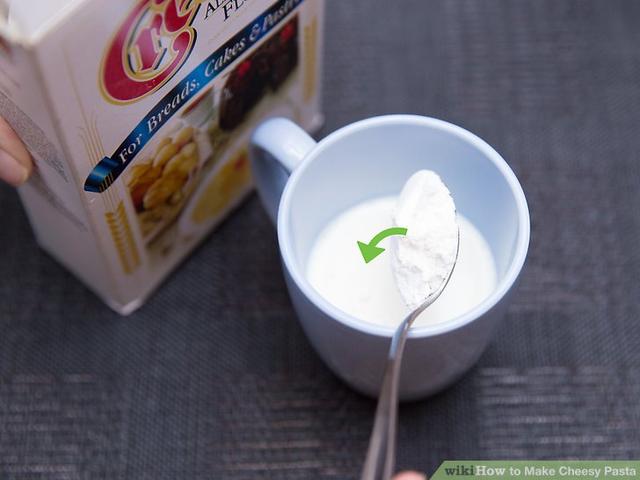 Mix ½ cup (120 milliliters) of milk with 2 tablespoons of flour. In a separate cup, whisk together the remaining milk with the flour. Keep whisking until there are no clumps left.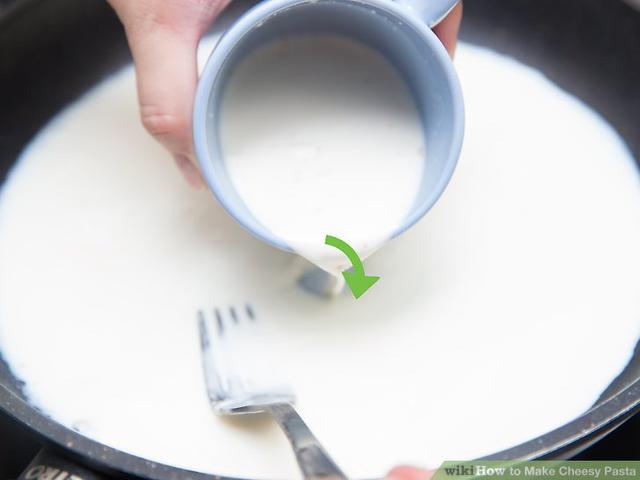 When the milk starts to steam, mix in the flour-milk. Wait until the heating milk starts to form tendrils of steam. When it does, pour in the flour-milk, and stir it with a whisk.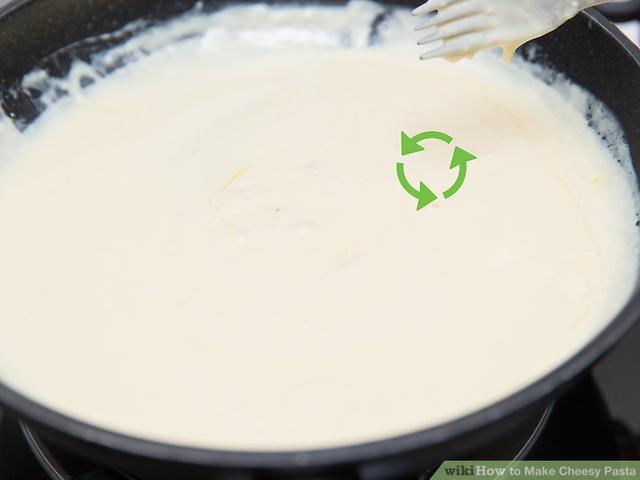 Keep whisking until the milk starts to thicken. You are looking for a heavy, cream-like consistency. This will take about 3 to 4 minutes.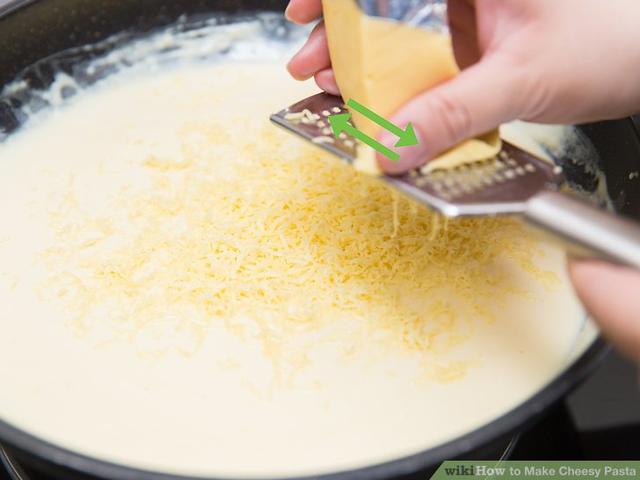 Reduce the heat to low and add in 2 to 3 cups ( 200 to 300 grams) of shredded cheese. You can use any type of shredded cheese you like. Cheddar, Colby, and Monterey Jack are popular flavors. If you are using a hard cheese, such as Romano or Parmesan, make sure that it is finely-grated. This will help it melt better.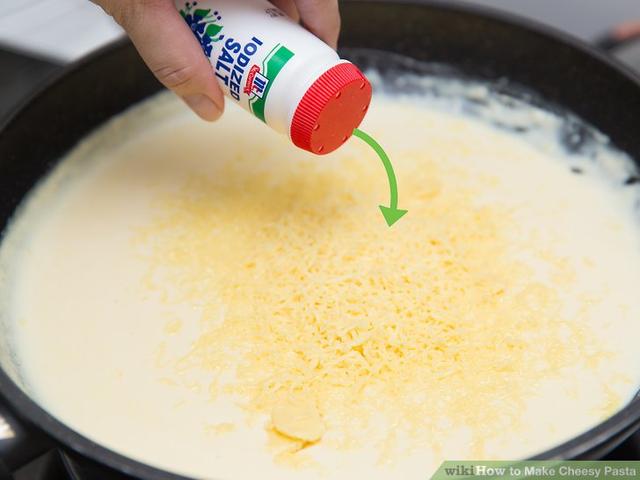 Mix in the cheese, then add ½ teaspoon of salt and ¼ teaspoon of powdered mustard. For more flavor, add a dash of pepper, garlic powder, or some dried herbs (such as oregano or basil).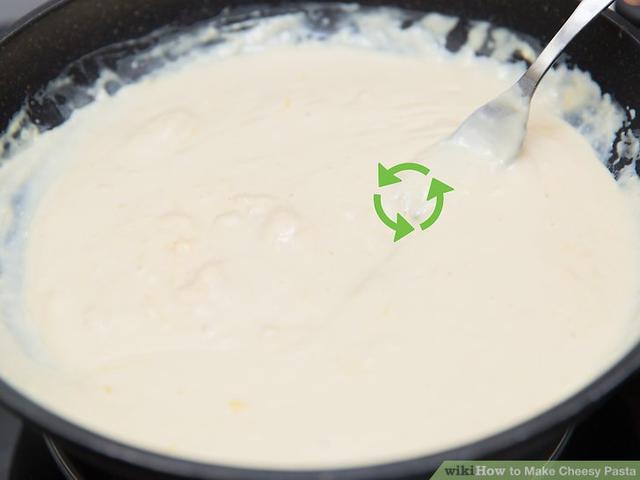 Keep stirring until the cheese melts and the sauce is smooth and creamy. At this point, you can give your sauce a taste, and make any adjustments, if needed.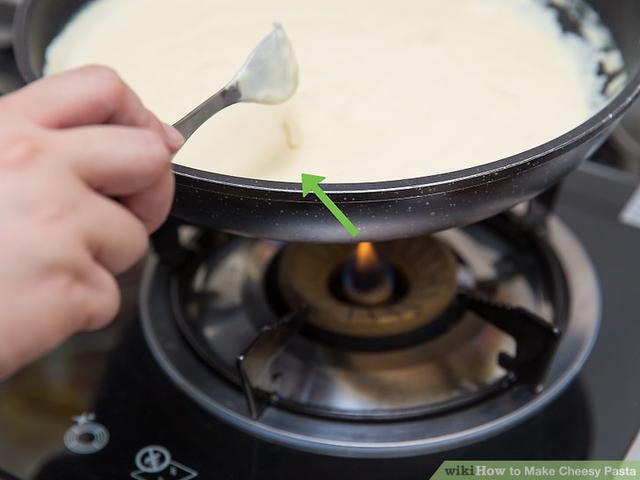 Take the sauce off the heat. You are now ready to mix it into your pasta.

Putting Everything Together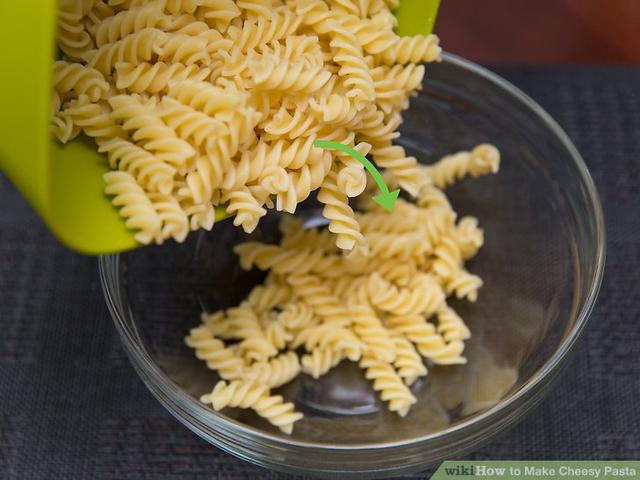 Put the pasta into a large serving bowl. Choose a bowl that is a little bit larger than you think it needs to be. This will make mixing the pasta and sauce a lot easier. It will help prevent any bits of pasta from escaping.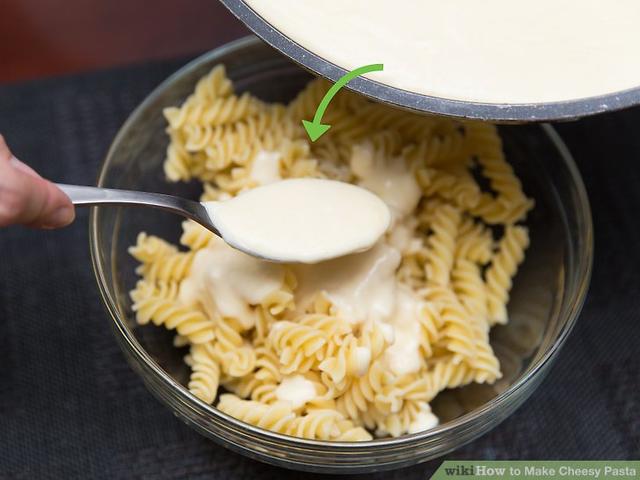 Add in half of the cheese sauce. You will be adding the rest of the sauce later. It is easier to mix in small amounts of sauce at a time.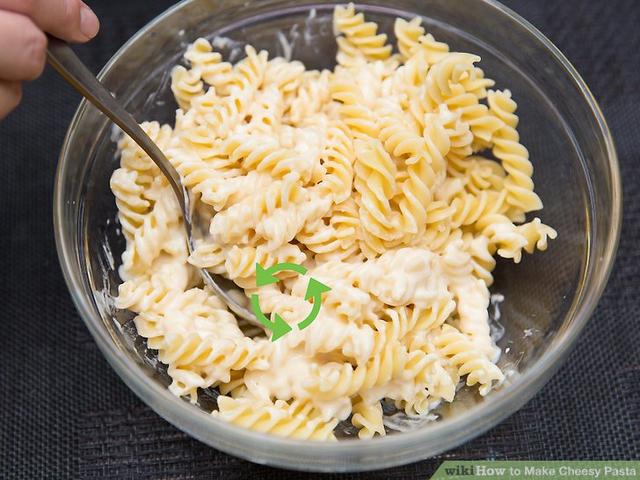 Stir the two together until the pasta is evenly coated. Use a large spoon or spatula. Try to use a rolling motion, where you bring the pasta from the bottom of the bowl to the top.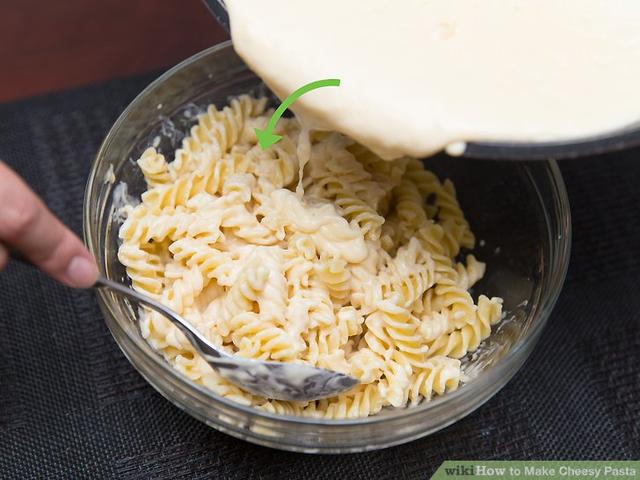 Add the rest of the sauce, and keep stirring until the pasta is evenly coated. Use that same rolling motion as before, where you scooped the pasta from the bottom of the bowl to the top.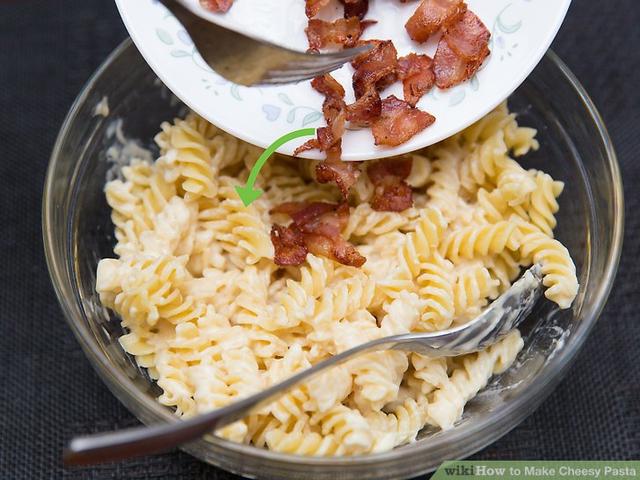 Consider adding in some extras. At this point, you can add in some extras to give your pasta some extra flavor. What ever you choose to add in should already be cooked and cut into small, bite-sized pieces (or smaller). Here are some ideas for popular add-ins:[2]

Bacon or hamBroccoliCauliflowerMushrooms and onionsPeas and carrotsPeppers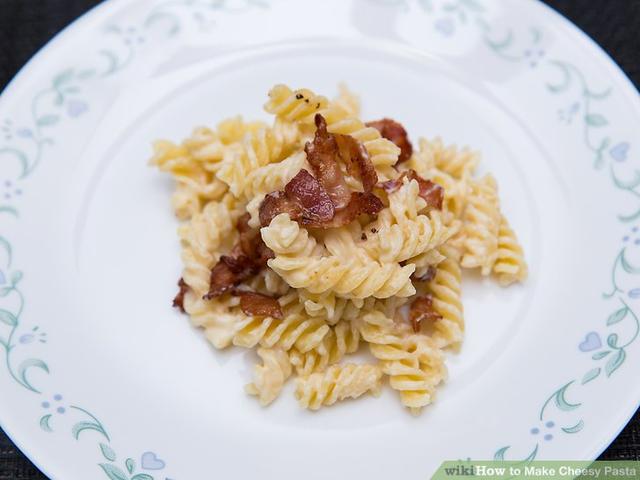 Serve the cheesy pasta immediately. This sort of dish is best served warm. The longer it sits, the more greasy and oily it will become.

Tips Store any leftovers in the fridge. They will last a week.Reheat leftovers in the microwave.If the reheated leftovers are too dry, add in a splash of milk.To save time, make the sauce while the pasta is cooking.Things You'll Need

Stove

Large pot

Strainer or colander

Saucepan

Cup or small mixing bowl

Small whisk

Serving bowl

Large spoon or spatula for stirring