In the first years after coming to power, the spreading of the story of the ideal people and the perfect Aryan race was crucial for the Nazis. A large number of posters, billboards, books and magazines were printed that promoted a "desirable" physical appearance, and propaganda went so far as to form a whole ministry headed by Joseph Gebels.
One of the journals for spreading Nazi propaganda was the magazine "Sonne ins Haus" ("The Sun in the House"), which promoted the importance of proper upbringing and education of children and families in the spirit of Hitler's ideals. In 1935, on the front page, the figure of "the perfect Aryan baby" appeared.
Hesi Levinson was the ideal for an "ideal German baby" - large eyes, thick brown hair and straight nose, was all that Hitler thought when speaking of the superiors, the Aryan race. Her character was so perfect that the Nazis soon began to use it for propaganda purposes. The only problem? Hesi Levinson was a Jew!
The Levison family, musicians by profession, moved from Latvia to Berlin. Mrs. Paulina Levison once took her daughterr to the famous photographer Hans Balinuda. A few days later, with horror she recognized her daughter's photograph on the front page of the Nazi magazine!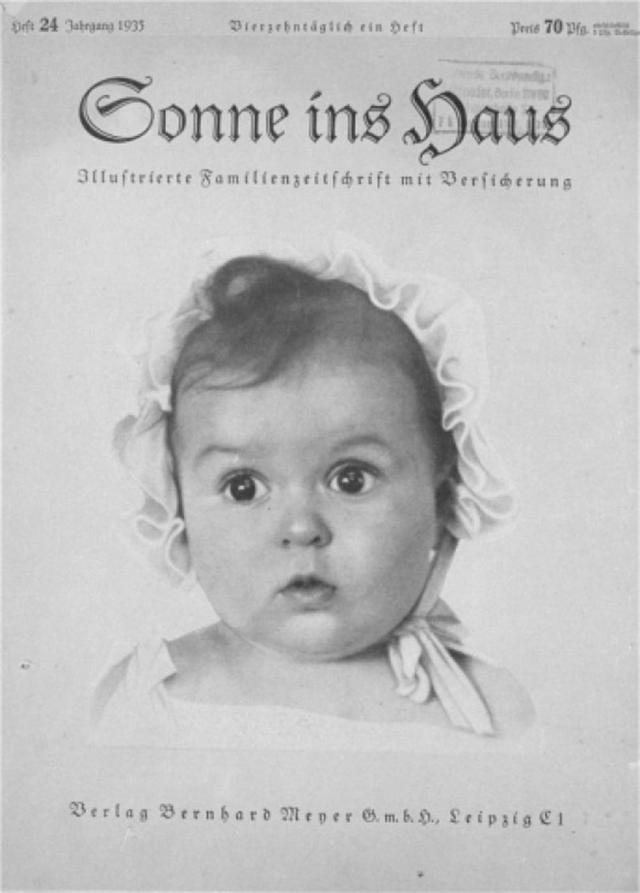 She was afraid that the family of the Jews would be discovered, and immediately went to the photographer, and he told her that he had deliberately sent the photo to the competition for the most beautiful Aryan baby to make fun of the Nazis.
It will be, he said, their privaate joke, and no one will ever find out the truth.
And it was like that! The Nazis have never found the true origin of their ideal Aryan baby. Jeff Nelson, the minister in charge of Nazi propaganda, allegedly himself picked out the photo for the front page and was simply enchanted by Hess's beauty.
Hesi Levinson, now Taft, lives in New York today. She celebrated her 83rd birthday in May and lives a peaceful life as a retired chemistry professor.