If you're an avid hiker, you need a good set of trekking poles. They're great for hiking, backpacking, climbing, camping, or anytime you need support while walking.

What are trekking poles?

Trekking poles are hiking sticks that can provide stability, increase balance, and help support your body to reduce stress on the knees, back, and joints. They can also tone the arms and even help you burn more calories on your next outdoor adventure.

Top 5 trekking polesBLACK DIAMOND Trail Back Trekking Poles

The BLACK DIAMOND Trail Back Trekking Poles are the perfect set of three-section poles. They feature a nylon webbing strap with woven lining, nonslip EVA foam grip extension, and rubber handles with comfortable ribbing to reduce vibration. They also offer easy adjustment with Dual Flick Locks to better suit the terrain. These are tough, durable, and built to last. They're also frequently recommended online by publications like OutdoorGearLab.

Currently $66.34 on Amazon

Montem Ultra Strong Trekking Poles

The Montem Ultra Strong Trekking Poles have adjustable bolts for easy height adjustments on any terrain. The compact, ultralight aluminum poles feature nylon straps, EVA foam handles, Quick Lock lever lock, and carbide tungsten tips under rubber tips.

The collapsible telescoping poles are available in a range of colors and include replaceable rubber tips, a storage clip, and mud baskets. They are an Amazon best-seller, have more than 500 five-star reviews on Amazon, and are recommended by The Wirecutter. They're durable, built to last, and backed by a one-year limited warranty and satisfaction guarantee.

Currently $49.99 on Amazon

Hiker Hunger Carbon Fiber Trekking Poles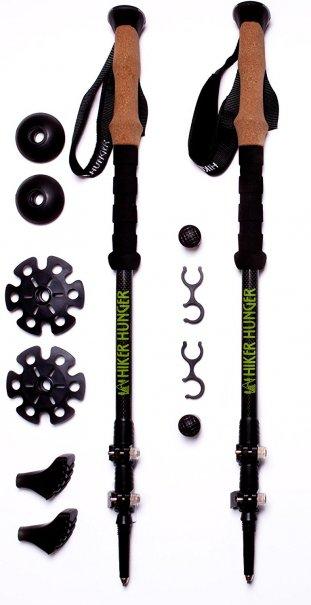 The Hiker Hunger Carbon Fiber Trekking Poles are easy to adjust and collapse thanks to a Quick Flip Lock. The compact, lightweight retractable poles feature ergonomic, moisture-wicking cork grip handles to minimize discomfort. The three-section poles reduce vibration and retain strength.

These include tungsten carbide tips, rubber tips and feet, mud and snow baskets, nonslip EVA Foam Grip extensions, and a carry bag with wrist strap. They are an Amazon best-seller, have over 800 five-star reviews on Amazon, and are recommended by OutdoorGearLab. They're built to last and backed by a one-year manufacturer's warranty.

Currently $69.99 on Amazon

Cascade Mountain Tech Carbon Fiber Trekking Poles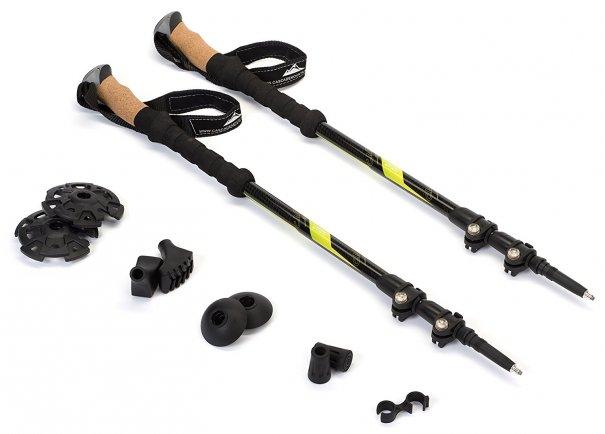 The Cascade Mountain Tech Carbon Fiber Trekking Poles have a Quick Lock feature which allows for simple height adjustments to suit any terrain. The lightweight, compact poles feature a nonslip grip with extensions, adjustable carbon fiber shafts, adjustable wrist straps, and durable tungsten carbide tips. They're available in different colors, with either a cork or neoprene handle. They are built to last and include interchangeable rubber tips and baskets. They have over 500 five-star reviews on Amazon and are frequently recommended online.

Currently $50.79 on Amazon

BAFX Products Anti-Shock Trekking Poles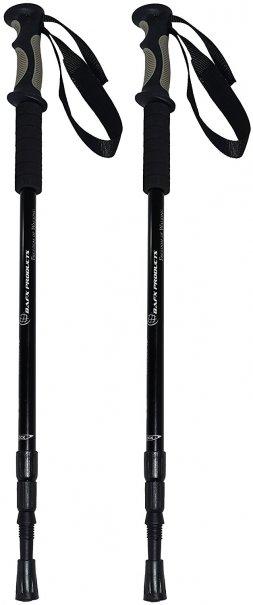 Amazon's #1 best-seller in trekking poles, the BAFX Products Anti-Shock Trekking Poles easily expand using a twist locking system. They are made from lightweight, durable aluminum and feature a carbide or rubber tip, ergonomic grips, anti-shock mechanism, and adjustable wrist strap.
This set is available in two different colors and includes two spare rubber tips and a mud basket. They have more than 3,000 five-star reviews on Amazon and are one of the "Most Wished For" items and top "Gift Ideas" on Amazon. They're also backed by a one-year warranty against defects.
Currently $21.99 on Amazon
And those are our recommendations for trekking poles. As always, be sure to check Wise Bread's Buying Calendar to learn when and how to buy just about anything!