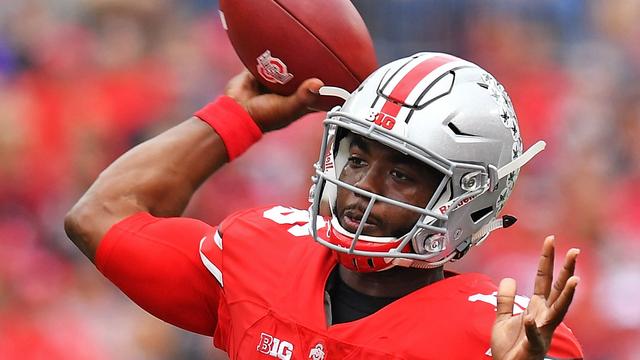 Ohio State coach Urban Meyer confirmed J.T. Barrett underwent knee surgery this week, but he is not sure who will be the starting quarterback in the Big Ten title game.
Barrett underwent arthroscopic knee surgery Sunday after he suffered an injury during last Saturday's game against Michigan. The senior quarterback completed practice Thursday and was cleared to play against No. 4 Wisconsin after what Meyer called a "very positive" week of treatment.
"That's not normal," Meyer said of Barrett's recovery, per ESPN.com. "It takes a rare individual because there is a pain threshold. When you're talking about 15 hours a day of treatment, which is what he did, I can't say that's normal. I've had players who had similar things happen who are out two, three weeks."
Meyer will face a difficult decision regarding Barrett as the Buckeyes have a lot on the line in the Big Ten Championship game Saturday. The outcome of the game could have big implications in the College Football Playoff rankings as the No. 8 Buckeyes face off against the 12-0 Badgers.
If needed, redshirt freshman Dwayne Haskins would start for the Buckeyes as he filled in for Barrett against the Wolverines last week.