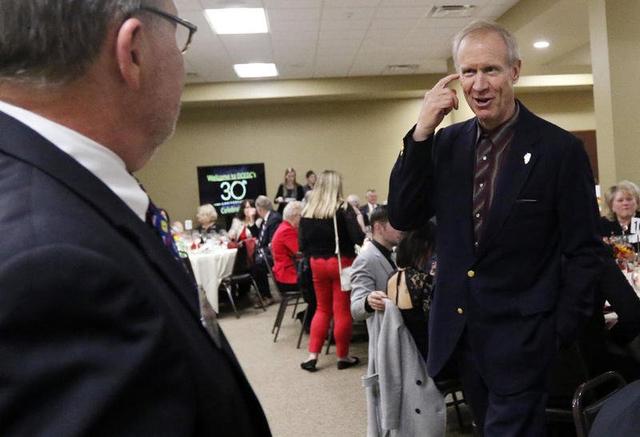 DeKALB – Before he gave the keynote speech at the DeKalb County Economic Development Corp. State of the County banquet, Gov. Bruce Rauner sat down with the Daily Chronicle for an interview at The Lincoln Inn in downtown DeKalb to discuss how state government can help attract businesses to DeKalb County and improve Northern Illinois University's declining student enrollment.
Solari: What are you doing to make Illinois more attractive to businesses in the future?
Rauner: "That's the No. 1 priority. ... We've got to grow the economy, more good-paying jobs. How do we do that? Two keys: Reduce the regulatory burden and reduce the tax burden on businesses. Your readers may not know this, but we have twice as many business regulations in Illinois as many of the states around us. Our workforce is not twice as safe or twice as healthy. It's just a lot of redundancy, a lot of red tape, regulatory filings, restrictions. That increases the cost on business and that pushes many businesses out."
Solari: Mike Madigan has been speaker of the House for over 35 years; he's probably not going anywhere. Is there any way you can work with the speaker?
Rauner: "I certainly tried and bent over backwards to work with him, especially in that first year. ... Here's the thing: If he could be gone or pressured, we could get some great things done. It's not gonna be easy. Even term limits could prevent a future Madigan down the road, but it's not going to solve it now. But getting members of the General Assembly to agree to vote someone else in as speaker, that's very doable. In fact, there have been Democrats in the General Assembly that support putting limits on leadership, and there are members in the General Assembly that said they think it's about time to get new leadership. If the voters around the state are willing to say "Sign a pledge you're not going to vote for him as speaker anymore, otherwise we're not going to vote for you," then we'll have competitive elections and we can put pressure on him."
Solari: What are you going to be able to do to bring college students back to Illinois?
Rauner: "The challenges obviously got exacerbated when Speaker Madigan refused to pass a balanced budget. Unfortunately, the challenges for our university system have been long-term. We've had a lot of outmigration of students. Our in-state tuition for many of our campuses is higher than out-of-state tuition for many of the states around us. We've been losing students to Indiana, Missouri and other states.
"I'm a big advocate for our state university system. [Northern Illinois University] is one of the great universities in the country. I've got many friends there and I'm a strong supporter of NIU. I would like us to get a balanced budget and make education the top priority with our dollars, including universities, but also our community colleges and K -12 schools, as we've done under my administration. Since I became governor, we've increased state support for K-12 by almost a billion dollars recently. I want to do the same thing for universities."
Solari: In the upcoming primary you're being challenged from the right by Republican Rep. Jeanne Ives. Are you worried about her?
Rauner: "This is a challenge of good government; it's a challenge of changing a very broken system. I never thought it was going to be easy, and we've got disagreements across the spectrum. I'm focused 100 percent on getting re-elected so we can drive the big changes. I'm running to do four things: Roll back the Madigan tax hike, get property tax relief ... get regulatory relief on our businesses, and get term limits on our elected officials. And those are unifying issues. I'm trying to run a campaign that's focused on the people rising up to take on the entrenched interests in state government. I welcome candidates, I welcome debate, I welcome various points of view. That's all part of the process."