Friday, Dec. 1, 2017(News 12 at 6 O'clock/NBC 26 News at 7)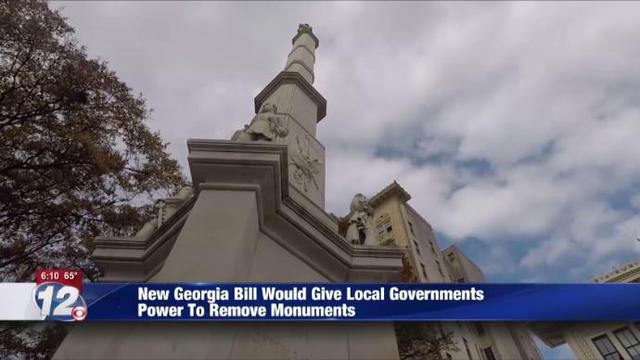 AUGUSTA, Ga. (WRDW/WAGT) – When you walk down Greene Street you'll see confederate monument after monument, but soon those statues may disappear.
"If the law doesn't fit, change it."
Two Georgia lawmakers are proposing a bill to amend state law against the removal of Confederate statues. The bill gives local leaders authority to conceal, remove or alter public monuments.
NAACP's vice president, Reverend Melvin Ivey thinks this bill is a step in the right direction. "I think that's good news for the people here in the city of Augusta and around Georgia because there are people who want to make the change, who want to make the transition."
The Confederate monuments covering downtown Augusta have been a touchy topic in the last couple months. Some members of the assembly hope this bill will repeal conflicting laws.
Reverend Melvin Ivey is with Augusta's NAACP said, "First of all, let's get educated about the facts. In most situations, we go on facts that someone else has told us. Let's get the accurate history, and then let's make a conscious decision."
Augusta commissioner Grady Smith who could potentially have a vote if the future of monuments goes to the local level believes this bill should not be passed. "Well, they want to go rip down statues of southern generals or people of prominence of the old south and even the ...., 'oh I don't like him, take it down' and you can't rewrite history."
Reverend Ivey says he's not looking to change history, he just wants the community to have a voice.
"In order for us to move together as a people, we have to sit down and talk about. And any time you bring it up people get offended, people say, well you are playing the race card, no, let's put it on the table, let's just be honest for one time," Reverend Ivey said.
Patience has been key for Reverend Ivey in this controversial fight to remove Confederate monuments, like this one on Broad Street. He says, even if the bill isn't passed, he and the NAACP are not giving up so easily."
"There are some that say, 'hey let's leave them up', but let's put plaques there and tell the truth. The truth behind the person that you are honoring," he said.