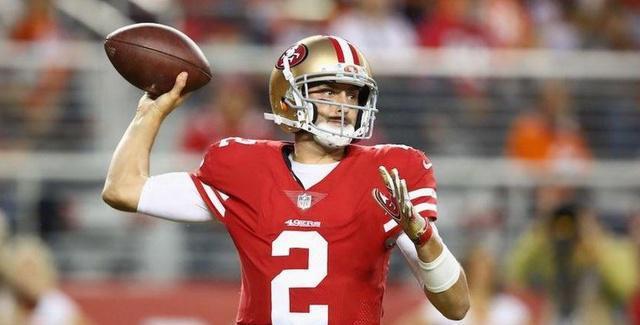 ​The San Francisco 49ers have officially received their quarterback of the future, Jimmy Garoppolo, in a trade with the New England Patriots.
After playing in six games this season, Brian Hoyer was released by the 49ers right before the team acquired Garoppolo.
San Francisco fans may be wondering why Hoyer made so much money in his limited time with the franchise, and they've found out exactly how much he made.
Updating rosters before trick or treating with the kids and just realized the #49ers paid Hoyer $10.2M for 8 games.

— Jason_OTC (@Jason_OTC) October 31, 2017
This is infuriating.
Hoyer played in six of the eight games as a Niner, and he ended up making a whopping $10.2 million. The team decided to release him, which gave him his guaranteed salary next season at $2.8 million.
He's now a free agent, and could be heading back to Foxborough. From 2009 to 2011, Hoyer served as Tom Brady's backup.
He appeared in 13 games, completing 27 out of 43 attempts for 286 yards and one touchdown pass with one interception.
So the 49ers are releasing veteran QB Brian Hoyer...and New England now needs a backup QB. That would seem to be a logical match, no?

— Adam Schefter (@AdamSchefter) October 31, 2017
It hasn't yet been announced where Hoyer's destination will be, but serving behind Brady could be very much be a possibility.