No holiday cookie lineup is complete without a few gingerbread creations, and no master holiday baker could go without a killer gingerbread house of some kind. But all these festive confections start with a solid, reliable recipe for gingerbread at their foundation. Scroll on to get started with the basics.

Basic Gingerbread Cookie Recipe

Ingredients:

3 cups all-purpose flour 1 1/2 teaspoons baking powder 3/4 teaspoon baking soda 1/4 teaspoon salt 1 Tablespoon ground ginger 1 3/4 teaspoons ground cinnamon 1/4 teaspoon ground cloves 6 Tablespoons unsalted butter 3/4 cup dark brown sugar 1 large egg 1/2 cup molasses 2 teaspoons vanilla

Instructions:

1. In a small bowl, mix flour, baking powder, baking soda, salt, ginger, cinnamon, and cloves.

2. Fit a standup mixer with the paddle attachment. Add butter, sugar, and eggs. Mix until fluffy. Then add molasses and vanilla. Continue to mix until blended.

3. Slowly add flour mixture on low speed, then beat until combined. The dough will get pretty thick once you've added all of the flour mixture. If you need to, incorporate the last bit with your hands.

4. Divide the dough into half and make each section into a ball. Wrap in plastic and let stand at room temperature for at least two hours. Dough can be stored in the refrigerator for up to four days, but bring it back up to room temperature before using.

5. Preheat the oven to 375 degrees Fahrenheit. Line cookie sheets with parchment paper.

6. Roll out to about 1/4-inch thickness with a rolling pin on a well-floured flat surface or between two pieces of parchment paper. Be sure to also flour your rolling pin as well.

6. Cut out cookies, and bake for 7-10 minutes.

7. Allow the cookies to stand until they are firm enough to move to a wire rack. Cool on wire rack for 30 minutes.

For snuggly UGLY Sweater GINGERBREAD Cookies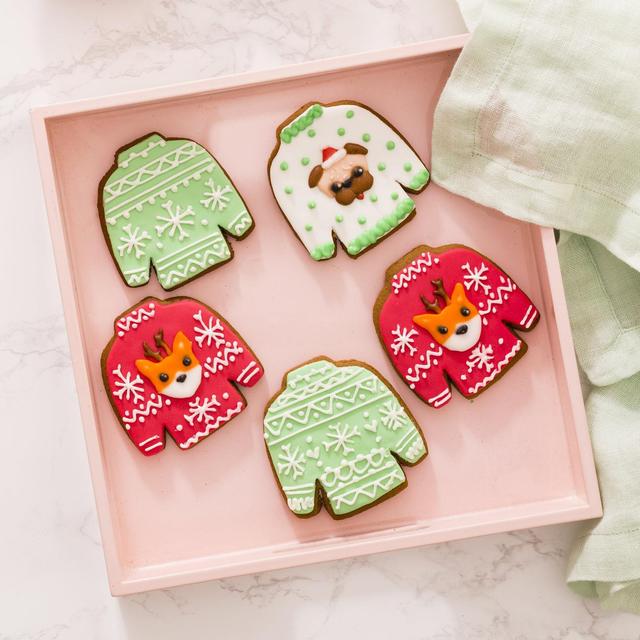 Additional Ingredients for Decorating:

sweater cookie cutter fondant (red, green, and white, rolled and cut out into sweater shapes) royal icing (dyed white, orange, brown, black, and red, and fitted into pastry bags with small round piping tip)

Instructions:

1. Pipe the royal icing transfers like the pug with Santa hat on parchment paper. Allow to set overnight.

2. Make gingerbread cookie dough, roll out, and cut out using sweater cookie cutters. Bake according to instructions. Cool for 30 minutes minimum.

3. Add fondant base layer. Pipe on sweater decoration. Dry for 1-2 hours. "Glue" on pre-made royal icing transfers with royal icing. Add any final touches and leave to dry completely.

For Palm Springs Gingerbread House

Additional Ingredients for Decorating:

pre-baked sugar cookies (cacti, pool, plus crushed cookies for sand) fondant (various colors) clear piping gel gel food coloring royal icing (stiff consistency dyed in various colors and fitted in piping bags + bowl with flooding consistency) compound white chocolate or white candy melts oil-based green food coloring pastel Jordan almonds green sprinkles (for grass) — enough to fill base white chocolate blocks (steps) small chocolate pebbles (if possible) — can be replaced with crushed cookies for dirt/chocolate green taffy candy (palm tree leaves) long rolled wafer biscuit (palm tree) foam core base (15 inches x 18 inches)

Instructions:

1. Make gingerbread dough. Refrigerate for 1-2 hours.

2. Make cactus and pool decorations with sugar cookies, fondant, and piping gel dyed blue with gel food coloring.

3. Crush cookies for sand.

4. Make pool toys from fondant and let dry.

5. Preheat oven, and roll out dough. Cut out cookies according to templated shapes and bake. Cool cookies for 30 minutes minimum.

6. Construct gingerbread house onto board using royal icing as the mortar between the pieces. Decorate house with fondant/royal icing. Finish with surrounding decorations (pool, fondant driveway, cookie palm trees, sprinkle grass). Leave to dry completely.

Have your own favorite twist on the standard gingerbread? Share your recipe with us on Instagram @BritandCo!

This story was published with help from Vickie Liu and Amanda Anselmino.

Still Hungry? We'll Send You Creative Recipes Weekly!

YAS! Look out for all the cake, donuts, and ice cream every Wednesday.

Here's our 4 Layer Donut Cake recipe. Or you can feast on these other dessert bites

You Know What They Say... You're Not You When You're Hungry

Impress your friends with easy recipes, delicious desserts, and cool kitchen hacks.

Bring on the noms!

Newsletters go out on Wednesdays.

Find the perfect recipe here!

No thanks! Just ate.