Dogs and cats have a reputation for not getting along with each other. The animosity between the two species has been the subject of plenty of cartoons and children's stories, and it's for a good reason: playful dogs just love to chase their feline friends around, much to the cats' chagrin.
Yet we've seen time and time again that animals of all kinds have the capability to form friendships with different species. If a cat can be friends with a fox, why can't she also be friends with a dog?
That's what happened with one cat, named Terra, and her new pooch pal. However, their new friendship instantly became complicated when someone special came into the picture…
Imgur user Oowth agreed to take care of her friend's two cats while she was serving in the Navy. Yet just a couple of days later, she got a call from her roommate regarding one of the cats, Terra, as apparently she had been looking a little… bloated.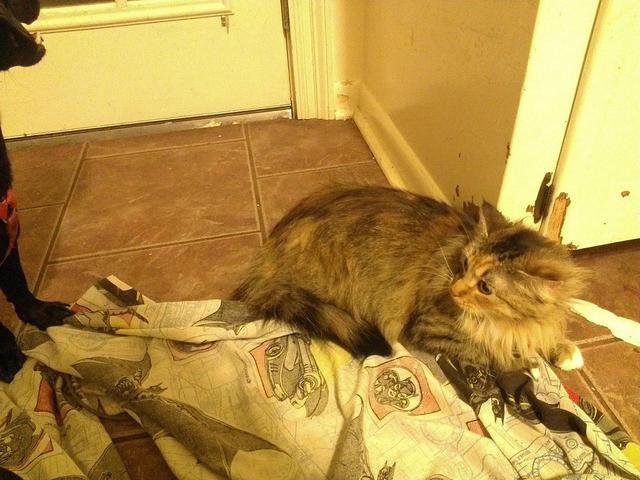 Oowth decided the cat was probably just chubby, so she didn't take her to the veterinarian and she figured she'd just keep an eye on her. But only a couple of days later, she heard a familiar sound… and sure enough, Terra had given birth to seven healthy kittens. What an incredible surprise!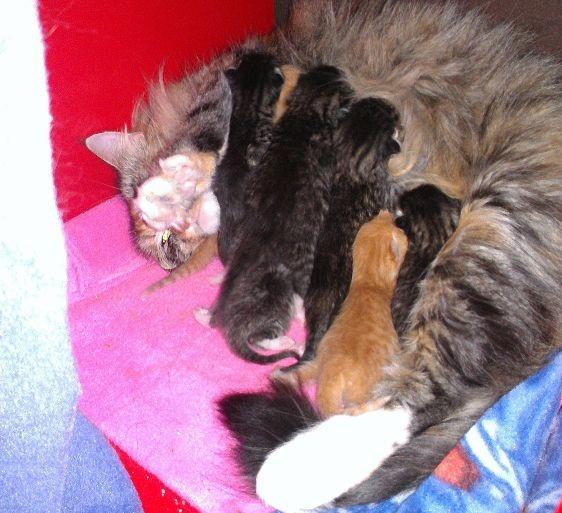 As Terra adjusted to life as a mother, Oowth named each of the kittens. There was Schrödinger; Tesla; Honey Boo-Boo; Minerva; Dutchess; and Fred and George, the two orange ones who were, appropriately, named after the redheaded Weasley twins from Harry Potter. But someone special would soon be added to the crew!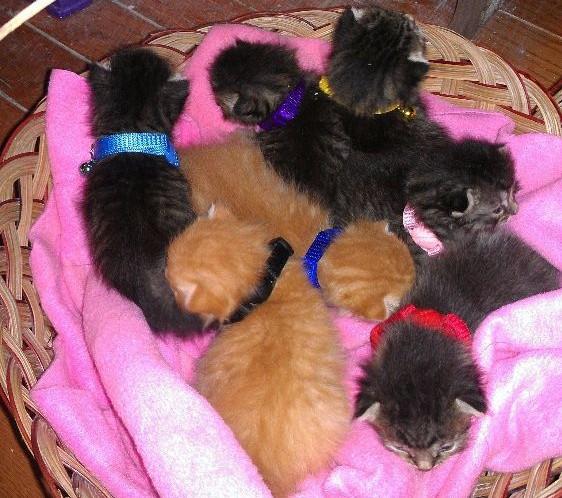 The new mother cat immediately connected with her litter, and she couldn't be happier to nurse them. It was definitely a beautiful scene for everyone involved, but nobody expected how Oowth's dog would react…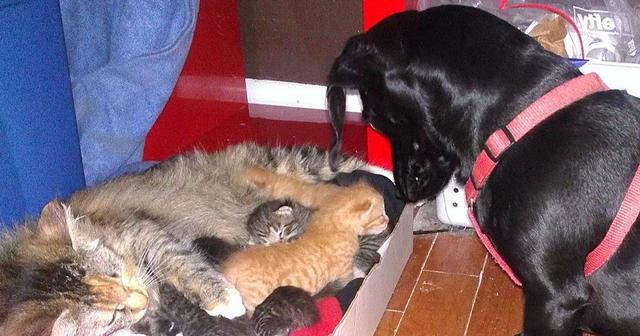 Oowth had a few dogs in her home—and her dachshund mix in particular was fascinated by the kittens. He even made several attempts to approach them. Oowth made sure that the introduction between the pooch and the babies was handled with care… but her dog wasn't malicious at all! In fact, he couldn't help but lick the kittens!
From then on, the adorable kittens and their new dachshund babysitter got along famously! The dog loved to play with them so much that he'd even bring them to other rooms in the house so they could be wherever the action was. How cute is that?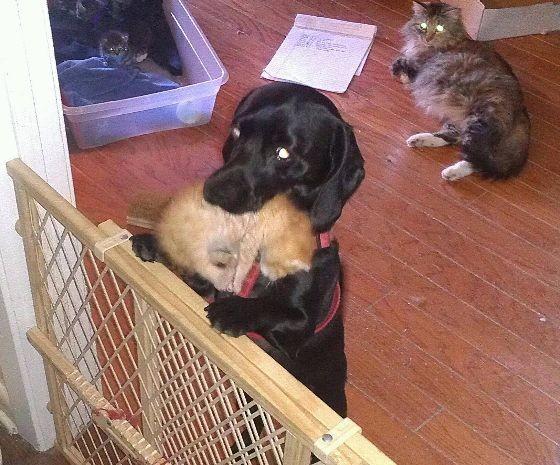 Even though Honey Boo-Boo had to get one of her eyes removed—earning her the nickname Honey Peek-a-Boo-Boo—the kittens were all healthy and doing just fine, and they maintained a special relationship with their new dog friend! Who says that dogs and cats can't get along?
Share this sweet story with your friends below!