NFL Nation reporters predict the outcomes and scores for Week 13 games on Sunday and Monday:

Come for the Xavier Rhodes-Julio Jones matchup, stay for what could be the most physical game of the year. The Vikings have won seven in a row after posting more than 400 yards in each of their past three games. During that same stretch, Atlanta put up 95 points in three straight wins and have started to look like the Super Bowl-contending team of a year ago. But every time Jones has gone over 250 yards, his next game hasn't been nearly as extraordinary (107 yards vs. New Orleans in 2014, 29 yards vs. Denver in 2016). Minnesota's No. 1 third-down defense goes head-to-head with the league leaders in third-down conversions. Atlanta gets the edge there because it won't have to deal with the crowd noise that quarterback Case Keenum will, but the Vikings have played particularly well on the road this season and boast a 4-1 record away from U.S. Bank Stadium. Here's another matchup in which the Vikings should be able to rely on their run game after the Falcons allowed 112 rushing yards during their recent win streak. If it weren't for the strengths of these defenses, this game would have a higher score than predicted. Vikings pull off the upset in Week 13. Vikings 27, Falcons 22 -- Courtney Cronin

An opposing assistant coach said weeks ago that the Falcons were going to be dangerous once they got back on their home turf after a three-game road swing. He was right. The Falcons appeared to rediscover their high-octane offense during a Week 10 home win over the Dallas Cowboys. They've averaged 31.6 points per game during a current three-game winning streak, going 7-of-10 in the red zone over that span. Yes, the Vikings have a great defense, led by Everson Griffen with his 12 sacks and 20 quarterback hits. But at home, Matt Ryan, Jones & Co. should put up some points, particularly if touchdown-maker Devonta Freeman is back to himself coming off a concussion. The surprising Keenum will face a different type of challenge with the speed of the Falcons' defense. Falcons 28, Vikings 21 -- Vaughn McClure

This is a tough one to pick. Baltimore's pass defense is the No. 2 unit in the NFL and faces a team that needs to pass -- and pass well -- to win. Baltimore can't pass either -- with the worst yards per game in the league. So if it comes down to run offense versus run defense on both sides, that won't benefit the Lions, who are averaging 78.3 rushing yards per game. Add in a road game against a team that's also trying to get into the playoffs, and it'll be a low-scoring, probably ugly game. Detroit doesn't always do well in those. Ravens 17, Lions 13 -- Mike Rothstein

The Ravens have the No. 2 pass defense in the NFL, but Baltimore has benefited from playing against five backup quarterbacks (EJ Manuel, Mitchell Trubisky, Matt Moore, Brett Hundley and Tom Savage). It will be a major step up for the Ravens in playing Matthew Stafford, who is on his way to his seventh straight 4,000-yard passing season. The key to this game will be turnovers. Baltimore has been thriving on interceptions. But Stafford has been picked off only six times (seventh fewest among quarterbacks with at least 200 throws). Stafford is also 4-1 on the road, throwing nine touchdowns and three interceptions. Lions 27, Ravens 21 -- Jamison Hensley

The Patriots are tied for third in the NFL with a plus-nine turnover differential (16 takeaways, seven giveaways) while the Bills are tied for sixth at plus-six (19 takeaways, 13 giveaways), so this is a game between two teams that seldom beat themselves. That is why the red zone could ultimately decide the victor, and if it's the Patriots, Tom Brady will break a tie with Brett Favre for most wins (27) over a single opponent in a career (Favre had 26 wins over the Lions). Tyrod Taylor is the type of mobile quarterback whose ability to extend plays can give the Patriots fits, so expect a close one. Patriots 27, Bills 24-- Mike Reiss

The Bills are 5-1 this season when they force two or more turnovers and are 1-4 when they do not. It is no secret the Bills will need a play or two to bounce their way in order to score their first win in Buffalo over Brady since 2011, when he was intercepted four times. The problem is the Patriots' NFL-low seven giveaways this season, and the Bills have pressured opposing quarterbacks on 23.1 percent of dropbacks, the second-lowest rate in the league. The Patriots averaged 39 points per game in their five previous trips to Buffalo, and there is little evidence this one will be different. Patriots 35, Bills 20 -- Mike Rodak

What you need to know in the NFL

The Jimmy Garoppolo era begins here, about 30 miles from his hometown of Arlington Heights, Illinois. That's about the extent of the excitement this game should offer as these teams meet in early December for the third consecutive year. Neither side has much to play for except for draft position, but Garoppolo's first start should give the Niners a needed spark. Weather could be a factor, but ultimately a key turnover or two could make all the difference. Garoppolo has yet to throw an NFL interception on 96 pass attempts and Chicago has just four interceptions this season, tied for third fewest in the NFL. Garoppolo protects the ball and makes enough plays to get the Niners their second win. 49ers 23, Bears 14 -- Nick Wagoner

San Francisco wins the award for best storylines on Sunday, that's for sure. Not only will Garoppolo make his first start for the Niners near his hometown, but kicker Robbie Gould, Chicago's all-time leading scorer, returns to Soldier Field for the first time since the Bears ran him off two summers ago. In reality, though, the 49ers are a 1-10 team with the 30th-ranked rushing defense (129.5). The Bears should win if they run the ball 45 times and don't turn it over. Bears 18, 49ers 15 -- Jeff Dickerson

Bucs coach Dirk Koetter alluded to the fact that after missing three weeks due to a shoulder injury, quarterback Jameis Winston was shaking off some rust and getting his timing back with receivers. That's not very reassuring for an offense that is averaging just 18 points a game this season. Packers 28, Bucs 17 -- Jenna Laine

Brett Hundley put up career highs in passing yards, touchdown passes and Total QBR in Sunday's last-second loss at Pittsburgh. The Buccaneers are last in the NFL in passing defense. This should give Hundley the chance to match or better those numbers and the Packers the chance to end their three-game Lambeau Field losing streak, their longest in more than 10 years. Packers 27, Buccaneers 20 -- Rob Demovsky

The Jaguars, after so many years of struggles against the Colts, have had the upperhand against them in recent years. Jacksonville has won three of the past four meetings between the two teams, and its success should continue. The Colts gave up 10 sacks in their 27-0 loss to the Jaguars in Week 7. The Jaguars may not get 10 sacks again, but the NFL's top defense wlll be able to put pressure on Colts quarterback Jacoby Brissett. Starting center Ryan Kelly is not expected to play due to a concussion, and the Colts are coming off a game against Tennessee in which they gave up eight sacks to increase their season total to 47. The Colts were shut out in the first meeting while not having to face Jaguars rookie running back Leonard Fournette, who missed the game due to an ankle injury. Fournette is playing Sunday for the league's top-ranked rushing offense (154.3 yards a game) and will help send Chuck Pagano to his first losing season as coach of the Colts. Jaguars 35, Colts 10 -- Mike Wells

The Jaguars won the previous meeting 27-0 and tied a franchise record with 10 sacks. The defense is playing at the same level (the Jags are ranked first in total defense, pass defense, scoring, sacks and yards per play), but the offense has stagnated. The Jaguars have scored just five offensive touchdowns and Fournette has run for just 169 yards in the four games they've played since beating the Colts on Oct. 22. The defense and special teams have combined to score four touchdowns in that same stretch. However, the Colts are battered in the secondary and center Ryan Kelly isn't likely to play because of a concussion. The Jaguars should do enough offensively to get by. Jaguars 24, Colts 10 -- Mike DiRocco

These two offenses are ranked No. 26 (the Broncos) and No. 30 (the Dolphins) in scoring, so the first team to put the ball in the end zone a couple of times might just be enough to snap a losing streak. The Broncos haven't won on the road this season (0-5) and haven't won, period, since Oct. 1. Trevor Siemian gives them more pop on offense if the Broncos can protect him -- that's been an enormous "if" all season, and guard Ron Leary missed practice time this week with a back injury. Siemian has moved the ball the best of the Broncos' quarterbacks, but this is a disheartened team right now that simply doesn't bounce back from mistakes. Dolphins 21, Broncos 20 -- Jeff Legwold

The Dolphins are on a five-game losing streak and the Broncos have lost seven in a row. So something has to give in this battle of two struggling teams. Quarterback Jay Cutler's return from a concussion should help Miami's offense regain some balance, which is needed against Denver's third-ranked defense. The suspension of Pro Bowl cornerback Aqib Talib will help the Dolphins against Denver, which has struggled to win close games this season. Dolphins 16, Broncos 14 -- James Walker

NFL Playoff Machine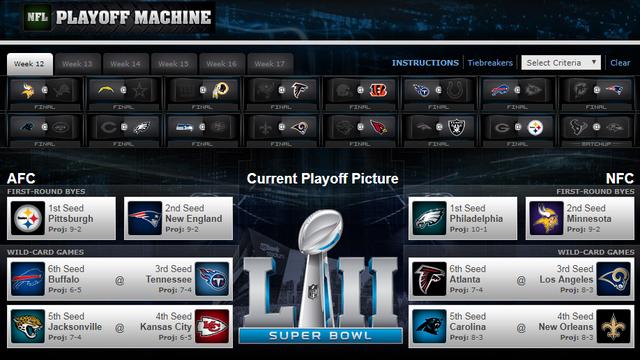 See what the latest playoff picture looks like and simulate your own playoff scenarios.
The Panthers feel they "owe" the Saints one from their Week 3 meeting, a 34-13 New Orleans win. In many ways this is strength against strength. New Orleans ranks second in total offense and the Panthers rank second in total defense. A key for New Orleans has been the running game that ranks third in the league. The Panthers, who rank third against the run, lost that battle in the first game as New Orleans rushed for 149 yards. The team that wins that battle will win this game. Defense usually wins big games. Panthers 24, Saints 23 -- David Newton
The Saints obviously got the Panthers on their worst day back in Week 3, when New Orleans saved its season by routing Carolina 34-13 on the road. It won't be so easy this time against a scorching-hot Panthers team that has won four straight games, leading the NFL in rushing yards per game (185.0) over that span. And the Panthers have the No. 2 defense in the league this year (allowing 288.3 yards per game). The Saints' defense should be in better shape too, though, with starting cornerbacks Marshon Lattimore and Ken Crawley on the mend. So I won't predict a third straight 41-38 score between these two teams in the Superdome (Saints won 41-38 last season; Panthers won 41-38 in 2015). Saints 27, Panthers 24-- Mike Triplett
The Chiefs are going to score some serious points and win a game eventually. There's no reason to think either will happen against the Jets. The Chiefs are coming off games scoring nine points against the Giants, who had allowed 82 in their previous two, and 10 against the Bills, who had allowed 101 in their previous two. The Jets aren't great on defense, either. They're 16th in points allowed at 23.4 per game. But their defense has to look like the 1985 Bears at this point for the Chiefs. Jets 17, Chiefs 13 -- Adam Teicher
The Jets, who have lost five of their past six games, hope to break their pattern of late-game meltdowns. The Chiefs, who have an identical record in their past six games, signed Jets shut-down corner Darrelle Revis. He will play his first game Sunday and could have an impact playing in familiar surroundings. Chiefs 23, Jets 20
The Texans have been dominant over the Titans in the past, winning six of the past seven matchups, including a 57-14 victory at home in Week 4. But that blowout victory came at the hands of a very different team that included rookie quarterback Deshaun Watson, defensive end J.J. Watt and outside linebacker Whitney Mercilus. On Sunday, with Savage under center, the Texans' offense won't be able to put up the same kind of performance and will fall on the road. Titans 27, Texans 20 -- Sarah Barshop
It's hard to believe the Titans will win easily over bad teams until they actually do so. Injuries have made this Texans team entirely different than the bunch that smacked the Titans 57-14 in Week 4. The Titans will be eager to right their wrongs from that game, but the true focus will be getting better consistency and play from their sluggish offense. This matchup seems prime for the Titans' defense to get a bunch of sacks, a couple of turnovers and eek out a close win. Titans 23, Texans 17 -- Cameron Wolfe
The Chargers are fourth in the league in passing yards with Philip Rivers at quarterback and sixth in points allowed. That's a bad combination for the Browns, especially since the Chargers no doubt recall the embarrassment of being the only team to lose to the Browns in 2016. Chargers 27, Browns 17 -- Pat McManamon
After losing at Cleveland on Christmas Eve last season, the Chargers are not overlooking this game. The return of receiver Josh Gordon adds another playmaker for Cleveland's offense, but rookie quarterback DeShone Kizer will have trouble against a Los Angeles defense led by edge rushers Melvin Ingram and Joey Bosa. Kizer has thrown a league-high 14 interceptions, and that number likely will increase on Sunday. Chargers 30, Browns 14 -- Eric Williams
Blaine Gabbert has been playing well (and, if you'll recall, he helped blow out the Rams as a member of the 49ers to open 2016). But he's no Carson Palmer. And Arizona's offensive line is suspect. The Cardinals' defense, meanwhile, has allowed a combined 55 points in back-to-back weeks to the Texans and Jaguars, two very flawed offenses. The Rams are clicking on offense and defense, as they showed in a big win over the Saints on Sunday. They should roll on the road. Rams 30, Cardinals 10 -- Alden Gonzalez
The Cardinals have revenge on their minds from the 33-0 shelacking they took from the Rams in London more than a month ago, but even with a new quarterback in Gabbert, the Cardinals could still find trouble beating the Rams, even at home. However, what could cost the Cardinals could also help them. Arizona's run game is ranked 32nd in the NFL, but if the Cardinals can get it going, they'll be facing the 27th-ranked rushing defense in the NFL. However, if the Cards' run game can't find room to run, their passing game will struggle to find a rhythm. The last time these teams played, Todd Gurley ran for more than 100 yards, and he'll be the focal point for the Cards' defense. But when it comes to the Rams, the Cardinals may need to just pick their poison with how well the fourth-ranked offense has been playing lately. Rams 38, Cardinals 24 -- Josh Weinfuss
Geno Smith is the new starting quarterback for the Giants. He has 35 touchdowns and 43 turnovers in 34 career games. He threw two interceptions and had another negated by penalty this preseason. He's a turnover machine. The Raiders, last in the league with seven takeaways, find the right matchup to solve that problem. Smith and the Giants' beleaguered offense finally move the ball better with Smith at quarterback instead of Eli Manning, but in the end the turnovers come back to bite them. Raiders 26, Giants 23 -- Jordan Raanan
Raider Nation, do not sleep on Smith. OK, you can stop laughing now. Obviously, Smith is no Manning, but Smith has decent career numbers against the Raiders, such as a 2-1 record, a 69.5 completion percentage that is his best against any team he has faced more than once and, with four TD passes and three interceptions, a 91.8 passer rating against them, his second highest against any team he has played more than once. Plus, the Raiders will be thin at receiver with Michael Crabtree serving a one-game suspension and Amari Cooper dealing with concussion and left ankle issues. Still, the Raiders have too much talent to let this one slip away, as ugly as it might get, and Khalil Mack is being moved around more under new defensive signal-caller John Pagano to keep opponents guessing. Raiders 17, Giants 13 -- Paul Gutierrez
The Eagles lost in Seattle 26-15 last year, and they know how tough the Seahawks can be at home -- especially late in the season. They are 19-5 in December since QB Russell Wilson and coach Pete Carroll joined forces, and 10-2 in home prime-time games. This is not the same Philly team that came up short last season, though, and because of injuries to Richard Sherman and Kam Chancellor, among others, it's not the same Seattle team, either. Carson Wentz is on an MVP tear, and he will be the difference late. Eagles 20, Seahawks 17 -- Tim McManus
The Seahawks are six-point underdogs at home, but ESPN's Football Power Index sees this as a much tighter matchup than Las Vegas, favoring the Eagles by just 0.6 percent. The formula on offense for a Seahawks victory is not a revolutionary one: run the ball, control the clock and keep the NFL's highest-scoring offense off the field. Seattle's running game has been nonexistent this season outside of Wilson scrambles, but there are two reasons for optimism this week: Mike Davis likely will return to the backfield, and the Seahawks finally have their desired offensive line playing together with left guard Luke Joeckel back from injury and playing alongside new left tackle Duane Brown. Seattle's secondary hasn't experienced the drop-off that many expected it to when Sherman and Chancellor went down, holding its last two opponents to under 200 passing yards. The Eagles are the better team, but the Seahawks are at home and have enough going for them to pull off an upset win. Seahawks 24, Eagles 23 -- Brady Henderson
The Steelers have won six straight games and head to Paul Brown Stadium, where they've won their past four matchups with the Bengals. But the offense has struggled to score touchdowns in Cincinnati, relying on 14 Chris Boswell field goals in the past three meetings. The touchdown woes, coupled with a Steelers defense that's allowed five touchdowns of 50-plus yards in the past three weeks, are a recipe for a snapped winning streak at the hands of A.J. Green. Bengals 24, Steelers 21 -- Jeremy Fowler
The Bengals are 8-23 against the Steelers during the Marvin Lewis era and 9-23 in regular-season prime-time games during that time period. That's two big hurdles they need to overcome against a team they haven't beaten in the previous five tries. Their only win against a team with a winning record this season is the 6-5 Bills. The Bengals have put together two straight wins, but they haven't shown themselves capable of being a playoff-caliber team yet, especially if Green is able to be taken away. Steelers 27, Bengals 21 -- Katherine Terrell