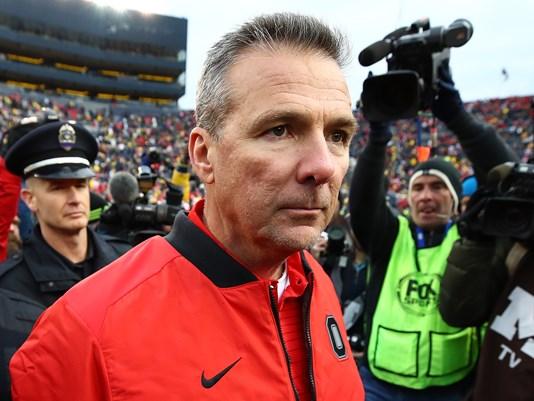 ANN ARBOR, MI - NOVEMBER 25: Urban Meyer head coach of the Ohio State Buckeyes after the game against the Michigan Wolverines, Ohio State won 31 to 20 on November 25, 2017 at Michigan Stadium in Ann Arbor, Michigan. (Photo: Gregory Shamus, 2017 Getty Images)
As Ohio State prepares to face Wisconsin in the Big Ten Championship Game in Indianapolis on Saturday, there's one storyline that remains unclear: What is the Buckeyes' path to the College Football Playoff?
Does Ohio State need help or are the Buckeyes already dead in the water? Is it possible that Ohio State -- ugly loss to Iowa and all -- could make the four-team playoff with just a mere beating of the Badgers in the Circle City on Saturday night?
As opposed to past years, there's no obvious formula for OSU fans to follow. Ranked eighth in the penultimate playoff rankings, the Buckeyes would seem to have their work cut out for them. After all, the playoff has yet to select a team to its final four ranked any lower than fifth in its second-to-last rankings.
It's worth noting, however, that assuming Ohio State beats No. 4 Wisconsin -- no 'small gimme' -- the Buckeyes know that at least three teams ranked ahead of them will be losing on Saturday, including the Badgers. No. 1 Clemson will square off with No. 7 Miami (Fla.) in the ACC Championship Game, while No. 2 Auburn and No. 6 Georgia play each other in the SEC title game.
In other words, should Ohio State take care of business in Indy, it's not unreasonable to think the Buckeyes could rise to at least fifth -- with at least one team ahead of them also possessing the potential to drop when the final rankings are released on Sunday.
That would be No. 5 Alabama, who will be in Tuscaloosa this weekend, having lost to Auburn for the right to take part in its conference title game. And while that means the Crimson Tide could potentially crash the playoff without even playing this weekend -- as Ohio State did a year ago -- it also leaves Alabama without an opportunity to improve a resume already lacking in quality wins.
The Buckeyes, on the other hand, could add not only a conference championship -- which the Crimson Tide would be lacking -- but a third top-16 victory, all wins ranked higher than Alabama's best. That might not necessarily be a big enough boost for the committee to forgive Ohio State's 31-point loss to Iowa last month, but it's a case the committee could potentially make in justifying the Buckeyes jumping the Tide, nonetheless.
As for Ohio State's rooting interests this weekend, a TCU victory over Oklahoma in the Big 12 Championship Game could be beneficial for the Buckeyes, although it may not be enough to cause the Sooners to drop past the team they beat in Columbus this past September. Victories by Georgia -- weakening Alabama's one loss -- and Clemson -- definitively limiting the ACC to one playoff team -- would also appear to behoove the Buckeyes, but only one matchup appears to matter when it comes to Ohio State's playoffs: Who will the committee pick between the Buckeyes' and Bama?
© 2017 WKYC-TV