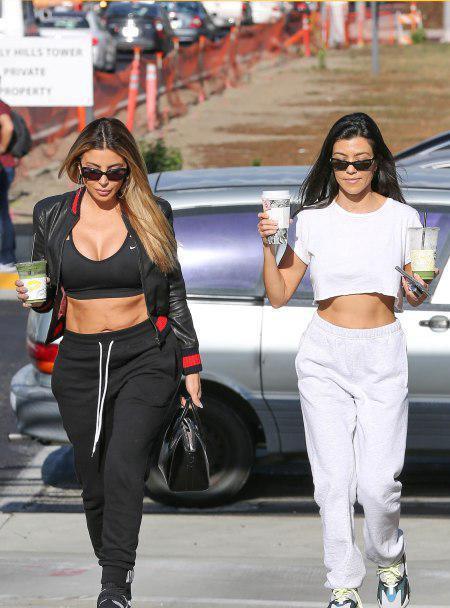 Kourtney Kardashian and Larsa Pippen weren't hiding their rock-hard abs on Friday.
The reality stars showed off their toned torsos in athletic pants and crop-tops while going on a beverage run to Alfred's Coffee in Beverly Hills, California.
Kardashian, 38, wore a short-sleeve white crop T-shirt and grey elastic-waist sweatpants, which she paired with sneakers and black shades. The brunette beauty had her hands full, carrying a hot tea, a cold green drink and her cell phone.
Pippen, 43, was also carrying a lot with her green liquid refreshment and her black purse. She wore a black sports bra, matching sweatpants and red-accented black leather bomber jacket — pairing the ensemble with black shades, dark sneakers, and gold hoop earrings.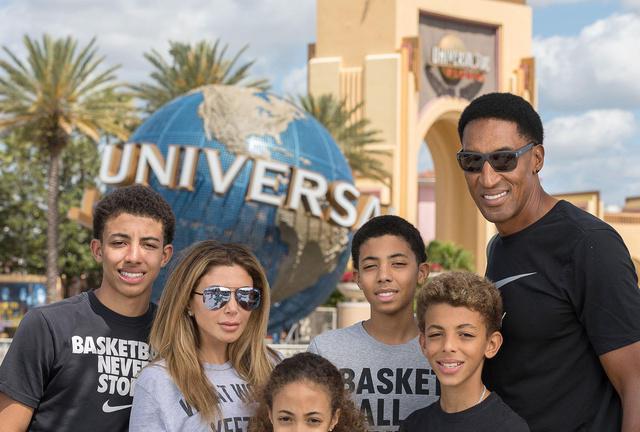 Pinterest Larsa and Scottie Pippen and their three kidsOctavian Cantilli/Universal Orlando Resort
The longtime friends have a lot in common.
Pippen is a mother to four kids, including daughter Sophia, 8, and sons Justin, 10, Preston, 15, and Scottie Jr., 15 — all of whom she shares with NBA legend husband Scottie Pippen. The couple have had some tough times in the past year, with Scottie filing for divorce from his wife of 20 years last October before reconciling with her months later.
A source told PEOPLE in February that the two are "working on their relationship."
"I think they were always trying to find a common ground," the source said. "For a while, they didn't see eye to eye, but they've been married for 20 years, they have four kids."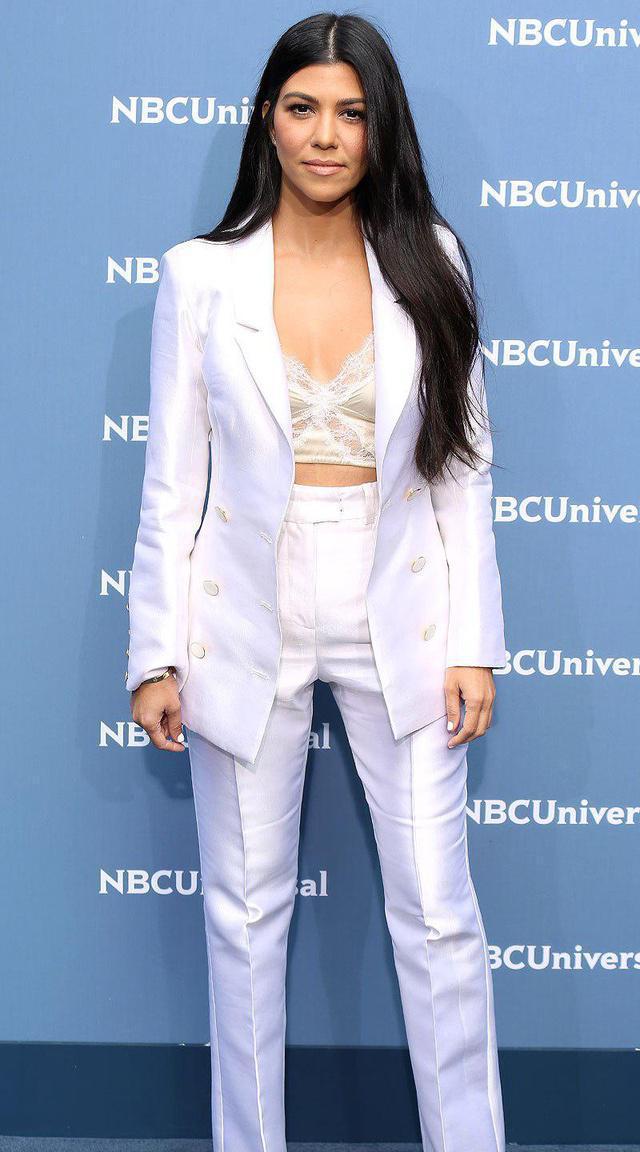 Pinterest Kourtney KardashianWalter McBride/Getty Images
If there's someone who can certainly relate to on-again, off-again relationships, it's Kardashian. She has three kids (son Mason, 7, daughter Penelope, 5, and son Reign, 2) with ex Scott Disick. And though they never married, the two have had a relationship filled with ups and downs over the past nine years before she officially ended things in 2015.
In the two and a half years since their split, Disick has regularly been spotted cozying up to different women in Los Angeles, New York City and abroad — most recently with 19-year-old Sofia Richie, whom a source recently told PEOPLE is calling Disick her "boyfriend."
Kardashian is dating 24-year-old Younes Bendjima — and in the KUWTK 10th anniversary special (which aired last month but was taped in April), she indicated that she and Disick aren't likely to reconcile.
"I guess we're co-parenting our kids and just trying to get along," Kardashian said. "He's family. But I mean, we're definitely psychotic."
Mute
Current Time 0:00
/
Duration Time 0:00
Loaded: 0%
0:00
Progress: 0%
Stream TypeLIVE
Remaining Time -0:00
Playback Rate
1
Chapters
descriptions off, selected
Descriptions
subtitles off, selected
Subtitles
captions settings, opens captions settings dialog
captions off, selected
Captions
Audio Track
This is a modal window.
Caption Settings Dialog
Beginning of dialog window. Escape will cancel and close the window.
TextColorTransparencyBackgroundColorTransparencyWindowColorTransparency
Font Size
Text Edge Style
Font Family
"The debauchery that's gone on has definitely closed the door several billion times," she added. "He [behaves] for a time period, he can't be consistent."
"Here's the thing," Disick said. "Every time I become too good of a person, she stops loving me, because she fell in love with a person who was a little bit f—ed up. I treat you like royalty, you don't say hello to me. I spit in your face, you're like, 'Hey babe.' "