Choosing wedding colors can be a tricky task with all the factors you have to consider. On top of the venue and style you're going for, some couples like to keep their wedding party in mind when picking their palette. So what are you to do when you've got a super diverse group of bridesmaids? Stick with a color that suits every kind of complexion — your 'maids will thank you for it!

1. Emerald green

Not every shade of green looks great on everyone. For instance, it's hard to pull off kelly green, but a deep, jewel-tone shade is pretty universal. If you pick a rich hue, it'll add intrigue without washing anyone out.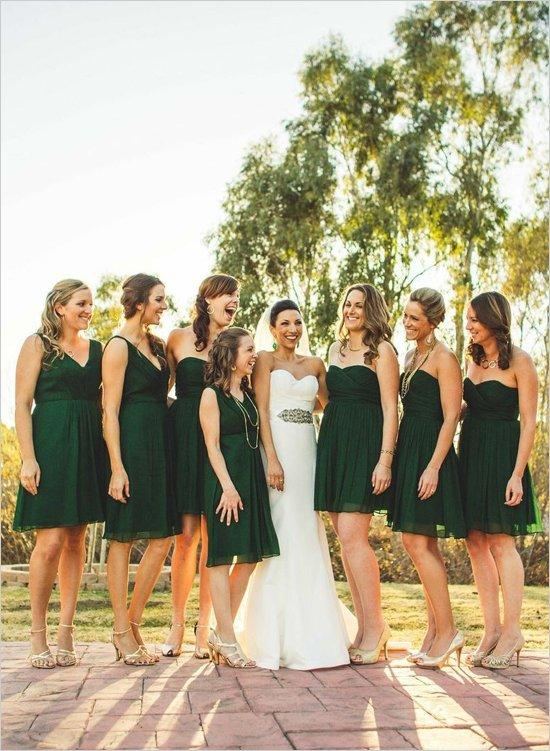 2. Black

You didn't think we'd leave off black, did you? It may be the most obvious on the list, but it's definitely worth including. Black is slimming and timeless on everybody. Plus, since it's so oh-so-simple, you'll have a great excuse to play around with unexpected textures or silhouettes.
3. Navy

If black feels too boring, switch it up just a bit and pick its slightly lighter cousin, navy. The super dark shade has the same feeling, but it's a little softer than a stark midnight color.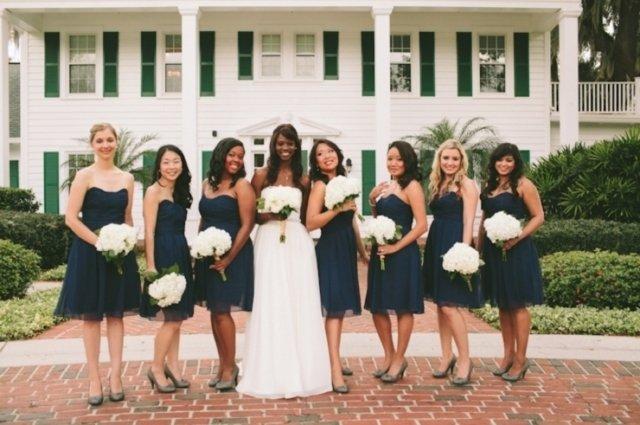 4. Red

Are you surprised? Every girl can pull off a red lip, so why not a red dress? Be sure to pick what they might call "true" red — the most solid, primary version of the shade. Taking it any brighter or deeper could cause some girls to look great and others to feel self-conscious in the poorly suited color.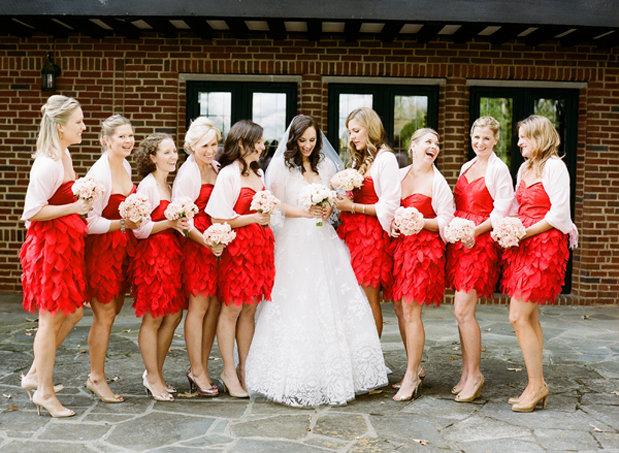 5. Teal

Don't get teal confused with a super bright turquoise or a true blue — teal is a deep shade of blue-green. Its the richness of the two hues blended together that makes this a great fit for everyone.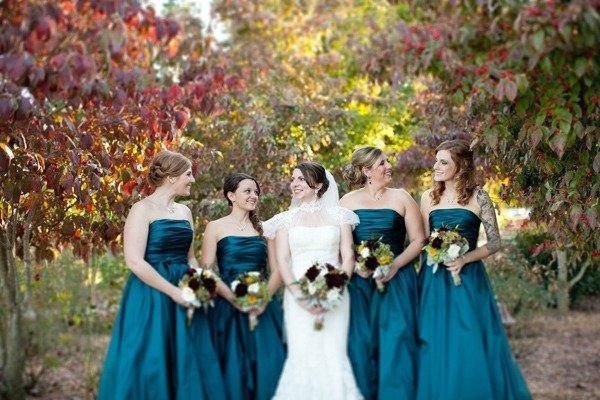 6. Blush

Not only is blush incredibly pretty and on trend, but it's also a safe pick for even the most varied group of girls. A light pink brings out your gals' natural coloring.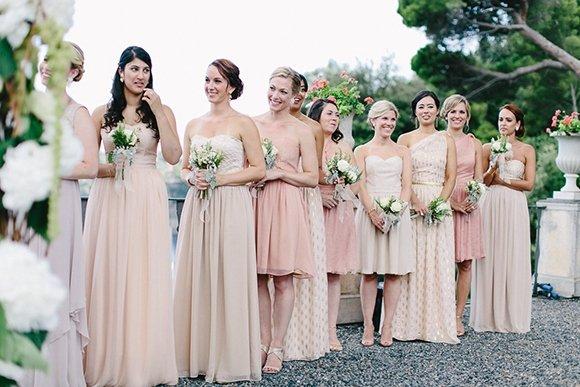 7. Plum

Don't just pick any shade of purple — lavender and mauve aren't great on everyone. Instead, stick to a middle-of-the road purple, like plum, eggplant, or just good old violet. The mix of warm and cools are what make this shade a fit for anyone.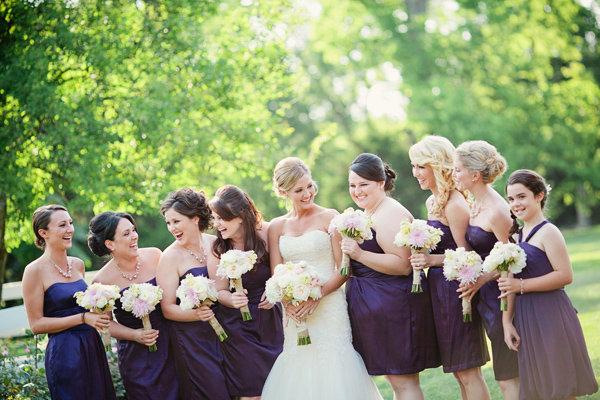 Don't see your dream color on this list? Good thing mismatched dresses are so popular! Remember that you can mix and match shades of one color so that every bridesmaid gets to wear a tint that suits her style.
Want more awesome wedding advice? Download the Loverly perfect planner app to chat with a Loverly Wedding Concierge.
—Kristin Doherty
Loverly is the heart of weddings: a visual inspiration search engine designed to help brides discover ideas, people to hire, and things to buy. Loverly makes finding beautiful wedding inspiration easier than ever! Their images are powered by the best wedding publishers and wedding shopping partners on the web. Find Bridal Guide on Loverly >>