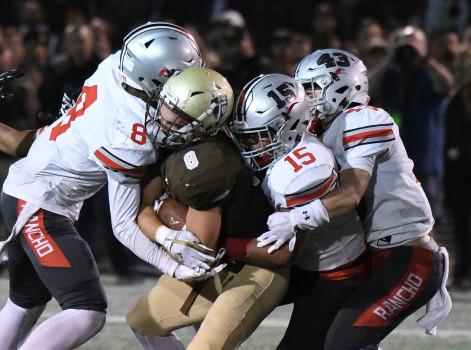 Don't be alarmed this morning by the sight of school busses, with rather some large passengers in some cases, on our local freeways, They'll be traveling in the direction of all four compass points across Southern California.
More than likely, they're headed for CIF Southern Section football championship football games. For the first time in the 100-plus years of history of the sanctioning body, five San Bernardino County schools survived 13 highly-competitive weeks of competition to reach the title round. Four of those games are scheduled for tonight.
While the Southern Section isn't as expansive as Texas, for instance, there are still some long road trips ahead for some participating schools.
The longest road trip belongs to Big Bear, which will travel about 250 miles to its Division 12 championship encounter with Santa Maria. Silver Valley will journey from Yermo to Orange, where the Trojans will vie for the Division 13 crown at El Modena High School, a one-way road trip of about 120 miles.
El Modena's stadium is available since the Vanguards will be headed north for a short 56-mile trip to Don Lugo for the Division 7 title contest. Cajon will have a slightly longer trip of 61 miles to face Downey in the Division 4 finale.
It wasn't that long ago when skeptics said, and wrote, that the CIF actually stood for Cash in Football. The four-week sectional playoffs continue to generate funds for the sectioning body, but it's no longer the financial backbone. Aggressive marketing by the CIF has landed sponsors and television, which has eased the strain on the live gate. However, 60 percent of the gate goes to the sanctioning body (before expenses) leaving the schools to equally split the balance after all is paid.
It's a far cry when the gate was divided into three equal shares. But then, schools no longer have to pay student fees and there are now 13 football divisions rather than a much smaller number.
"How much do you think Big Bear will make after its expenses going to Santa Maria," asked a veteran area coach. "How many Big Bear fans are going to make that trip? The CIF created all the divisions for competitive equity two years ago, but this is one of the drawbacks not many anticipated. "They look at (Santa Ana) Mater Dei and (Bellflower) St. John Bosco and see lots of money generated at the (Cerritos College) gate. But will either Santa Maria or Big Bear make anything?"
Another hidden hazard, according to another veteran head coach, are the long game-day bus trips.
"The adrenaline starts flowing as soon as players get on the bus. They start to get anxious," he said. "You may not recognize it at first, but it burns energy. The players, whether they realize it or not, use a lot of energy on those long trips. "It hurts you in the fourth quarter. The game is a game, but you don't want to run out of energy in the fourth quarter."
Everything is magnified by the importance of the title game.
For openers, whether it's a home game or not, it will be an environment altogether different. One coach said his staff has a list that is constantly checked and updated on game day, especially if it's on the road.
"You can't forget anything because that's the one thing you'll need for sure," he said. "We have crafted a list that we go over with a fine-tooth comb, starting in the morning of the game, it's all part of the logistics many don't think about. Then there's the pre-game meal. Where do we eat? You have to find a place that's big enough for all your team to sit down and work with them in deciding what to serve. "You can't just pull the bus into a burger joint. It takes planning, just like everything else on game day. It's the biggest game for many — players, coaches, administrators — and you just can't leave anything to chance. It's such a different environment."
It's also a science arranging the proper schedule. Arriving too early can be as detrimental as showing up later than anticipated,
"You never know how bad traffic will be," said another title game veteran. "Back in the day, you could leave at 4 p.m. for a game a 7 anywhere in Southern California. There are now days when you have to depart about 3 just for a league game. "There's just so much traffic on a Friday."
In most cases, school districts take no chances. A truck will trail the last bus with mechanics prepared to make quick repairs if needed. However, some years ago, a school bus broke down 30 minutes from the game site. Luckily, a similar bus carrying cheerleaders soon pulled up and the players were transferred to the working bus. However, the cheerleaders were forced to wait until another bus could be dispatched to the scene. Thankfully, mechanics were aboard the replacement bus and got the original bus working and on its way.
There's also another hidden element.
"Win or lose, it's a long ride back after the game," said the veteran coach. "I know the common thought is if we lose, it's quiet ride back home. However, we've won games and the bus was extremely quiet. You never know.
"That's what makes high school football great. You never know what will happen or go on, before, during or after the game."
Louis Brewster can be reached at brewsterl1949@gmail.com.