Colony Square is going full circle. Helmed by North American Properties (NAP), the developers of nearby Atlantic Station and Alpharetta's Avalon, the re-imagined Colony Square will include a food hall called Main & Main, an outdoor gathering space called "The Grove" and much more. Leading the charge is NAP's managing partner and Midtown resident Mark Toro.
While an official groundbreaking was held earlier this fall, NAP acquired Colony Square 2 years ago and began shifting its focus outward and inviting the community to join the fun. Large, playful letters spelling "MIDTOWN" make for a colorful photo op. A hip WeWork coworking office opened. Local yoga studios have hosted free classes outside. While businesses inside closed to prepare for renovation, local artists were invited to use the vacant spaces as working studios. "We live in a very exciting time, where we are afforded the opportunity to innovate and reinvent ourselves, challenging long-established norms," Toro says.
In fact, he journeyed with acclaimed restaurateur Steve Palmer around the U.S. to 20 world-class food halls to curate a distinctive concept with a merchandise mix that's right for Midtown."While our team is constantly seeking to assure that we're delivering 'what's next' to the communities we serve, we always return to our purpose: developing a better world," he says. In the meantime, get a closer look at construction progress while enjoying adjacent eateries Establishment or 5Church Atlanta.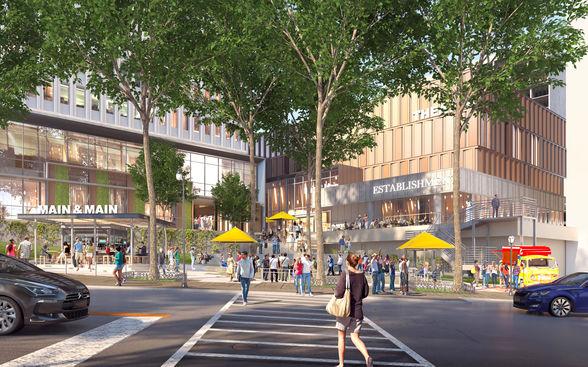 In three words, how would you describe your work?
Innovative. Passionate. Game-changing.
How has the original mission of Colony Square endured, and how has it evolved?
From the outset, Colony Square was designed to attract guests who desired an urban lifestyle. Since its inception in 1968, Colony Square established its position as Midtown's original mixed-use destination – a place where coworkers, business partners, friends and families have gathered. It was, however, designed to focus inward, turning its back on the street, and as Midtown exploded with growth, Colony Square became quietly overshadowed, despite its iconic location at the corner of 14th and Peachtree Streets.
We acquired Colony Square nearly two years ago, and have since worked closely with the community, researched the market and toured best-in-class mixed-use destinations to reimagine Colony Square to once again become Midtown's mixed-use anchor. The reimagined Colony Square will become a modern, locally inspired, arts-infused dining and entertainment destination that sparks with energy and provides the diversity of experiences Midtown craves. Colony Square will become the Midtown community's "third place" – the social place outside of their homes (first place) and offices (second place), where they come to gather, commune and partake in the art of modern life.
What was the main takeaway from the cross-country tour of food halls with Main & Main's chef curator, restaurateur Steve Palmer, regarding decisions for the food hall's design?
We journeyed around the country on to learn from more than 20 world-class food hall concepts. We will continue to work with Palmer to curate an authentic, distinctive food hall experience and merchandise mix for Midtown. There were several key learnings from our tour that we incorporated into the design for Main & Main, including event programming will activate an area of 28,000 square feet of indoor/outdoor space and bring events like comedy nights, live music, chef demonstrations and more.
The design of Main & Main is curated by chefs for chefs ensuring a seamless cooking and dining experience from back to front of house. It will also be designed to offer "Instagram-worthy" backdrops that encourage guests to share their culinary creations with the world. "The Grove" will be activated throughout the year with more than 200 events for visitors to enjoy, and a vibrant bar scene and diverse merchandise mix will create an energy curve for people of all ages and stages from noon to night.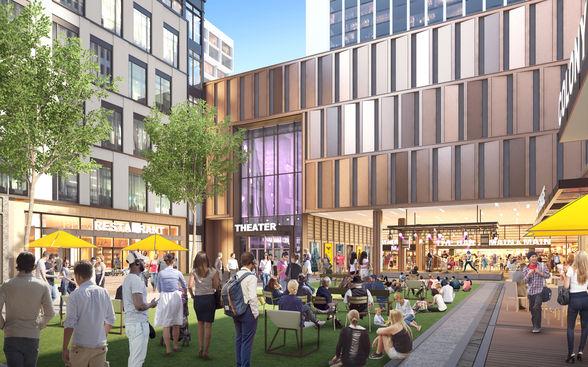 What makes Midtown stand out from Atlanta's other in-town neighborhoods, as well as other major cities throughout the country?
Midtown holds the past, present and future of Atlanta. Midtown has become the most desirable urban experience in the Southeast and home to dozens of world-class companies, cultural attractions, higher education institutions and noteworthy architecture. Midtown currently hosts 65,000 daytime workers, 15,000 residents with an additional 8,000 homes under construction, and more than six million annual visitors. More than 18,000 new jobs, the vast majority in technology, have been announced in Midtown in the last 12 months. Its population is set to double and has already grown five times faster than the City of Atlanta. It was also named a top five neighborhood in the country last year by the American Planning Association.
Additionally, Midtown is extremely transit friendly and offers several alternate options for commuting. When we asked Mayor Kasim Reed to describe Midtown in three words, he simply stated: "Midtown's the future."
Of the many project's you've had a hand in, do you have a personal favorite?
It's hard to choose a favorite project since they are all so different. Atlantic Station was a huge undertaking in which we repositioned a struggling mixed-use asset into a vibrant mixed-use destination. We launched a series of community events, enhanced security and hospitality services and remerchandised the retail and restaurant mix to bring it back to life. We applied our learnings from Atlantic Station to Avalon, our award-winning, ground-up, mixed-use "urbanburb" – an urban destination in a suburban setting. Avalon has set a new standard for experiential, retail-driven mixed-use environments, and we are very proud of its continued success.
Our latest project, the redevelopment of Colony Square, is a huge undertaking of an iconic mixed-use project in the core of Atlanta. I live just around the corner from Colony Square, and as both a resident of Midtown, Chairman of Midtown Alliance and the owner of Colony Square, I can't wait for the first phase to open next year.
While each project and market is unique, they all share a common thread: the connections we foster within each community—people to each other; built environments to their surroundings; cities to their souls; and individuals to experiences that move them.
What are you most proud of?
I am most proud of our world-class team of ExperienceMakers who bring each of our developments to life, serve guests with five-star hospitality and curate meaningful experiences on a day-to-day basis. The way that I have seen each ExperienceMaker interact with our communities and their guests is truly humbling.
A close second would be the amount of community support that we have seen throughout the development of each project. We work closely with residents to ensure that our projects incorporate their desires and aspirations as we have tapped into a fully engaged audience who lends their voice to help define our vision.
What is next on the horizon for North American Properties in Atlanta?
We are currently planning a new 110-acre mixed-use community anchored by Infinite Energy Center in Gwinnett. The project, which breaks ground in Fall 2018, encompasses a dynamic mix of retail, restaurant and entertainment space, residences, a premium movie theater experience and a hotel.
Who do you admire most for the impact they are making in Atlanta?
When it comes to making an impact in Atlanta, I most admire Bruce Deel, CEO and founder of City of Refuge, a local non-profit organization that serves the 30314 neighborhood—one of the poorest and most crime-ridden areas in the nation. He launched the non-profit organization in 1997 and has helped transform 20,000 lives since its inception. He truly cares about the residents of Atlanta and is committed to making a difference in the lives of each person he encounters.