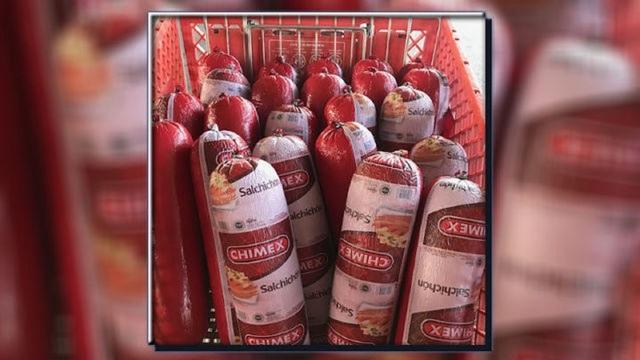 Copyright 2017 Nexstar Broadcasting, Inc. All rights reserved. This material may not be published, broadcast, rewritten, or redistributed.
EL PASO, Texas (KTSM) - A total of 227 pounds of contraband Mexican bologna was seized by U.S. Customs and Border Protection officers early Wednesday morning at the Paso Del Norte bridge.
According to CBP, a driver entered the port from Juarez around 7 a.m. and did not declare any agricultural products during an initial stop. A secondary exam revealed that 23 rolls of bologna was hidden under the floor mat in her car.
The bologna is prohibited in the U.S. because it is made from pork and has a potential for introducing foreign animal diseases into the pork industry.
"CBP is entrusted with enforcing hundreds of laws for dozens other government agencies, such as the U.S. Department of Agriculture, U.S. Fish and Wildlife Service, and others," said CBP El Paso Port Director Beverly Good. "These agencies require that unsafe items are not allowed to enter the United States. CBP officers are always on duty at our ports of entry and assume the responsibility of protecting America from all threats."
The driver was given a $1,000 ticket and the contraband bologna was destroyed.