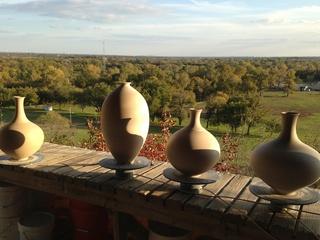 Photo courtesy of Cliff House Studio & Gallery
Cliff House Studio & Gallery will present its 35th annual Holiday Open House. Original ceramic and glass art pieces from Fort Worth's favorite artist-duo, Pamela Summers and Raymond Rains, will be on sale. Live demos and studio tours will be conducted.
What started 35 years ago as a backyard Raku party has now become one of Fort Worth's long-standing art events. Cliff House Studio's Holiday Open House now includes an exhibition of contemporary clay and glass art, a holiday sale of original art pieces, studio open house and tour, glass blowing demonstrations by Raymond Rains, and Raku pottery firing demonstrations by Pamela Summers.
Summers' contemporary ceramics, including wheel-thrown and hand-sculpted vessels and tiles, will be showcased and available for sale, as will Rains' blown and fused art glass. In addition, Summers' sister, Sharon Summers McClung, will be on-hand displaying her holiday collection of handcrafted jewelry.
8092 Eagle Mountain Dr. Fort Worth, TX 76135
Admission is free.
Cliff House Studio