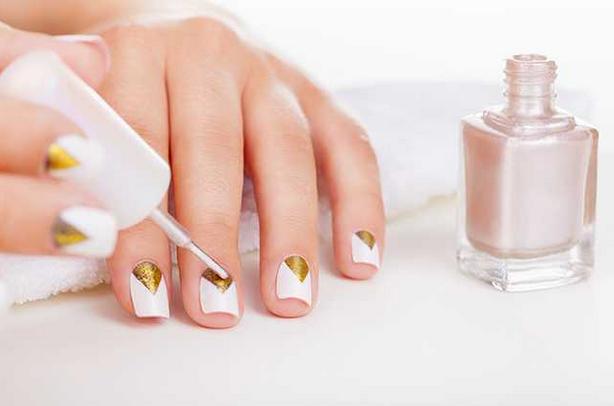 You need to ensure that your nails look perfect for your wedding. Don't wait till the very last moment to figure out what to do with them, especially if you haven't taken care earlier that they don't chip off, or are cracked or have thick cuticle growth. Here are tips on what to do while preparing for D-Day, and on the main day for those perfect nails.
Prep time
Do: Go to the salon six or so weeks earlier if you have any problem with your nails like cuticle growth, chipped or bitten nails, unevenly cut and filed nails, etc. Get the salon to help you take better care of your nails by getting them to clean cuticles, file properly… basically, get yourself the full manicure a couple of times to ensure that just before D-Day, you don't spend too much time just on your nails.
Don't: Use your nails incessantly to rip paper or tags. Use proper instruments for that. It might lead to chipped or cracked nails.
Do: Use a nail hardener to avoid any last minute chipping or cracking of nails. This will support your nails and you won't worry about them during the crazy last-minute prep time.
Don't: Bite your nails. Ever. It only leads to bad nails and gets hard on maintenance.
Do: Select the shade of your nail polish and design if doing nail art in advance. Also, buy and keep multiple bottles of that shade – three if possible. One for your emergency D-Day kit, one for the salon, and one for your honeymoon later (unless you have time after the wedding, and want to change your nail colour).
Don't: Stick to one shade, try out multiple before finalising on one. Select a shade that goes with all your dresses.
Do: If planning for nail art, do trials before to check what looks best on your nails.
In the final stretch
Do: Apply the gel manicure a day or so prior – not too early, so that you avoid any mishaps between then and D-Day, and keep the luster. Gel manicure is helpful as they help nails dry instant and keep them chip-free for weeks.
Don't: Stick to the basic nail designs. Try one of the different ones like ombre effect, chrome effect, coloured French manicure, or the many other styles.
Do: Bring your own bottle to the salon. They might have the exact shade or the one nearest to it. So, to get the exact colour you want, it's best to have your own shade.
Don't: Forget hand cream. It moisturises your hands as well as nails and the skin around it. Massage it into the cuticles and knuckles. So when the photographer focusses your hands, they look perfect.