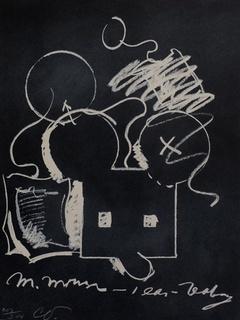 Claes Oldenburg, M. Mouse – 1 Ear Teabag (Axsom & Platzker 109), 1973 Screenprint and lithograph in two colors wiped with talcum powder on smooth Rives BFK paper, 11 7/8 x 8 15/16 inches, Edition 204/300. Photo courtesy of Barry Whistler Gallery
Barry Whistler Galler will present a group exhibition entitled, "It's Only Black and White...But I Like It." With this exhibit, the gallery continues its ongoing tradition of adapting song titles to exhibition titles; this show follows last year's (Bob Dylan's) "Tangled Up in Blue." This exhibition features two-dozen artists in a variety of media; some who typically work in black & white, and some who do occasionally.
Following the opening reception, the exhibit will be on view through January 6.
315 Cole St. #120 Dallas, TX 75207
Barry Whistler Gallery