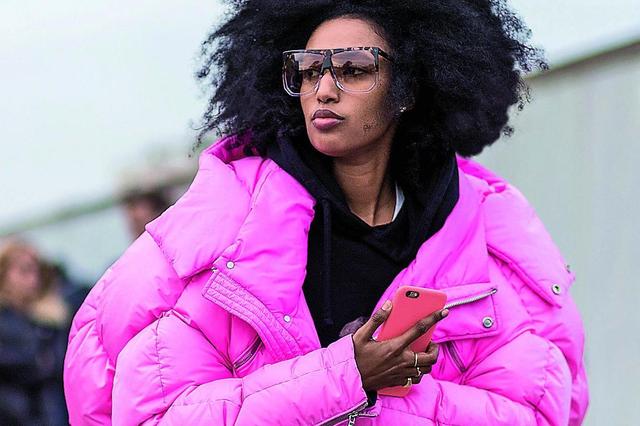 Puffa jackets scream practicality.
They are the ultimate functional coat, transcendent of gender and age. Look around any London street and you will see countless puffas bouncing along, in varying shades of shiny taupe and navy, keeping commuters warm as they wait in sleet for the 159 to Brixton.
Such pedestrian objects of necessity aren't what we're talking about here, of course. This season is all about the luxe puffa, worn as a fashion statement by people who never have to worry about internal combustion on the Central line.
Puffa sales on Net-A-Porter are up 864 per cent on last year, while earlier in 2017 Harvey Nichols was selling one Canada Goose jacket every 38 minutes. And there are myriad iterations: subtle army chic at Isabel Marant, Mira Mikati's millennial-approved technicolour dreampuffa and Dalston's Marques'Almeida's asymmetric safety-pinned puffas.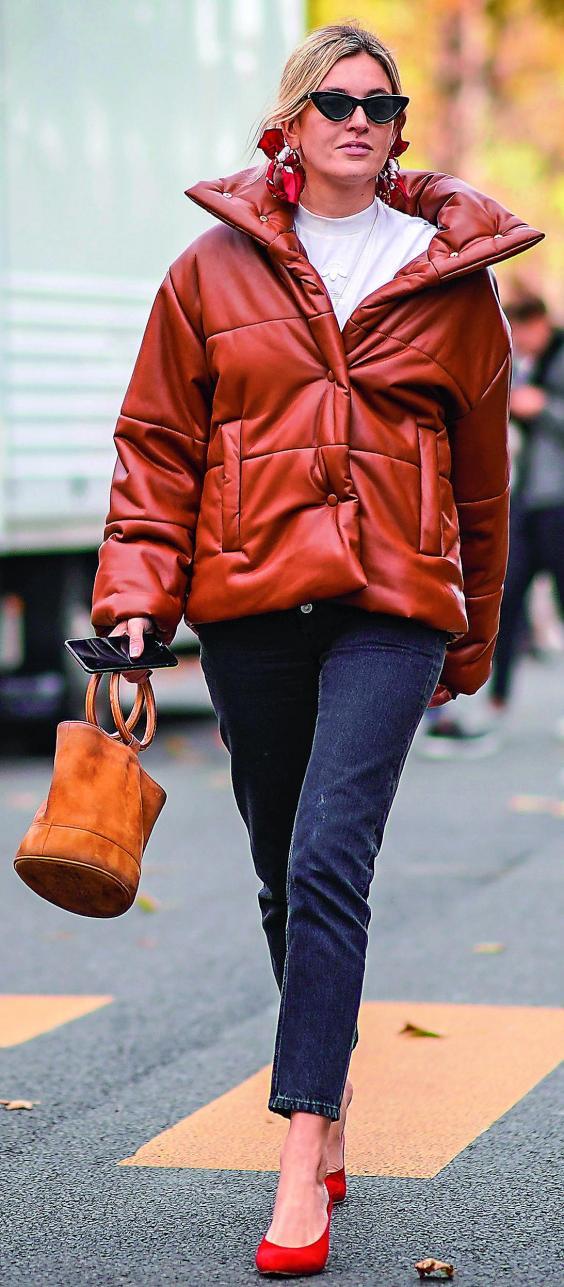 Camille Charrière (Getty Images)
Brands such as Canada Goose, meanwhile, which has just opened a flagship store on Regent Street, have turned their coats into bona fide fashion icons — while keeping firm roots in premium outerwear for weekend warriors cross-country skiing in Antarctica. CEO Dani Reiss describes the brand's down-filled jackets as 'function-first': 'Sure we want our products to look good, but they have to work.' Makes sense — it has been 60 years since it first started making seriously warm coats for people working near the North and South Poles. The sartorial central heating comes from the down with which jackets are padded: soft, fine, quill-free feathers that trap air and therefore provide insulation. Down has an actual technical 'fluffiness' measurement, known as fill power; its 675-fill Snow Mantra is supposed to be 'the warmest coat on earth'. 'Once people put on our jackets they understand, often for the first time, what it means to be truly warm,' says Reiss.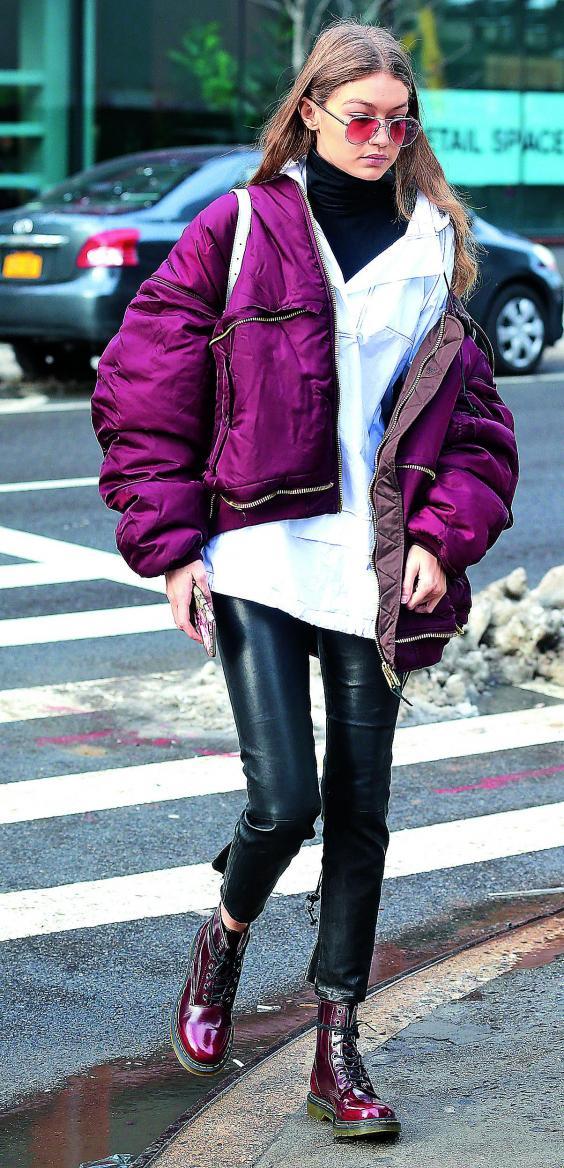 Gigi Hadid (Broadimage/REX/Shutterstock)
A Balenciaga Outerspace, on the other hand, is not advisable outerwear for a GoPro-ed ascent to base camp, although it will keep you toasty when sashaying from the front row to a Michelin-starred restaurant. It was Balenciaga that kick-started the super-luxe, non-functional puffa love. The French fashion house is king of luxing up things previously thought solely functional — see, for example, AW17's Ikea shopping bags — and Demna Gvasalia's debut AW16 collection of off-the-shoulder puffas were immediately sucked up by fashion bloggers and street-style girls. Witness Camille Charrière waltzing about in her brown vegan leather Nanushka jacket, now a long sold-out Insta hit.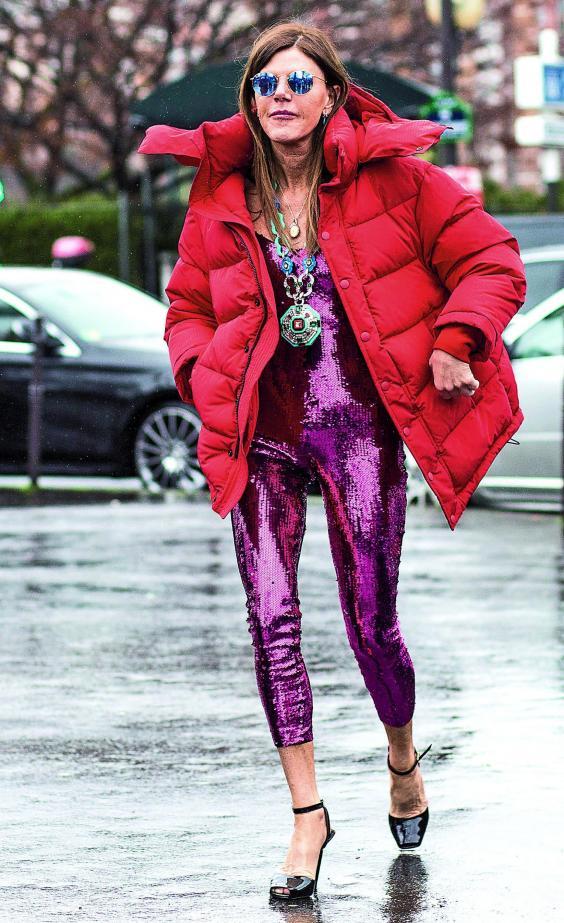 Anna Dello Russo
The luxe puffa is the non-polyester equivalent of a Slanket: a coat for people who don't get out of bed for less than £10,000 but, when they do, like to take their down quilt with them. We might have just spent an uncomfortably sticky October sunbathing in shorts but temperature is irrelevant. Rihanna rocks summer puffas from the likes of Rick Owens with the self-assurance of someone who has futuristic air conditioning in their limo, while Canada Goose also boasts a flagship in Dubai (average annual temperature nearly 30C). The puffa is less about warmth, more an emblem of survivalist dressing in the time of climate change, Trump and Brexit — a buffer against predators, human or otherwise.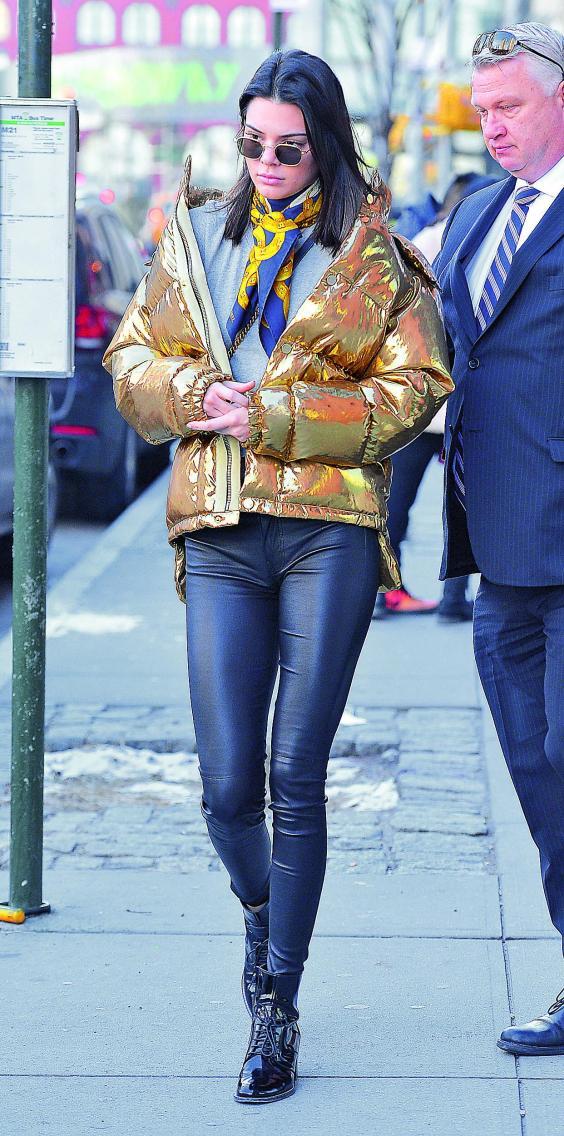 Kendall Jenner (STB / MEGA)
And life can be measured in puffa jackets. A silver-blue lurex puffa as a spherical six-year-old; a navy regulation faux Barbour crushed daily into a secondary-school locker. As a teenager, possession of a Jack Wills padded gilet determined your social status. Then there was mud-caked Duke of Edinburgh's Award, clad in The North Face. The outdoors brand has squashed damp memories of weekends lost in the New Forest with its super slick collabs from the likes of Sacaii, Junya Watanbe and, obvs, Supreme. The last of which it has worked with for 10 years, blending rock climber with A$AP Rocky in the latest Supreme x The North Face Nuptse, made of leather with 700-fill goose down insulation. Clearly, when it comes to luxury this winter, it's all filla, all killa.