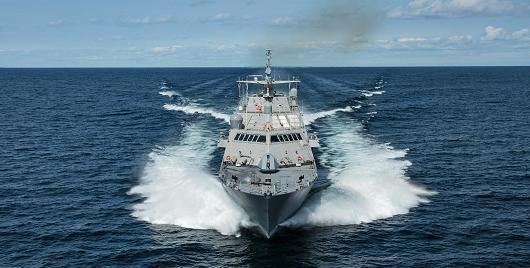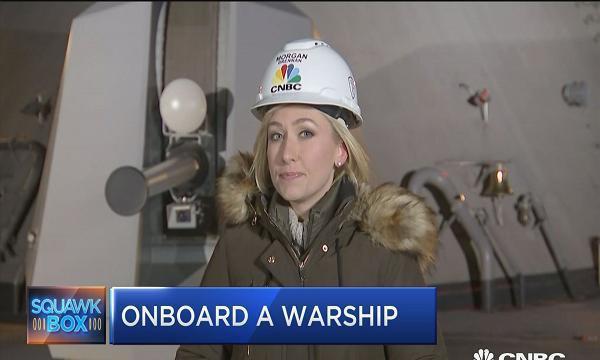 On the Wisconsin shore of the Menominee River a new 3,000-ton Freedom-class Littoral Combat Ship sits docked in the water. It's already been delivered to the Navy by Lockheed Martin and it's already active.
A crew of 50 live aboard and have been conducting tests for six months on nearby Lake Michigan. Next month, the warship will be commissioned the USS Little Rock before deploying to Florida.
In addition to automation that has cut crew size in half versus more traditional ships of this size, interchangeable "mission packages," and a top speed of 40 knots, the close-to-shore warship will tout something else: the ability to vertically launch Hellfire missiles (also made by Lockheed) to target threats on land, sea and in the air.
It's one of the ways Lockheed is looking to make the controversial ship more lethal. It's a strategy meant to not only silence critics and snag more orders, but better position the top defense contractor for one of the biggest, most-anticipated new Navy contracts.
"This is a warship," says Michele Evans, Lockheed's vice president and general manager of integrated warfare systems and sensors, a multibillion dollar Naval systems portfolio that includes LCS and the .
"It really looks to bring vertical launching systems, take advantage of a lot of what we develop with Aegis, and eventually, we could even look at having a laser-based system on this.
"So, we see the growth potential and I think there's a desire as the Navy looks toward a future frigate."
That future frigate is the Navy's "future guided missile frigate" or FFG(X), a competition for a next-generation small combatant ship to be based off of an existing small surface combatant (like for example, LCS).
Last week the Navy released a design request for proposal that's expected to be awarded next year, the last step before selected contractors build their concepts. Officials met with industry on Friday to review the hundreds of pages of guidelines.
The final contract is set to be awarded in 2020, with the program likely to be worth about $15 billion, according to Roman Schweizer, a defense analyst at Cowen. It's expected to span at least 20 ships.
For the Littoral Combat Ship, Lockheed, an LCS co-prime, partners with shipbuilder Fincantieri Marinette Marine and ship designer Gibbs & Cox for its Freedom-class variant.
The future USS Little Rock (LCS 9), the fifth Freedom-variant LCS delivered to the U.S. Navy, underway during Acceptance Trials in Lake Michigan on August 25, 2017. The future USS Little Rock (LCS 9) will be commissioned in Buffalo later this year.
Lockheed says it will "absolutely" bid for the frigate, but with the competition still in early stages and many details unknown, it says potential partners are yet-to-be-determined.
It already has company. LCS co-prime Austal has also said it will compete. An Australian company, Austal has a shipyard in Alabama where it currently makes the Independence-class Littoral Combat Ship. Of the 29 ships under contract, Lockheed has 14 and Austal has the rest. (Based on the fiscal 2018 defense bill, three more are expected to be procured, though the breakdown of those orders is unknown.)
General Dynamics' Bath Iron Works has also said it will participate, and analysts expect others like Huntington Ingalls to bid as well.
Lockheed and Austal may have some hurdles to mount. The Littoral Combat Ship has seen no shortage of critics, including Senate Armed Services Committee chair John McCain, who has repeatedly slammed it as an example of defense-related waste and inefficiency.
"Initial cost overruns more than doubled the cost of each LCS, development costs for the ships and their modules now exceed $6 billion dollars, and they keep rising," the senator said at a hearing in June. "Meanwhile, key warfighting capabilities of the LCS including key mine counter measures and antisubmarine warfare have fallen years, I repeat years, behind schedule and remain unproven."
Responsibility can go around for those challenges, to the contractors but also the Navy itself, which changed criteria even as the earliest ships were being built.
For its part, Lockheed Martin says those growing pains are behind it, as production has ramped to full-rate. It now takes about three years from start of fabrication to delivery, explains Joe DePietro, Lockheed's vice president of small combatants and ship systems, compared to "in excess" of five years for the very first Lockheed LCS called USS Freedom.
Also worth noting, while price varies per contract and vessel, a LCS still only costs about $500 million — double the initial target price set in the early 2000s — but still a fraction of the billions spent on a Navy destroyer or cruiser.