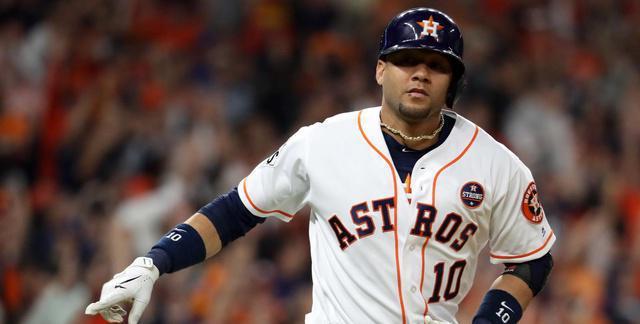 With one awful gesture, the fun has come to a screeching halt during the World Series. Thomas B. Shea-USA TODAY Sports
Friday night was Game 3 of the World Series. It was also the night Houston took a 2-1 lead in said series. Astros' first baseman Yulieski Gurriel started the scoring with a solo shot in the second inning off a starter Yu Darvish.
But that's not what everyone's going to be talking about anymore. And Gurriel only has himself to blame.
Following his home run, a clip of Gurriel making a racist gesture towards Darvish—while muttering a slur—surfaced.
Did Yuli Gurriel say chinito while he made that gesture? pic.twitter.com/OLy7o3VZPE
— Eric Rosenthal (@ericsports) October 28, 2017
This wasn't mentioned during the broadcast, but it became the talk of Game 3 afterwards. Gurriel's apology offered little in the way of remorse, however. Instead, it reads as someone who is embarrassed that they got caught:
"I did not mean it to be offensive at any point… Quite the opposite. I have always had a lot of respect [for Japanese people]. … I've never had anything against Darvish. For me, he's always been one of the best pitchers. I never had any luck against him. If I offended him, I apologize. It was not my intention."
Darvish, on the other hand, was measured in his approach. Though, he didn't need to be:
"I feel like, of course, Houston has Asian fans and Japanese fans, and Asian fans live all over the place… And acting like that, it's just disrespectful to people around the world, to the Houston organization. It's not OK."
He would continue:
"Including him and I, nobody's perfect. Everybody's different. We've just got to learn from it. He made a mistake, and we've just got to learn from it. We are all human beings. It's just learn from it, and we've got to move forward."
The ball is in MLB's court now. Moreover, it's up to MLB to handle this incident how they would any other type of slur—and not let the fact that it's the World Series cloud their judgment.