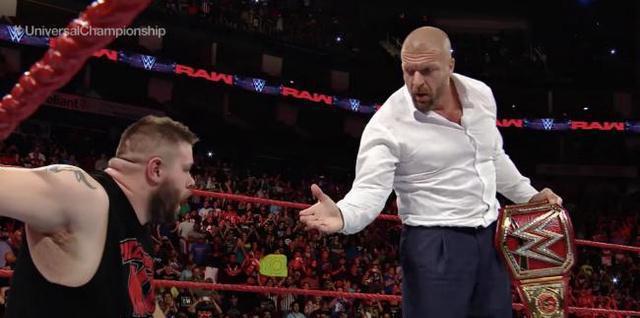 WWE is still reeling from a spell of horrible timing and personal problems that resulted in multiple last-minute scheduling and card changes. WWE's viral infection problem owned most of the headlines because it directly involved WWE's TLC card earlier this month. With Roman Reigns and Bray Wyatt out, A.J. Styles had to step in and have a match with Finn Balor while WWE Raw GM Kurt Angle made his in-ring WWE return to replace Roman Reigns as the third member of the shield.
In addition to the viral infection chaos, though, SmackDown superstar Kevin Owens had to abruptly return home from WWE's Live Event tour in Chile due to personal reasons.
Thankfully, for both Owens and his family, he was back on SmackDown last week. We're hopeful that whatever forced Owens to return home so abruptly is firmly in the past.
Triple H made a surprising return to the WWE ring as a replacement for Owens on SmackDown's Chile tour, and if this video of him twerking with The New Day is any indication, he had a pretty good time. That's not all Triple H did, however. According to WrestlingNews.CO, Triple H was not paid for his Chile appearance and instead that money is going to the man he replaced, Kevin Owens.
From my understanding, Triple H was not paid for his match and the money that he was supposed to get is being sent to Owens. There have been tons of stories like this about Triple H over the years and they never get reported so we wanted to mention this one because it's a pretty cool gesture by him.
It kind of goes without saying, but this is a wonderful move on Triple H's part, and it also speaks to the relationship he has with guys like Kevin Owens that came up through his WWE NXT system.