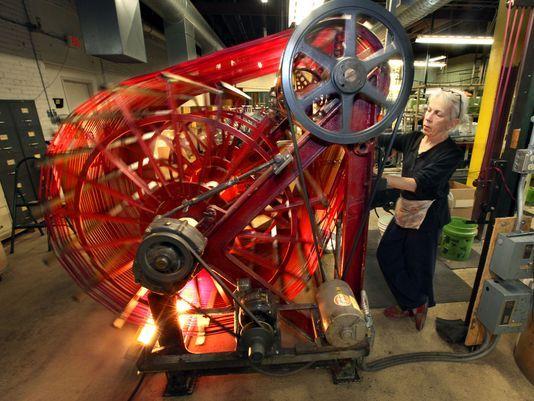 Cream City Ribbon operator Mary Kat Hart adjusts ribbon on the drying reel in 2013. The company is planning a move from downtown Milwaukee to Glendale.(Photo: Mike De Sisti / Milwaukee Journal Sentinel)
Cream City Ribbon, a longtime Milwaukee downtown area business, is planning to move to Glendale.
The unusual company, which uses old machinery to make high-end, decorative ribbon from cotton yarn, wants to lease around 5,200 square feet at 6625-6627 N. Sidney Place, according to information filed with the City of Glendale.
The Plan Commission is scheduled to review Cream City Ribbon's occupancy application at its Tuesday night meeting.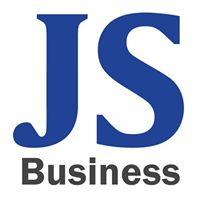 Like Milwaukee Journal Sentinel Business on Facebook for the latest updates right in your news feed.
Visit JS Business on Facebook
Cream City Ribbon owner Eric Crawford said Friday that he hasn't yet signed a lease at the Glendale site. He cited that reason for declining to discuss his relocation plans.
Cream City Ribbon, which has six employees, was founded in 1988 by Lorette Russenberger, who bought machinery of the defunct General Printed String Co. at an Internal Revenue Service auction.
The company operated for several years at 181 N. Broadway.
Cream City Ribbon leased that Historic Third Ward building until an investment group formed by Russenberger bought and renovated a building at 440 W. Vliet St. The company moved there in 2003.
Russenberger sold the business to Crawford in 2012.
Russenberger's investment group, Mix Properties LLC, still owns the two-story, 32,000-square-foot Vliet St. building, according to assessment records.
That building is just a few blocks north of the Milwaukee Bucks new arena, which is sparking new developments.
Those projects include Haymarket Lofts, a 72-unit apartment building scheduled to open in early 2018 within a converted industrial building at 1300 N. 4th St.

Be MKEWho we are. Where we go. What we need to know.

Each week in this newsletter, Sarah Hauer will serve as your city guide and share stories about Milwaukee, its people and what's happening around town.