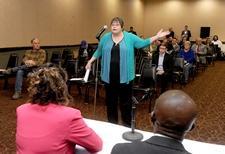 Rudi Keller @CDTCivilWar
The politicians working to end the use of tax credits to build low-income housing don't understand how difficult it is to find a safe, affordable place to live, Jackie Reichert said Friday during a public hearing sponsored by the Missouri Housing Development Commission.
Reichert, a resident of Hanover Estates in northeast Columbia, pays $545 per month rent out of her $1,200 in Social Security income. An apartment that wasn't subsidized by tax credits would be difficult to find for less than $1,000 a month, she said.
"What our politicians don't understand is we are real people," Reichert said. "We have to live. They wouldn't want their mother out on the street, or their dad."
The public hearing at Stoney Creek Hotel, one of six held around the state on Thursday and Friday, drew about 40 people to comment on the commission's Nov. 17 decision against issuing state tax credits to complement federal tax credits that finance new apartment construction. The plan for offering only federal tax credits in the coming year is up for final approval at the commission's Dec. 19 meeting in Jefferson City.
Under the program, developers propose plans that detail how many apartments they will build, the target populations for occupying the units and the rent that will be charged. The approved programs receive a 10-year allocation of credits that can be used to offset income and other taxes. The credits are sold, at a discount, and the proceeds finance construction.
State law allows the commission to issue as much in state credits for each project as it allocates in federal credits. There is no requirement, however, that the commission issue any state credits.
Gov. Eric Greitens is leading the effort to dismantle the current system after receiving a report in June from the Governor's Committee on Simple, Fair and Low Taxes that found the credits result in 42 cents worth of housing for every dollar of state tax credits issued. The tax committee recommended replacing the credits with a low-interest loan program to directly finance the construction, a move that would require legislative action.
In the fiscal year that ended June 30, the program cost the state treasury $165.6 million, about 28 percent of all the tax credits redeemed during the year. In an interview after she spoke, Reichert said politicians who oppose the credits are people who don't worry about paying their rent.
"They are going to go home to their mansion every night, or their big house, in their fancy new cars and all that," she said. "They could care less, as far as I am concerned, about this. There may be a few good ones that care but the majority don't. They have no idea."
No one who spoke at the Friday hearing in Columbia supported ending the tax credit program. Former state Rep. Chris Kelly said privately built low-income housing is more efficient, cleaner and nicer than housing projects built and owned by the government.
"No one can legitimately argue that the programs have not been successful," Kelly said.
The Columbia Housing Authority has used the tax credits to rehabilitate 360 of its 719 housing units, CEO Phil Steinhaus said. Another 237 units are being rehabilitated but a lack of future credits puts plans to complete the renovations in doubt, he said.
"Our next project is Providence Walkway apartments," Steinhaus said in an interview before the hearing. "It is all teed up and ready to go as soon as the application is out. It is 50 units right down across from Douglass Park. Without the state credits in our financial pro-forma, we have about a $2.5 million gap that needs to be closed somehow to make the project work."
Along with apartments it owns, the housing authority administers the Section 8 voucher program in Columbia. The last time applications were accepted, in June 2015, 1,200 people signed up in one week and were put on a waiting list, Steinhaus said. The list is now down to about 400 names and he expects to have a one-week period next year to accept new applications.
"If we left the list open all the time we would probably have 8,000 names on it," he said.
The hearing also drew representatives of other local agencies that have used the credits or help clients who are in units constructed with tax credit financing.
Robyn Kaufman, executive director of Boone County Family Resources, said her agency built 28 apartments for clients with developmental disabilities. The units are full, with a waiting list, she said. The occupants include people who have never lived on their own.
"They are excited that the apartments are in a safe, welcoming neighborhood and nearby," she said. "These stories and more would not have been possible without the low-income housing tax credits that were critical to make the development of Boone Point apartments, and the affordable rent, a reality."
The hearing officers, who gave no comment about whether the commission would alter its course when it meets, also heard from additional occupants of tax-credit-built housing in addition to Reichert.
Pamela Hildebrand said she worked her entire life until medical problems including liver disease, lung disease and kidney disease forced her to rely on Social Security. Her income is $1,179 per month, she said, and her rent is $678. She also receives $79 a month in food stamps, she said.
"Where is the help for me? I did everything right," she said. "I had a job, I paid into Social Security, I did all of it. Where is the help? Where is the compassion? Everything is drying up for people in my condition."
rkeller@columbiatribune.com
573-815-1709