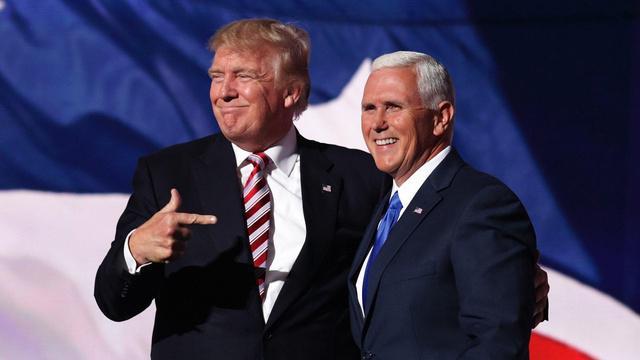 Chelsea Clinton, Josh Groban, George Takei and more big names are voicing their outrage over the recent New Yorker report that President Trump once joked that Vice President Mike Pence "wants to hang" all gay people.
The New Yorker story published Monday cited two anonymous sources who recalled Trump "needling Pence about his views on abortion and homosexuality."
According to the sources, when the subject of gay rights came up during a meeting with an unnamed legal scholar, the president allegedly motioned toward Pence and joked, "Don't ask that guy — he wants to hang them all!"
Neither Pence nor Trump have themselves commented on the report. The vice president's spokeswoman, Alyssa Farah, said in a statement to The Indianapolis Star that the New Yorker story generally contains "untrue and offensive" claims.
"Articles like this are why the American people have lost so much faith in the press," Farah said. "The New Yorker piece is filled with unsubstantiated, unsourced claims that are untrue and offensive."
Many on Twitter criticized Trump's alleged "joke," calling it "evil" and an impeachable offense.
Referring to #LGBTQ people, Donald Trump joked Mike Pence wants to "hang them all." That's not funny, that's evil. https://t.co/n4w3iSiLyZ pic.twitter.com/0uR8klf5Ga
— HumanRightsCampaign (@HRC) October 16, 2017
Trump should be impeached immediately for "joking" & saying Pence wants to "hang" all gay people.
Pence should be impeached cuz it's true.
— Scott Dworkin (@funder) October 17, 2017
a lot of fatigue going on but trump joking about pence hanging gay people is beyond. impeach
— jackantonoff (@jackantonoff) October 16, 2017
Comedian Billy Eichner tweeted: "The President of the United States saying that our Vice President would love to hang all gay people. Evil pieces of s–t."
Either Pence wants to hang all gay people or Trump is someone who jokes about hanging gay people. Which is okay with you, conservatives?
— Chris Pugh (@cpugh54) October 17, 2017
Singer Josh Groban linked to a New Yorker tweet highlighting Trump's joke and commented: "What the f–k."
Not sure what's more disturbing, that Donald would joke about such a thing or that he would pick a man with these views as his number 2. https://t.co/IXxW0mT5Sd
— George Takei (@GeorgeTakei) October 16, 2017
In 2017, we have to remind our President that it's never ok to "joke" about killing LGBTQ Americans…or anyone. @realDonaldTrump @POTUS https://t.co/LMGl63tjIi
— Chelsea Clinton (@ChelseaClinton) October 16, 2017
2017: When at least 23 trans women have been murdered, and the president makes jokes about hanging gay people. https://t.co/mgG4XtQ7FY
— NWLC (@nwlc) October 16, 2017
Making jokes about how his VP HATES the LGBTQ community!? Not funny. Terrible leadership. A President should know better. Shame on you. https://t.co/bQZhIW3Z90
— ADAM LAMBERT (@adamlambert) October 16, 2017
Pence has a long history of fighting gay rights. While he was governor of Indiana, he signed a religious freedom law that critics said could worsen discrimination against members of the LGBTQ community. After facing overwhelming backlash, he signed an amendment to the law intended to protect gays and lesbians.
Pence, who has described himself as a "Christian, a conservative and a Republican, in that order," has also said gay couples signaled "societal collapse," opposed the Employment Non-Discrimination Act that would prohibit discrimination against LGBT people in the workplace, opposed the repeal of Don't Ask, Don't Tell, and rejected the Obama administration directive on transgender bathrooms, TIME reported.