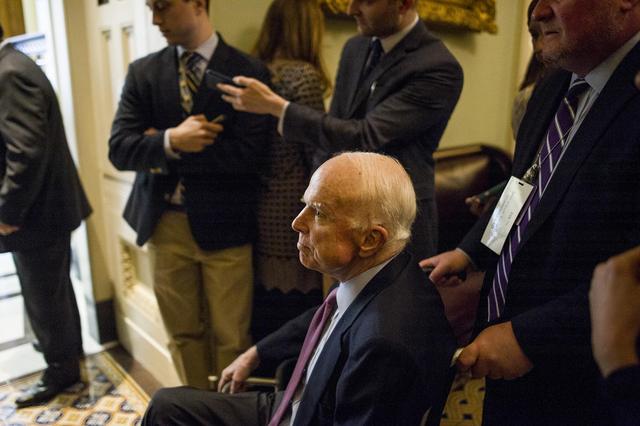 WASHINGTON — The Senate is on the cusp of passing its sweeping tax overhaul, with Republican leaders saying on Friday that they have enough votes to pass the bill along party lines after last-minute changes brought wavering senators on board.
Sen. Mitch McConnell of Kentucky, the majority leader, told reporters that "we have the votes" and that the Senate would vote later in the day on a bill whose final contents were still not publicly known.
Republican leaders said they have agreed to a host of tweaks, including a provision that would allow taxpayers to deduct up to $10,000 in state and local property taxes paid, a change that had been pushed by Sen. Susan Collins of Maine. Lawmakers also plan to sweeten the tax break for companies organized as pass-through entities, a provision needed to win the support of Sens. Ron Johnson of Wisconsin and Steve Daines of Montana.
And, in a bid to get Sen. Jeff Flake of Arizona on board, leaders agreed to work on providing "fair and permanent protections" for the beneficiaries of an Obama-era effort that protects young undocumented immigrants from deportation, Deferred Action for Childhood Arrivals, known as DACA, Flake said in a statement. Flake also said he had won changes in a provision, which expires after five years, to allow companies to immediately deduct new investment expenses, which he called a "gimmick."
The changes did not appear to include anything to assuage Sen. Bob Corker of Tennessee, whose concerns over the bill's effect on the federal budget deficit delayed a vote on the package on Thursday. Flake had shared those concerns, but on Friday, after winning the DACA pledge and the change in investment expensing, he said "I am pleased to announce I will vote in support the tax reform bill."
Corker and Flake had pushed to scale back the tax cuts in the wake of a report from the congressional Joint Committee on Taxation that projected the bill would add $1 trillion to deficits over the course of a decade, even after accounting for economic growth. Their insistence angered many Republican colleagues who do not want to reduce the $1.4 trillion tax cut package.
Republicans discussed several possibilities for changing the bill to address their concerns, including gradually raising the corporate tax rate in later years in order to save as much as $500 billion. On Friday, they decided against those changes.