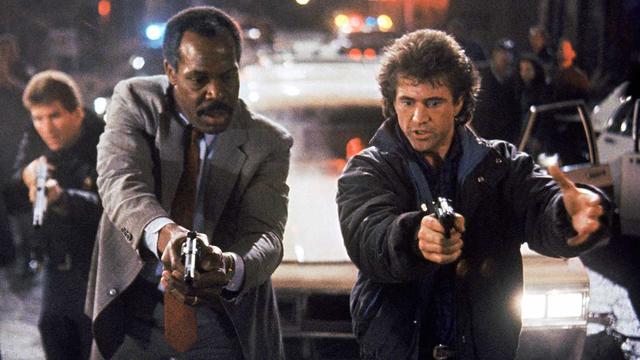 Are we getting too old for this...? According to Express, Lethal Weapon 5 just might be getting the green light for go, with Mel Gibson and Danny Glover reprising their roles as Martin Riggs and Roger Murtaugh, respectively, along with original director Richard Donner at the helm.
Last year sought to bring back the feel of the franchise with the fairly successful Lethal Weapon (2016) Fox television series, starring Clayne Crawford and Damon Wayans as Martin and Riggs, respectively, in their younger days on the force. It has proved that there is a definitely an audience for this franchise, and this writer for one would love to see the duo back in action one last time on the big screen again.
Lethal Weapon 3 (1992) was to have originally been the closing of a trilogy, but then the gang all returned it was said for one last hurrah in Lethal Weapon 4 (1998). Over the last decade or so however there have been rumors on a possible fifth installment. Mel Gibson and Danny Glover replied to these rumors stating that they would only come on board if original director Richard Donner would return as well. Donner directed all four Lethal Weapon films, in addition to films like The Goonies (1985), Scrooged (1988), Radio Flyer (1992), and the first two Superman films (1978-1980) starring Christopher Reeve. It seemed fairly unlikely as years and years went by however that this fifth entry would come to fruition, as Richard Donner is now 87 years old, the last film he directed being 16 Blocks (2006), over ten years ago now.
It appears that Richard Donner is up to the challenge however; Lethal Weapon 5 is not yet confirmed, but it is certainly looking to be getting closer to that point. Where the story will take these two we don't know; hopefully it won't be the same old shtick of having new blood coming in and having Riggs and Murtaugh being pushed out. It seems strange to end a series after five movies rather than six, but it is probably safe to say that this go around will probably be their last mission. Channing Gibson (Lethal Weapon 4) is said to be writing the script.
Mel Gibson can currently be seen in theaters in the holiday comedy Daddy's Home 2 (2017), starring Will Ferrell and Mark Wahlberg.
What do you think about another Lethal Weapon movie? Are you interested in watching?