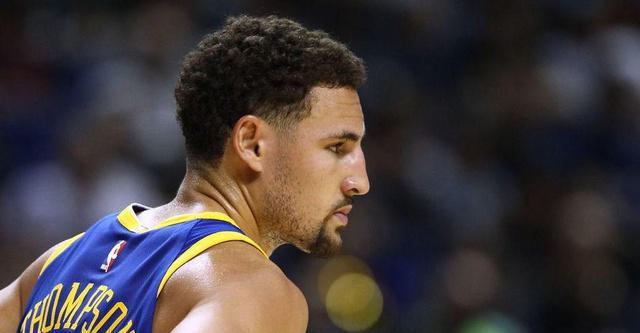 Klay Thompson won't go anywhere, at least for now, but the Golden State Warriors may end up trading him and look for "a younger and cheaper replacement" if he will demand a huge payday in the summer of 2019.
The Warriors are one of the few NBA teams who successfully rebuilt their team into a legitimate title contender. The explosive backcourt duo of Stephen Curry and Klay Thompson, also known as the Splash Brothers, is undeniably one of the major reasons behind the Warriors' success. In the recent offseason, the Warriors rewarded Curry with a five-year, $201 million extension.
In the 2019 offseason, Thompson will be the next to hit the free agency market. However, giving him a max deal could bury the Warriors deep in the salary tax hell. Earlier this month, the 27-year-old shooting guard said he's willing to give the Warriors a discount but not as much as Kevin Durant gave them this offseason.
As most people think, it will be best for the Warriors to negotiate early with Klay Thompson. Waiting for Thompson to hit the open market will give them more competition in signing him since he's expected to be one of the most coveted free agents in 2019. However, according to Tom Ziller of SB Nation, Warriors Joe Lacob may order his team to look for their new starting shooting guard if Thompson will demand a pricey extension.
"There's like no chance the Warriors trade him this season, but he's a free agent in 2019 and no one expects him to take less money to help out Joe Lacob. Thompson really does not seem like a guy who takes less money ever. He doesn't have Nike or Under Armour money (no shots at Anta) and he has not seemed to embrace opportunity in Silicon Valley like Kevin Durant or Andre Iguodala. If Lacob gets antsy about an even bigger tax bill in 2019-20 as salary cap growth stagnates, he might direct the front office to look for a younger, cheaper replacement for Thompson on the market."

Will Klay Thompson leave the Golden State Warriors in 2019? [Image by Ronald Martinez/Getty Images]
If the Warriors will lowball him in the summer of 2019, Klay Thompson may consider entertaining offers from other NBA teams. In the past months, there are speculations that Thompson plans to play on a new team where he could be his "own guy." With his performance in the past three seasons, there is no doubt that Thompson is ready to lead a team on his own.
He already won two NBA championship titles with the Warriors, and he could add more to his collection before he becomes an unrestricted free agent. The only thing left for him is to win an MVP award which is less likely to happen if he continues to play alongside Kevin Durant and Stephen Curry.
[Featured Image by Zhong Zhi/Getty Images]
NBA Rumors: GSW May Look For 'A Younger And Cheaper Replacement' If Klay Thompson Demands Pricey Extension is an article from: The Inquisitr