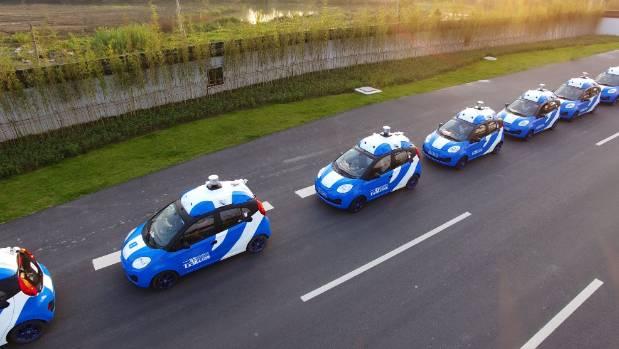 No petrol vehicles will be built after 2025 and the number of cars in the United States will have plummeted by 80 per cent five years later, with most journeys taken "Uber-style" in fleets of self-driving cars.
That was the message given to APEC delegates in Wellington by Stanford economist Tony Seba, who believes the transport and power industries are just a few years away from a massive tipping point.
Energy Minister Megan Woods described his predictions as "both interesting and challenging".
Associate Transport Minister Julie Anne Genter said she would be discussing options to promote the uptake of electric vehicles (EVs) with officials over the next few weeks.
READ MORE
"This government is committed to reducing climate pollution to net zero by 2050. That means we have a responsibility to start reducing emissions from transport," she said.
"Increasing the uptake of electric vehicles will be a priority alongside our plans to boost investment in public transport and walking and cycling."
Seba agreed that there was no need for governments to consider subsidising EVs if his forecasts were correct, as they would take over rapidly anyway.
Always a highlight to start the day with a self declared "chief disruptor" - fantastic to meet @tonyseba and discuss future of clean energy pic.twitter.com/UkagRqy8kh

— Megan Woods (@Megan_Woods) November 20, 2017
Instead the most useful thing policy-makers could do was to encourage pilots of driverless vehicles, he said.
Seba said councils should also be preparing for huge areas of major cities to be freed-up by a reduced need for parking.
On current trends it would be cheaper to build a mid-range EV costing US$33,000 than a conventional car by 2019, and they would be cheaper than the average equivalent conventional small car by 2022, he said.
Tony's version of our future is certainly interesting if somewhat challenging 🤔

— Judith Collins (@JudithCollinsMP) November 20, 2017
Given EVs were 10 times cheaper to fuel and much cheaper to maintain, petrol and diesel cars would soon be difficult to give away, he believed.
While the average car had more than 2000 moving parts, EVs had just 18 and could rack up 500,000 miles, he said, quoting research from Baron Funds Research.
By 2030, 95 per cent of passenger-miles would taken in self-driving vehicles, he said. In the US "200 million cars are going to be stranded – useless".
Motor Trade Association industry relationships manager Greig Epps said he came away "a bit gobsmacked" from a presentation by Seba, who had some "very persuasive information" about changes in battery technology.
Epps forecast in 2016 that it would be 20 years before EVs had a significant impact in New Zealand, but now believed that could happen within 10 to 15 years.
New Zealand would lag the US though, given most imports were of secondhand cars, he said.
Seba's forecasts are predicated on the assumption that the cost of generating and storing solar electricity will continue to fall – to the point where just about all generation will be solar by 2030.
But electricity production would only have to increase by 18 per cent in the US to cope with a complete switch to EVs, he said.
At some point, the cost of producing solar power at the home would fall below the transmission cost of transporting electricity across national grids, meaning no other form of generation would be able to compete, he said.
Like conventional cars and parking buildings, investments in deep sea and shale oil would be a write-off, with the price of oil collapsing below US$25 a barrel because of a lack of demand.
Seba fired off statistic after statistic to back up his case at the APEC meeting, but not all experts believe EVs or solar power will take over quite as quickly as he suggests.
The number of EVs on New Zealand roads has already more than doubled this year to 5431, but that still represents only a little over a tenth of one per cent of all vehicles.
International Energy Agency transport leader Pierpaolo Cazzola, who also addressed the APEC electric vehicle and hydrogen energy working group meeting, believed EV uptake would still depend a lot on government policies.
Seba believed no-one would be manufacturing land vehicles – even tractors – with combustion engines after 2025.
But Cazzola noted 10 members of the IEA – the US, Britain, China, France, Germany, Japan, Holland, Norway, Canada and Sweden – had set a much more modest goal of ensuring 30 per cent of cars, buses and trucks were EVs or hybrids by 2030.
Cazzola acknowledged the IEA's forecast had not factored in the possibility that most journeys would be undertaken using self-driving vehicles that would be owned by Uber-like companies.
Seba agreed other forecasters had access to the same data as him about technology trends and had come to less radical conclusions.
That was because they had not picked up that change was exponential and tended to be guided by each others' forecasts, he said.
"Mainstream analysts look at one another instead of looking at the data."
That had happened before, for example when consultant McKinsey advised telecommunications giant AT&T in 1980 that there would be fewer than a million cellphones in the US by 2000, whereas the actual number was 109 million, he said.
"In 13 years, New York City went from all horses to all cars."