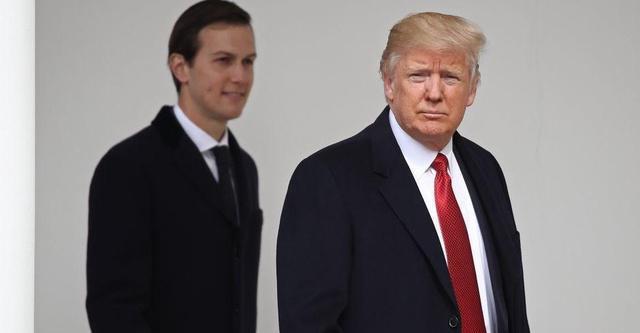 The Paradise Papers are bringing new trouble to Donald Trump's administration, with the massive data leak exposing some previously hidden ties to Russia among top officials in Trump's cabinet.
The financial documents showed that some of the wealthy members of Trump's administration worked to legally stash their money in offshore havens, avoiding having to pay taxes in the United States, the Daily Beast reported.
Commerce Secretary Wilbur Ross was one of the names that came up in the Paradise Papers, showing that he had concealed ties to a Russian energy company with very close ties to Vladimir Putin. Ross had not disclosed the connection during his confirmation process earlier this year, the report noted.
The Paradise Papers also exposed deeper within Donald Trump's inner circle, the Daily Beast report noted.
"Top White House adviser Jared Kushner, Trump's son-in-law, is also implicated. The documents reveal that Kremlin-connected interests invested in social media giants Facebook and Twitter through one of Kushner's business associates. Russian tech leader Yuri Milner, who funneled the money to Facebook and Twitter, has a stake in a company partly owned by Kushner."
That could cause more trouble for Donald Trump, as Kushner had told the Senate Intelligence Committee that he never relied on Russian funds for his business ventures in the United States, the report noted.
Kushner is already in hot water for his attendance at an August 2016 meeting with a lawyer closely connected to the Kremlin. Meeting with top campaign officials including Donald Trump Jr. at Trump Tower, the lawyer had promised to produce dirt on Hillary Clinton that had been stolen by the Russian government. Those at the meeting claim nothing ever came of it.
As the Mirror reported, the Paradise Papers contain more than 13.4 million leaked files that expose offshore activities among some of the richest and most powerful people in the world, showing the measures they have taken to conceal and protect their wealth. The files come from offshore law firms and registries investigated by the International Consortium of Investigative Journalists after the German newspaper Süddeutsche Zeitung obtained the documents, the report added. That was the same publication that first obtained and published the so-called Panama Papers, which exposed the many powerful people stashing assets in the tax haven in Panama.
BREAKING — 'Paradise Papers' investigation claims to expose Russia-Trump ties, Queen Elizabeth's offshore interests https://t.co/MDqSUvyTSG

— DAILY SABAH (@DailySabah) November 5, 2017
It is not yet clear what the scandal could mean for Donald Trump or whether either Jared Kushner or Wilbur Ross could face disciplinary or legislative action as a result of their failure to disclose their links.
[Featured Image by Win McNamee/Getty Images]
Paradise Papers: Huge Financial Leak Esposes New, Hidden Connections Between Trump Administration And Russia is an article from: The Inquisitr