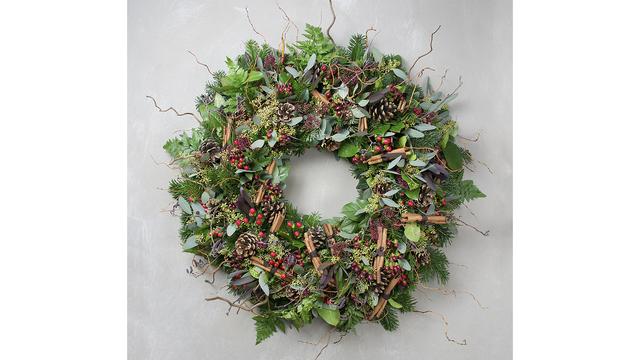 Philippa Craddock Mulled Winter Outdoor Wreath

For a floral display that smells as good as it looks, look no further than this fragrant option from the renowned Philippa Craddock. It evokes the quintessential aromas of the festive season with generous bundles of cinnamon sticks, contrasted against a backdrop of striking red berries, pine cones and an abundance of greenery comprised of natural spruce, salal leaves and deep green skimmia.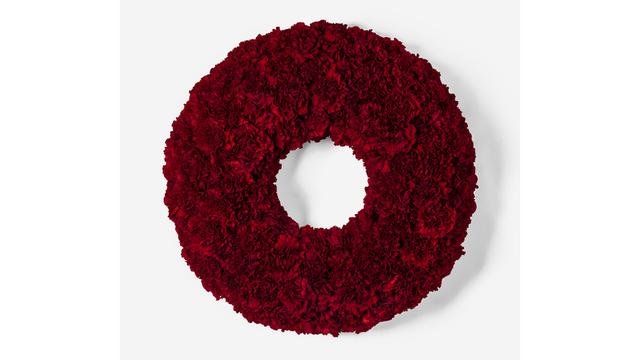 FlowerBx Deep Red Indoor Wreath

Adam Wilkie, a former PR director for fashion brand Tom Ford, set up chic online brand FlowerBx as an antidote to some of the common problems he saw in the flower-buying experience. One particular difference that sets it apart from its competitors is that it mainly deals with single-varietal bunches, cutting out the unnecessary and unwanted filler often found in mixed bouquets. When the same principle is applied to wreaths, it makes for a modern, single-colour piece guaranteed to make an impact in any room. For the ultimate statement, opt for this variation composed of rich, deep red carnations.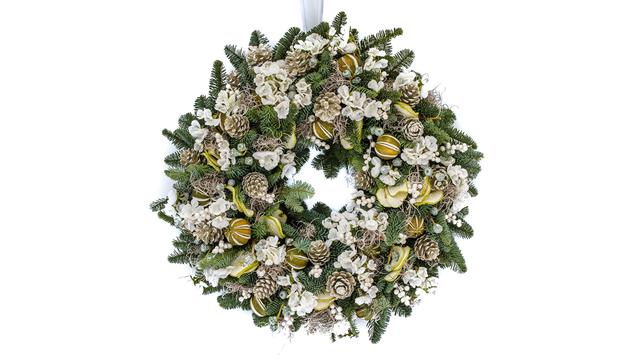 Wildabout Festive Snowflake Wreath

Wildabout is well versed in creating stunning floral displays, specialising in events as well as selling an array of bouquets and gifts online. For Christmas the florist is offering ranges from bright, mood-boosting bunches to classic wintry arrangements. For your front door you can't go wrong with a traditional design, and its indulgent Festive Snowflake wreath more then fits the brief. Nestled among an abundance of Spanish Moss are fragrant limes, apples, blossoms and fir cones.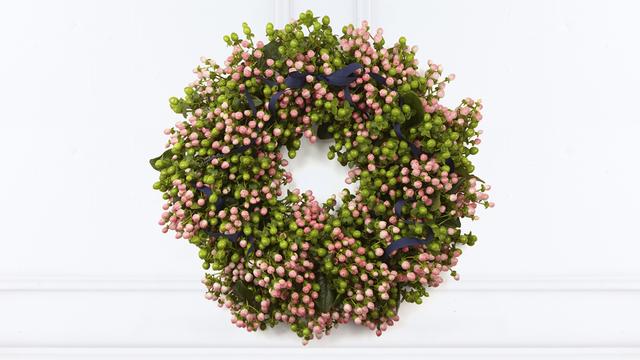 Hayford and Rhodes Pink Coco Door Wreath

Established in 1924, Hayford and Rhodes is one of the oldest florists in the capital, with an extensive client list to match – Hampton Court Palace, the National Portrait Gallery and Kensington Palace have all used their flowers. Inject a touch of grandeur into your own home with seasonal selection that offers classic elegance with a contemporary twist. Particularly eye-catching is this pink-hued wreath, constructed from vibrant Hypericum berries and foliage.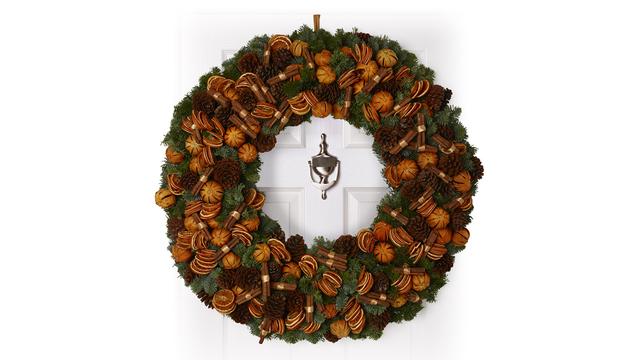 Larry Walshe The Nell Gwynn Wreath

This show-stopping wreath takes its name from the famous mistress of King Charles II, the orange seller Nell Gywnn. Her profession is interpreted literally in the dried clementines and orange slices that are liberally scattered among other festive items including bundles of cinnamons and pine-cones. The rich tones are completed by the dark-hued Norwegian blue spruce at its base, creating a classic arrangement that reminds of opulent Christmases of years gone by.