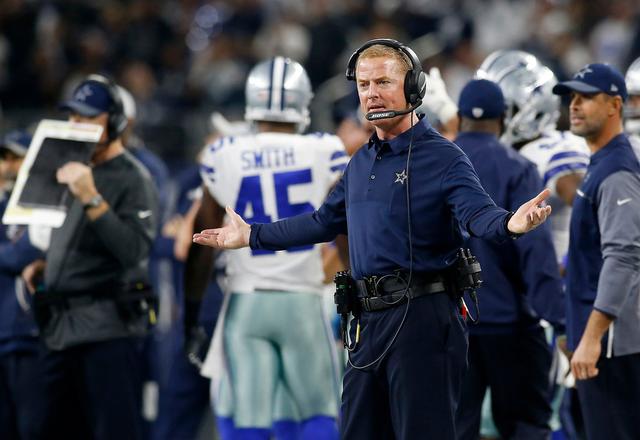 Brad Loper/TNS
Dallas Cowboys head coach Jason Garrett questions a call in the first half of a game against the Philadelphia Eagles on November 19, 2017, at AT&T Stadium in Arlington, Texas. (Brad Loper/Fort Worth Star-Telegram/TNS)
By Matt Mosley , Special Contributor Contact Matt Mosley on Twitter: @mattmosley
Matt Mosley, contributor to SportsDayDFW.com and columnist for Texas Monthly, answered your questions during a live chat Friday. Here are some highlights.
If you had to give a grade to the Cowboys dynamic safety duo, Byron Jones and Jeff Heath, what would it be?
Matt Mosley: I would give that pairing a D for yesterday's performance...and I'm probably being kind. Jeff Heath loves the huge hit, but he has trouble making tackles in space. He just takes poor angles and isn't able to keep things in front of him. Byron Jones has his moments, but he also ends up chasing guys. Hunter Henry made everyone look awful. I should probably give those guys an "F" instead of a D. But I'm feeling benevolent.
Will McClay had an awful 2015 draft, this past one (2017) is certainly not starting out well. The Cowboys didn't add anyone in free agency and made trades this year for guys who aren't seeing the field. Can we start questioning his personnel decisions?
Matt Mosley: I think it's fine to question some of those decisions. It looks like Maliek Collins has turned out pretty well. Taking the risks on Randy Gregory and Jaylon Smith doesn't look that good at all right now. Verdict's still out on Jourdan Lewis and Chido...but Taco Charlton isn't really producing. And there are productive players like McKinley and Watt that were taken right around when the was selected. He's just not an impact player at all at this point. So sure, let's pass some of this blame around. The good thing for Will McClay is that Jerry Jones gets all the blame or the credit for the picks. There doesn't seem to be a ton of accountability becaue no one knows exactly how much say he actually has.
That could've been the worst Cowboy game i've seen, and i've seen a lot. Can't cover anyone on third downs, the few positive plays were negated by penalties, another WR weaving through an indifferent DB'field for a TD. Garrett's job has to be on the line, right?
Matt Mosley: I wrote about Jason Garrett's coaching future in a column for this site last night. I believe he could be in trouble if this spirals out of control. There seems to be nothing happening to set the Cowboys up for the second half of these games. Philip Rivers just torched the defense...the offense has no punch at all without Zeke Elliott. If this team is sitting at 5-9 when Zeke returns, Garrett could be in serious trouble. The more likely scenario, though, is either Rod Marinelli or Scott Linehan being fired. Actually, Marinelli could choose to retire at this point. There's a lot of blame to go around.