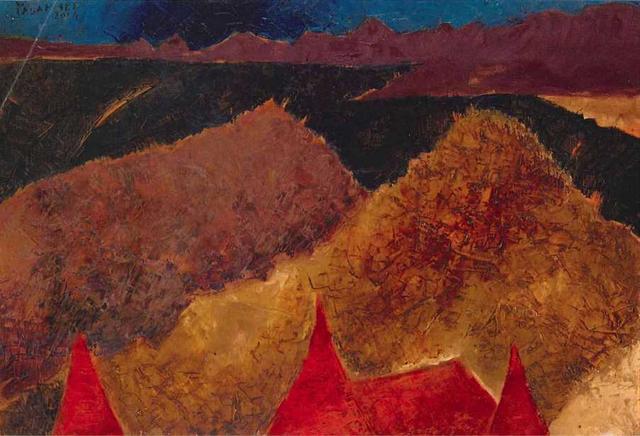 DAG Modern is hosting an exhibition "India's Rockefeller Artists: An Indo-U.S. Cultural Sag" at the gallery's New York location.
The exhibition brings together important works by a number of Indian painters and sculptors, who has been invited in the American soil on grants sponsored by John D. Rockefeller III's philanthropic vision. Through the JDR 3 rd Fund in the 1960s and 70s, and then through the Asian Cultural Council's assistance, artists like V.S. Gaitonde, Tyeb Mehta, Akbar Padamsee, Ram Kumar, Bal Chhabda, Krishen Khanna, Natvar Bhavsar, Jyoti Bhatt, K.G. Subramanyan, A.M. Davierwala, Avinash Chandra, Arun Bose, Paritosh Sen, K.S. Kulkarni, Vinod Dave, Bhupen Khakhar,and Rekha Rodwittiya have been brought to the USA to experience the world of American art from a closer geographical proximity and share their learning and experiences to augment the artistic communities of both backgrounds. The organizer of this show, DAG Modern, has been a specialist in Indian Modern Art for over 20 years with their presence in Mumbai and New Delhi outside their New York location, and has cemented their presence in Indian art scene with their extensive program that includes historical museum quality exhibitions, a collection, publications, art fair presentations and educational outreach. This show, showcasing seminal works by these artists of the 20th century art scene in India, examines the selection process of these artists for the sponsorships, their artistic exchanges between each other as well as the members from the American art fraternity, the impact of these exchanges on their body of works, and the creation of a community of Rockefeller artists.
The exhibition is on view through March 3, 2018 at DAG Modern, Fuller Building, Suite 708, 41 East 57th Street, New York, NY 10022, United States.
Click on the slideshow for a sneak peek at the exhibition.