Burger Shake opened in October 1957 and almost closed very soon thereafter.
"I wasn't worried about 60 years," said co-founder Joe Isaac, who started the restaurant at 219 East New Circle Road with a cousin after seeing a similar design in Tennessee. "I was worried about making it through the winter."
The plain little restaurant with the plain but satisfying menu — its big additions over the decades were fish and chicken sandwiches — recently celebrated its 60th anniversary.
"We almost went broke the first two or three months because it was really cold," Isaac said. "I think we did $37 the first night."
Sign up today for a free 30 day free trial of unlimited digital access.
Burgers then were 19 cents each. Now they're $1.23.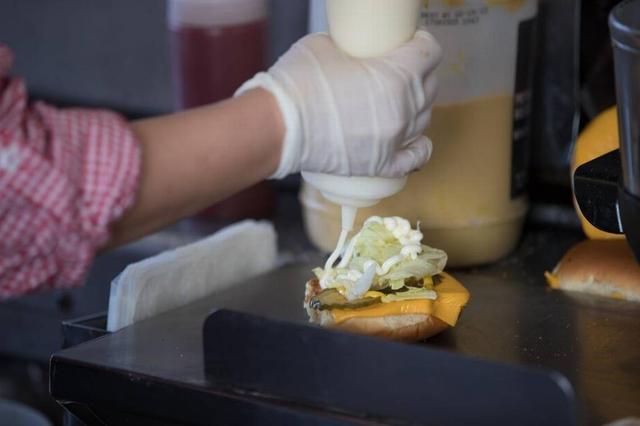 This is how the cheeseburgers are made at the Burger Shake on New Circle Road. The restaurant recently marked 60 years in business.
Mark Mahan
Cheeseburgers dominated the menu, Isaac said — 10 cheeseburgers were sold for every hamburger. The cheeseburgers remain the draw, and there's something miraculous about how melted cheese interacts with the wax-paper wrapping to create an extra treat. The fries are shoestring, hot and salty, and the milkshakes have the degree of near-concrete thickness you might remember for years.
Burger Shake was largely alone along New Circle Road, which was not then the home to used-car lots, pawn shops and head shops that it is now. The closest restaurant was Parkette, more than two miles away. If Burger Shake ran out of supplies or needed change, it sent up to Parkette, which Joe Smiley had opened in 1951.
Isaac remembers Smiley as not only a kind man, but a guy "with a head of hair that wouldn't stop." Smiley died in 2001.
Now Burger Shake is in the hands of the founders' children — Sammie Lilly and Sharyn Clements, who alternate running the store — and their own children are lined up for the next generation.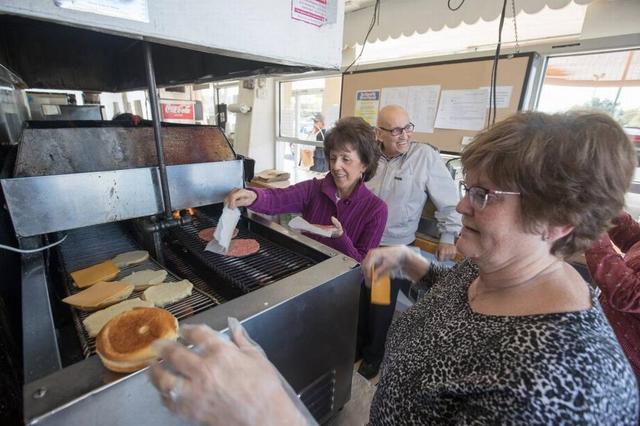 Cousins Sammie Lilly, left, and Sharyn Clements are the second generation to operate Burger Shake on New Circle Road.
Mark Mahan
Sit in the Burger Shake lot for lunch, and you will see everyone from young working men to older professionals in snazzy suits. Lilly said the key to the business's long-term survival has been nostalgia: Patrons develop memories associated with Burger Shake, then they bring their children and grandchildren to see where Granddad ate before he did a little back-skating boogie at Scott's Roll-Arena across New Circle.
How does a local business make it for 60 years with the same family in charge?
Julia Hurt Kirkpatrick knows. She runs Old Kentucky Chocolates with her brother Bill Hurt. They took the business over from their aunt and uncle Don and Pam Hurt. The candy store has been in business for 53 years.
Making memories also is crucialfor the chocolates store. Many Lexingtonians remember a class field trip through the store, Kirkpatrick said. The store also does a thriving fundraising business, and few Lexingtonians have missed a solicitation to buy one of the Old Kentucky Chocolates fundraising candy bars.
"We want to make sure to greet them, answer their questions," Kirkpatrick said. "They should have a wonderful experience when they're here. I think about when I go someplace, how I want to be treated."
Shawn Rogers, center director at the Bluegrass Small Business Development Center, said enduring small local businesses have to establish a strong connection with their customers by giving them a memorable and entertaining experience.
"It's creating that connection with your clients and customers and having a customer-centered approach, that environment where they just want to experience your store," Rogers said.
"People remember that, and they're going to bring their grandkids back. Businesses that really embrace that experience, engaging the customer, letting them see your production — if you can create that with your customers, it's such a great thing."