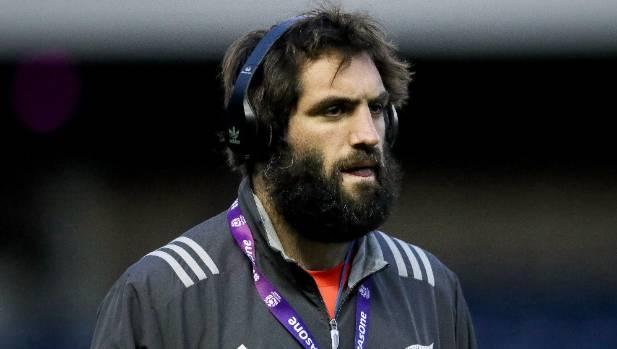 Like most things Sam Whitelock does on a rugby field, captaining the All Blacks in a test for the first time appears set to be ticked off with a minimum of fuss and maximum of effort.
If there are nerves ahead of the year's closing test at Cardiff's Principality Stadium on Saturday night (Sunday morning NZ Time), they weren't visible at the Captain's Run when the big, bearded Feilding-raised Cantab strode over to a large media posse, worked quickly through a dozen questions with brisk efficiency, and then loped off to rejoin his team.
It was very much business as usual for a fellow who never veers too far from the mid-point of the emotional scale.
He took time, though, to acknowledge that it would be a "massive" point in his career to run out to face Wales, not only as New Zealand's 69th test captain, but alongside his kid brother Luke who steps in for just his second cap, and first start, filling in for injured No 8 and skipper Kieran Read.
READ MORE:
* The Whitelock and Whitelock show
* Rieko Ioane the comeback king
* Why it's Whitelock over Barrett
* Wales no longer have fear factor  
"I've played a lot of age-group stuff, and a bit at the Crusaders with him, as well as the two older brothers (George and Adam), but to do it in a test match is going to be unreal," he said. "I know my parents are going to be in the stands and they'll be quite emotional. But the best thing for us is we're doing what we love, so it's nice and easy."
And the captaincy honour, handed on because of Read's mix of back and hip flexor issues?
"It was always a dream to play for the All Blacks," he added under the closed roof at Cardiff's downtown stadium. "I've never been too fussed around being captain. The longer I've been around, it's probably something I've been more aware of, trying to help out previous captains as much as possible."
Whitelock said had had tried not to let the added responsibility change up his test preparation too much – he is meticulous about ticking off the key boxes each week in his buildup – and felt the key would be to slip quickly into the rhythm of the test, with the leadership side taking care of itself.
"There are so many guys in the team that have done [captaincy] before, it's never up to one person to lead. All I've got to worry about is going out there and playing well, and doing my own role first.
"It's about making sure the messages are nice and clear and sticking to what the important ones are. And if I'm playing well, and doing my personal stuff well, leading is quite easy."
In terms of the test itself, with the All Blacks now down to what you would call eight first-choice starters, there is just the hint of vulnerability about a side that is not exactly finishing its year with a wet sail.
Last week they were disjointed and ill-disciplined against the Scots, and nearly paid the price. This one, the final outing before summer, Whitelock expects a much more focused effort against a Welsh outfit worthy of respect.
"We've had a really good week, we're clear and excited to get out now and let our actions do the talking.
"They're similar to us in they've got a number of experienced guys sprinkled throughout with a couple of guys new to the test arena, and they've showed with their excitement and energy they're ready to go."
Sixty-four years ago, Sam and Luke's grandfather Nelson Dalzell played in the last All Blacks side to lose to Wales in a test. It was a connection raised by Sam earlier in the week, and which becomes even more poignant now.
"It's something Luke and I are probably aware of more than anyone else. It would be nice not to be like him (and lose to the Welsh)."
And then he was off. A captain's work is never done.