Two wrecks and a sub add up to a great morning in Oahu.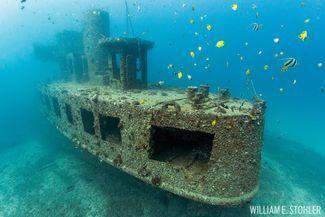 YO 257 Shipwreck Oahu Hawaii
William E. Stohler
As I giant stride off Anger Management, Diamond Head volcano is directly in front of me and Waikiki Beach is off my left shoulder. Pretty spectacular, but it's just another day with Dive Oahu: two shipwrecks before lunchtime. Our morning includes a quick 10-minute boat ride to the YO-257, followed by a shallow reef dive. If you're lucky enough to dive the YO, you'll be within fin kicks of another purpose-sunk artificial reef, the San Pedro. The YO-257 is the main attraction, with its mostly intact frame and partial swim-throughs.
I hear the sound of a motor revving and do a quick double take to find it's not owner Brian Benton zooming by on his underwater scooter again, but rather an Atlantis Submarine coming by on a tour of the reef. We wave to the tourists as we see fl ash after fl ash from their cameras, photographing us in the deep blue. Benton lets me borrow his scooter — it's only the second time I've used one and I love the joyride, making several laps around the 175-foot-long former Navy oiler. After cruising along the starboard deck and making my way back to the bow where my dive buddies are having a photo shoot, I catch a glimpse of movement directly above my head. It's a giant green sea turtle; I hit "record" and video him as he floats along and chooses a resting spot in one of the many openings aboard YO-257.
If you don't have a scooter on the dive, it's best to have a plan before you giant-stride in. This wreck is ideal for the advanced diver, but currents can be strong. For less experienced divers, hang around the top deck and tower, which boast tons of endemic Hawaiian milletseed butterflyfish (the name refers to the small, seed-size black spots that line their lemon yellow bodies in vertical rows). For divers comfortable with a little more depth, get a glimpse of the YO in all its glory by dropping down to the sand at around 100 feet: Just sit back and take it all in, in Oahu's amazing viz. Besides turtles, the YO also attracts eagle rays; keep your eyes peeled for schools of three or more.
By 11 a.m., I'm on the surface thinking, Where else can you dive two wrecks and see a submarine all in one dive? I've got time to ponder that as I head to the north shore for an afternoon of exploring to find the best surf spots and idyllic beaches this lovely island has to offer.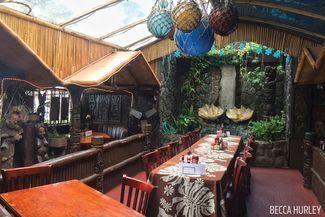 The perfect spot for a post dive snack.

Becca Hurley

WHAT TO DO ON YOUR SURFACE INTERVAL

DRINK

La Mariana Sailing Club at Ke'ehi Lagoon has a tiki décor and can be accessed by boat or car. It offers a mean mai tai and complete Hawaiian food menu.

EAT

Along the Kamehameha Highway in Haleiwa, you'll find a plethora of established food trucks from shrimp-specific eateries to hamburgers and hotdogs. The food is delicious — take your pick!

SLEEP

With its postcard-worthy pool in the middle of the resort, boutique Surfjack hotel brings a modern twist to surf culture, within walking distance of the popular Waikiki area.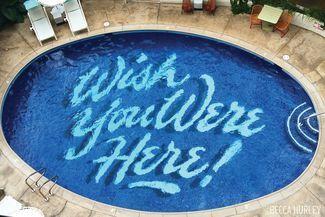 The Surfjack Hotel pool makes quite the statement.

Becca Hurley

MUST DIVE

NASHUA NAVY TUG

Purpose-sunk in 2012, this site is divable only a few days a week since it's a training ground for the U.S. Navy. Eels, turtles and schools of reef sharks are often spotted here.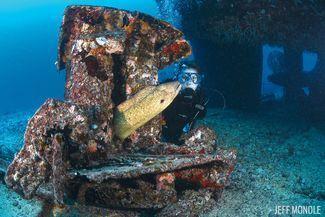 Divers can expect close encounters with marine life at the Nashua Navy Tug dive site.

Jeff Mondle

EWA PINNACLES

A bit farther from shore than the Waikiki-area wrecks, this site is full of life, volcanic rocks and overhangs where puffers, octopuses and schools of fish like to hide.

SEA TIGER

Located in 80 to 110 feet of water, the shorter bottom time is worth it to dive this former Chinese trader. Divers can penetrate the cargo holds and bridge, making this a dive you can repeat.

THE CORSAIR

Synonymous with wreck diving in Oahu, this site is popular with photographers but can be prone to strong currents. It's not unusual to find pelagics like sharks and mantas here.

DIVE GUIDE

DIVE CONDITIONS

It's not uncommon to find 100 feet of visibility with fairly easy dive conditions. On occasion, surge and currents that wrap around Diamond Head can make specific dive sites best for advanced divers.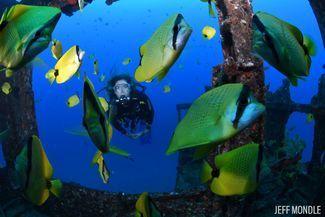 Milletseed Butterflyfish cover the wrecks off Oahu, Hawaii.
Jeff Mondle
WHAT TO WEAR
A 5 mm is recommended for most divers, but the temperature can vary by season. In summer, temperatures are often in the low 80s; winter can vary from mid- to high 70s.
TRAVEL TIP
Rent a car, especially if you are traveling with gear. It will make your trips to and from the marina less stressful, and allow you the freedom to take off and explore after a morning dive.
WHEN TO GO
Year-round; visit the islands after summer crowds have died down, from September to early December.